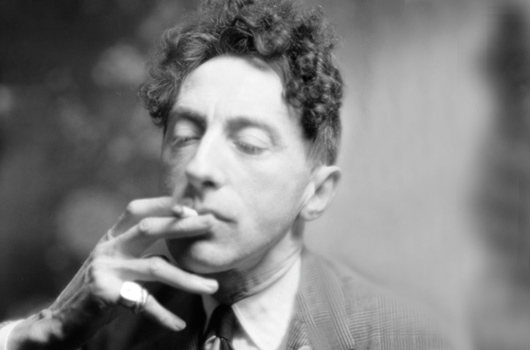 Jean Cocteau
Jean Cocteau, the French poet, novelist, artist and filmmaker, was born on the 5th of July, 1889, in Maisons-Laffitte near Paris.
Born into a prominent Parisian family, Cocteau left home at fifteen and published his first volume of poems just four years later. He moved quickly into the upper echelons of the contemporary art scene and collaborated with a huge variety of artists, working with Léon Bakst on the ballet Le Dieu bleu and writing the libretto for the opera Oedipus rex by Igor Stravinsky. He was also a key figure in the burgeoning avant-garde movement and created a number of experimental performance pieces.
Among Cocteau's many powerful creations were the novel Les Enfants Terribles (1929) and the haunting, subtly horrific La Belle et la Bête (1946), which starred Cocteau's long-time muse and companion Jean Marais. He was also a skilled set designer, creating sets for the Théâtre de la Mode.
Jean Cocteau died on the 11th of October 1963 in Milly-la-Forêt, France, aged 74. His death came a day after that of his friend, the singer Édith Piaf; speculation has been voiced that his fatal heart attack was triggered by his shock at her passing, which he learned of the day after she had died. He is buried beneath the Chapelle Saint-Blaises des Simples in Milly-la-Forêt.