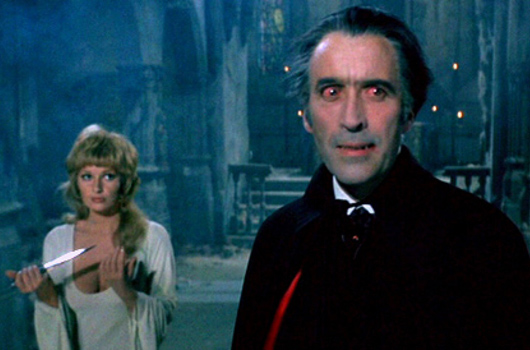 Dracula AD 1972 (Hammer 1972) – why this much maligned classic is so important
Dracula AD 1972 has always been seen as one of the worst movies Hammer ever brought to the screen.
Roundly derided in its day – including by star Christopher Lee – this ostracised film surely deserves another chance. At the very least, it has been very much misunderstood.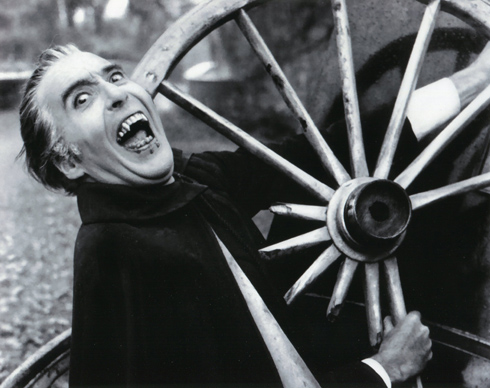 In 1872 London, Count Dracula (Christopher Lee) is impaled by the spoke of a wrecked carriage wheel after a furious chase through Hyde Park in Dracula AD 1972 (Hammer 1972)
Firstly, however, even I must concede that Dracula AD 1972 is very much of its time – or, more accurately, a time that never was. Most of its allegedly trendy young cast behave more like denizens of the sixties than the seventies, but notwithstanding the dated dialogue, there are indeed elements of Dracula AD 1972 which perfectly represent a stylised early 1970s London.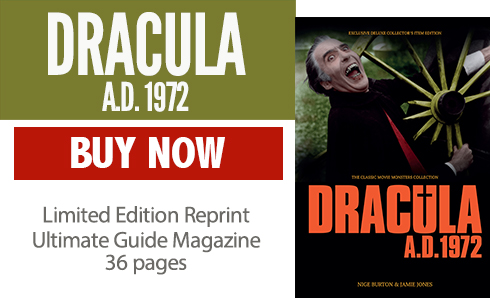 The Cavern, a pub-cum-nightclub in which the young protagonists meet, is a perfect example of a 1970s venue, where the group's self-appointed leader Johnny Alucard (Christopher Neame) cajoles the other members to attend a black mass at a deconsecrated church. All willingly agree apart from Jessica (Stephanie Beacham), granddaughter of Lorrimer Van Helsing (Peter Cushing), himself grandson of the original Lawrence Van Helsing.
Alucard resurrects Dracula (Lee), who goes on to claim his first victim, Laura, played by new Hammer hopeful Caroline Munro. Off on a rampage, Dracula is out to vanquish the house of Van Helsing through Jessica. Bewildered Inspector Murray (Michael Coles) seeks help from Van Helsing, and reluctantly has his eyes opened to the cult of the undead. Jess is abducted and prepped for the Lord of the Undead himself, while Lorrimer does away with Alucard and arrives at the old church in the nick of time to save his granddaughter and dispatch the evil one.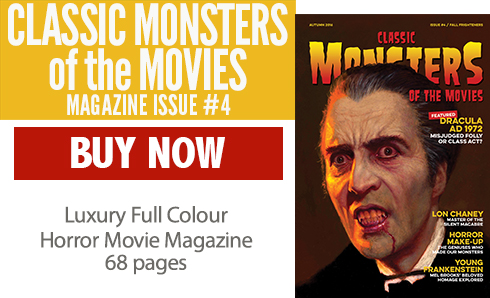 Dracula AD 1972 was torn to shreds by the critics of the day. Meant to revive the franchise, it drove in the penultimate coffin nail, and its successor, The Satanic Rites of Dracula (1973), only saw the light of day because it was part of a two-picture deal between Hammer and Warner. Warner would not complete the deal without Lee, and James Carreras had to vastly increase his salary to appease him. Even then, the star refused to use much of the dialogue in Don Houghton's script, which had been intended to reveal Dracula as Satan himself.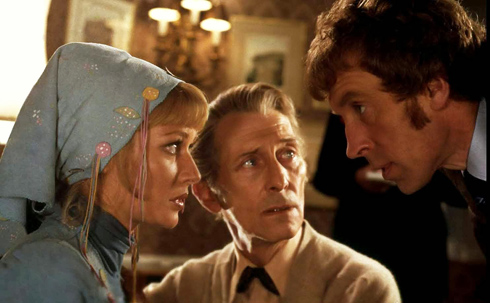 Jessica Van Helsing (Stephanie Beacham) tells all to her grandfather Lorrimer (Peter Cushing) and Inspector Murray (Michael Coles) in Dracula AD 1972 (Hammer 1972)
In hindsight, the omission of this plot device seems a pity. It also causes a degree of discontinuity, as Alucard clearly promises to conjure the devil, and one can't help wonder how this might have improved things.
Dracula's scenes in the film nevertheless remain effective; the opening prologue coach chase battle, meanwhile, is arguably one of the strongest scenes. The energetic duel that opens the action, when dashing but worn out Van Helsing meets his end alongside his undead counterpart, makes for memorable cinema.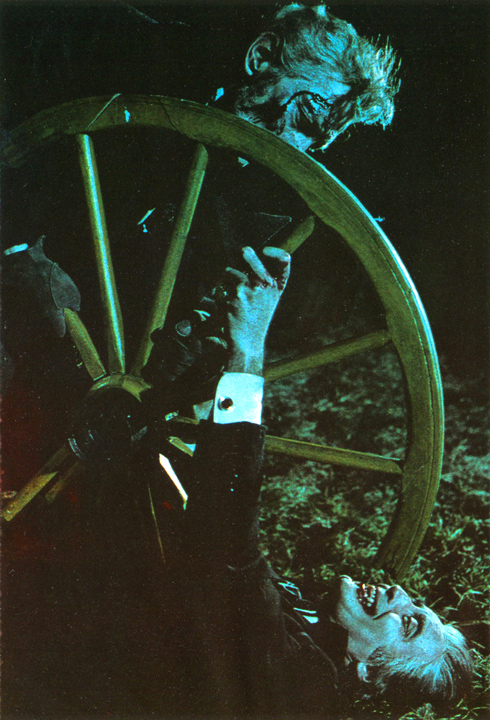 The dramatic opening battle between good and evil ends in death for both Dracula (Christopher Lee) and Lawrence Van Helsing (Peter Cushing) in Dracula AD 1972 (Hammer 1972)
So why has this film become so important? To answer this, Dracula AD 1972 must surely be taken as a whole. The niche carved by Hammer with their Dracula property had become its most financially rewarding franchise, but with five gothic entries over a dozen years, the character was running out of steam; bringing it into the present day was the most natural development. Many of Dracula AD 1972's most scathing critics did not argue with the premise itself, but with the way Hammer went about it.
Performances on the whole are excellent, and Alan Gibson's liberal direction lends itself well to the proceedings. Houghton's script, too, is a well crafted piece of writing. So what went so horribly wrong? It would seem not that much; Dracula AD 1972 today is a great way to enjoyably spend 95 minutes of your life. Yet the extremely negative reaction to its release set in motion the wheels of Hammer's ultimate demise and, for this, it has never been forgiven.
In retrospect, the movie did what it was meant to, bringing a tired franchise up to date whilst retaining enough of its heritage to remain credible; this, however, was not enough – time may be forgiving, but the public are fickle, and you don't need to miss the mark by much at all to bomb. Perhaps in time, this classic may finally get the recognition it deserves.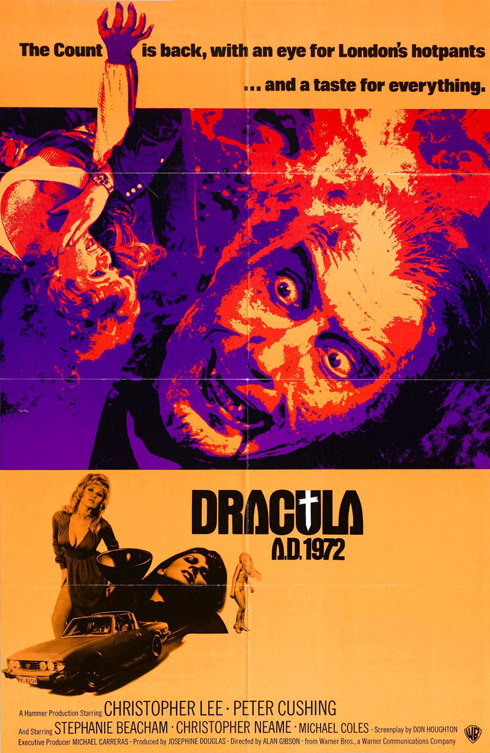 Original theatrical release poster for Dracula AD 1972 (Hammer 1972)