Product Description
Limited edition reprint.
The Dracula AD 1972 Ultimate Guide is a sumptuous tribute to the first of the Hammer Dracula franchise to set the action in a then contemporary London, and it evokes beautifully the unique atmosphere and style of the film.
Director Alan Gibson brought screenwriter Don Houghton's modern take on an old gothic legend to life in Hammer's sixth instalment of the franchise staring Christopher Lee as the dreaded Count. Polarising fans for decades, Dracula AD 1972 has now become something of a cult classic, and is of course a piece of social history in itself.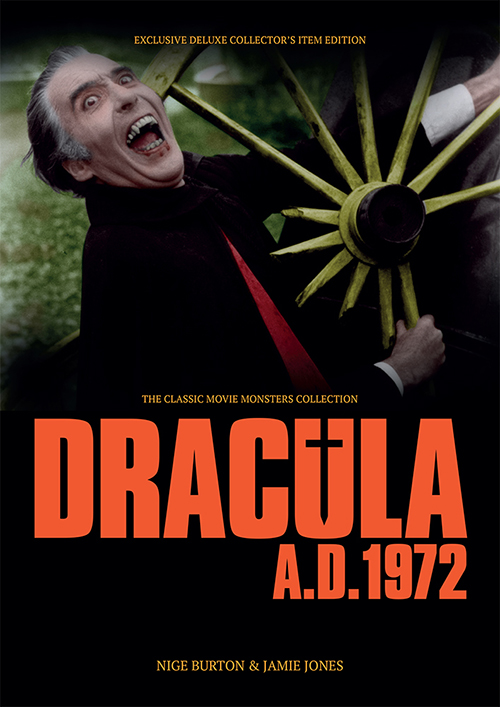 One thing fans lauded the film for in concert was its action packed prologue, which sees Dracula and his arch nemesis Van Helsing battle to the death during a wild carriage chase in London's Hyde Park, silently observed by a strange young man on horseback, and both Hammer and Dracula devotees welcomed the long overdue return of Peter Cushing to the series. Classic Monsters are delighted to present this luxury full colour Ultimate Guide tribute to the movie, which explores not only the bold decision to update the action, but also what went on behind the scenes together with fascinating biographies on the cast and crew that brought it all to life.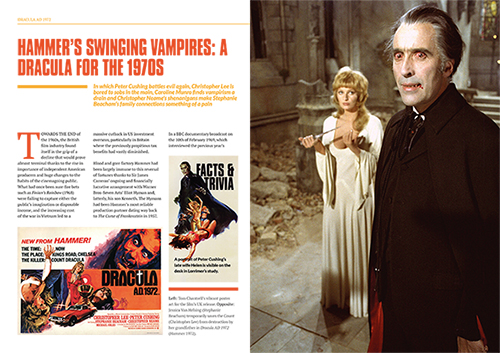 Changing the image of Hammer's most famous bloodsucker forever, Dracula AD 1972 is an important film in many ways, not least in that it bravely attempted to bring what was becoming a slightly tired movie franchise up to date. Whether it succeeded has been a matter of debate almost since the film's first release, and our fact-filled magazine guide explores what went wrong and what went right with Houghton's audacious script.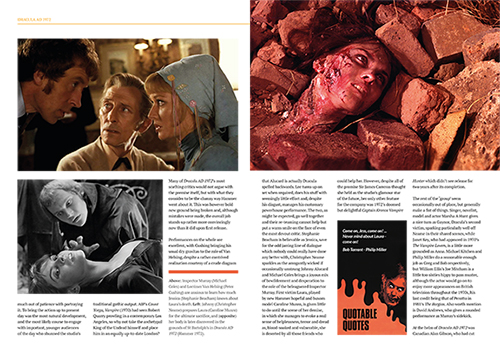 With generally good performances from Lee, Cushing and their 'groovy' co-stars including Christopher Neame, Stephanie Beacham, Caroline Munro, Marsha Hunt and Philip Miller – not to mention a star turn from Michael Coles as the intrepid Inspector Murray – Dracula AD manages to cut a dash despite its recognised shortcomings. In many cases, Hammer fans who once derided it have since grown to love it, discovering hitherto hidden facets of joy buried deep within its myriad layers.
Celebrating the brute force and kitsch undertones of this new age classic, this Dracula AD 1972 magazine comes packed with stills, lobby cards and poster artwork that will transport you back into the disco-age decade of flares and psychedelia, with all its 'contemporary' speak that occasionally seemed more reminiscent of the sixties than seventies. With all the treasures you've come to expect from our Ultimate Guide series, this latest addition includes an in-depth overview of the production which may just reveal a few secrets along the way.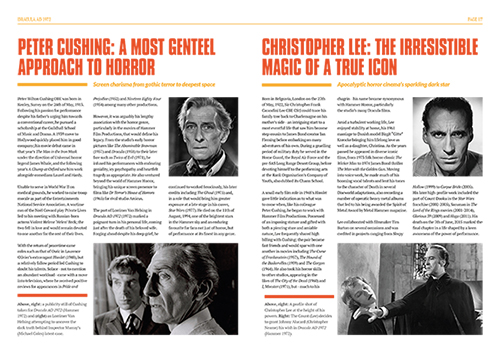 With an appropriate score by Michael Vickers and some nifty special effects from Les Bowie, Dracula AD 1972 is like no other horror film before or since. As it weaves its way through the streets of a swinging London scene, it restricts most of its horror to the grimly deconsecrated St Bartolph's Church, and arranges its terrors thus that Dracula becomes frighteningly relevant to a modern world, much as he would have been at the time Bram Stoker's original novel was first published in 1897.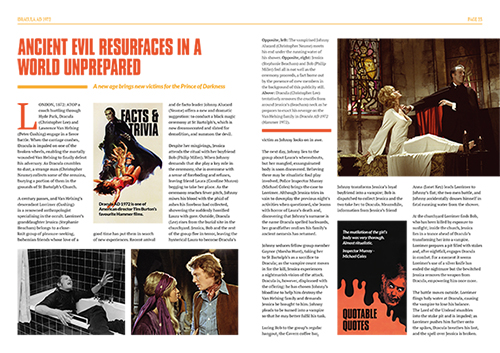 So without further ado, let's head off for some far out and downright wicked fun at that very old church, and we can always meet up at the Cavern café for a little light refreshment afterwards where you can lose yourself within the pages of this Ultimate Guide to Dracula AD 1972 to enhance your viewing of this latent icon for the umpteenth time.
36 pages
A4
Full colour throughout
Luxury gloss laminated cover