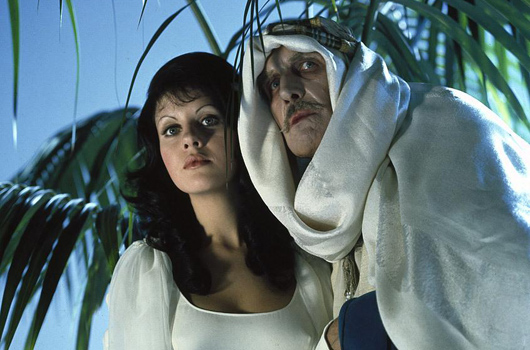 Dr Phibes Rises Again (AIP 1972)
After the success of The Abominable Dr Phibes (1971), it was only natural that a sequel should follow, ergo Dr Phibes Rises Again was duly released on the 11th of July, 1972.
Vincent Price returned to the role of Dr Anton Phibes, awakening three years after the events of the previous film at a time when the moon and planets should be arranged in a way propitious to such a circumstance.
Finding his house in ruins, and no sign of the papyrus scrolls needed to revive his dead wife, Phibes determines to get even with the robbers, led by Robert Quarry, and thus retrieve the sacred scrolls.
He is ably assisted in his endeavours by the lovely Vulnavia, whose acid shower at the end of the previous instalment seems to have had no other effect than to turn her from Virginia North into Valli Kemp.
After a spree of Egyptianesque murders, Price and Quarry come face to face to battle for the life-restoring parchments, but it all becomes quite ambiguous as Quarry suddenly feels his age and Price sails off down the River of Life, wife in tow, singing 'Over the Rainbow'.
Dr Phibes Rises Again director Robert Fuest made do with Spain for Egypt and shot the remainder of the action in London, but the ridiculously tight production schedule, studio interference and behind the camera rows result in a confusing and unsatisfying film, somewhat lacking the finesse of its predecessor. It is, however, still loved by fans and, as the years have passed, is now regarded by many as a worthy sequel.
Interestingly, the original VHS release of Dr Phibes Rises Again had to replace Price's crooning with background music from the credits of the original film, as there were copyright difficulties over use of the song. It has been restored in subsequent DVD releases, although it still remains anachronistic; the film was set in 1928 but the song was not written for a further ten years.