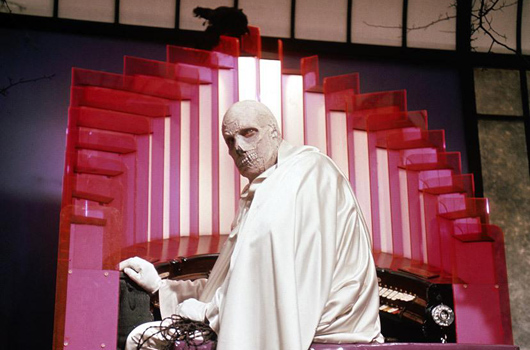 Abominable Dr Phibes, The (AIP 1971)
British horror film The Abominable Dr Phibes was released on the 18th of May, 1971, and stars Vincent Price and Joseph Cotten.
With its lavish art deco sets, black humour and outrageously camp performance by Price, the film – along with its sequel, Dr Phibes Rises Again – has become a cult classic. The story tells of Phibes's murderous spree, inspired by the Ten Plagues of Egypt, against the doctors who bungled his wife's surgery, leading to her death.
Peter Cushing was first in line for Cotten's role of Vesalius, but he turned it down because his wife, Helen, was seriously ill.
Due to the heavy make-up and plot premise, Price's lines were all dubbed after filming, much to the chagrin of Cotten, who complained that Price had it easy. The co-star retorted, "Yes, but I still know them Joe!", a quip supporting the fact that Price had a reputation for memorising the dialogue for all characters in his films.
The role required Price to undergo hours in the make-up chair, which oftentimes had to be reapplied as he kept laughing and joking with Cotten. The character of Phibes's wife was played by 1970s model Caroline Munro, who later appeared in Hammer Horrors Dracula A.D. 1972 (1972) and Captain Kronos, Vampire Hunter (1974). She was, however, excluded from the credits of The Abominable Dr Phibes.
Shot mainly on Elstree Studios' 1930s sets, the cemetery used was London's Highgate, and the exterior of the Phibes' mansion was Immanuel College on Elstree Road. American International virtually disowned the film, until it became a respectable hit at the box office. It went on to be hugely popular in the 1970s, and spawned a sequel, Dr Phibes Rises Again, in 1972. The film has worn well too, coming in at number 83 out of the Time Out top 100 horror films in a 2010 poll.