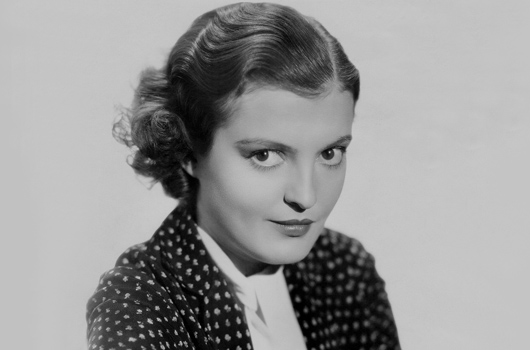 Zita Johann
Elisabeth Johann was born on the 14th of July, 1904 in the village of Deutschbentschek, Austro-Hungary, now Timişoara in Romania. Her father, hussar officer Stefan Johann, emigrated to the United States with his family in 1911, and young Elisabeth's journey to the screen began.
She starred in high school plays, first appearing on Broadway in 1924. Her first movie appearance came in 1931's The Struggle, although in a move that exemplified her fearless approach, she had turned down a potentially career-assuring five-picture deal with Universal, as well as the chance to star in their 1929 version of Show Boat, in order to appear in the play Machinal, opposite Clark Gable.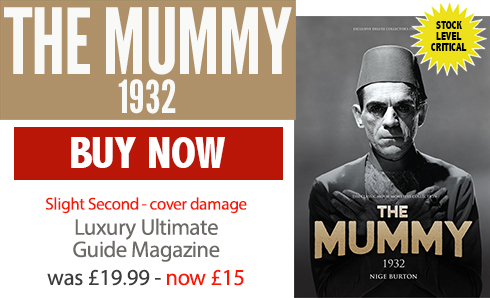 Today, her level of assertiveness would be seen as a positive hallmark of an actress who knew her value and demanded equal treatment to her male co-stars; at the time, it led to her being labelled difficult. This tendency to clash with her colleagues was evident on the set of 1932's The Mummy, in which she starred opposite Boris Karloff. Johann felt that director Karl Freund had cast her as his scapegoat, in case the film proved too much of a challenge as his directorial debut, and the two butted heads frequently: Freund allegedly had her stand against a wall for hours on end, so as not to crease her dress. Whatever the accuracies of the case, her portrayal of Helen Grosvenor is an enchanting one, giving viewers total faith in the character.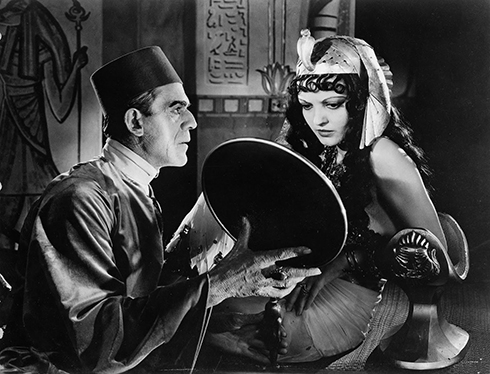 Ardath Bey (Boris Karloff) shows Helen Grosvenor (Zita Johann) glimpses of her past lives in The Mummy (Universal 1932)
On stage as well as on screen, she brought great presence to every scene she appeared in, her commitment to her craft making her a recognised force in the world of showbusiness. When MGM granted her a contract with a script approval clause, she rejected everything they offered her, and she successfully demanded that RKO release her from her contract when they asked her to appear in 1932's Thirteen Women, citing it as a tawdry melodrama.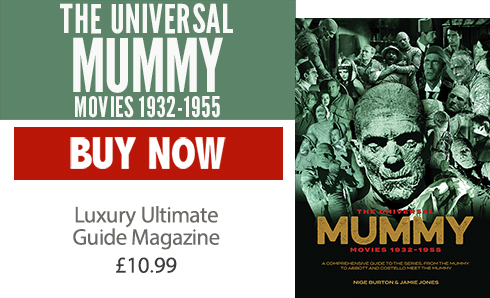 In apparent contrast to this grounded approach, though, Johann was a firm believer in the intangible, in the power of the spirit, and in the endurance of the soul after death. Her interest in the occult also informed her acting work; she prayed before each performance, and in a manner reminiscent of Roman orators making show-stopping political speeches, would call upon the spirits of the people she was to portray, asking them to inspire her work.
Her movie career was a relatively brief one, with just seven films in the core of her career and a brief return from retirement for 1986 zombie horror movie Raiders of the Living Dead. Disillusioned with Hollywood, she focused on theatre work, appearing alongside the likes of Orson Welles. During the war years, she worked to raise funds for war-related charities, and organised shows to entertain US troops. Later, she provided private acting classes and taught her art to people with learning disorders.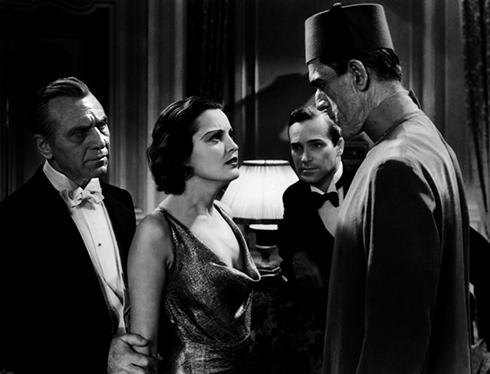 Dr Muller (Edward Van Sloan) and Frank Whemple (David Manners) look on as the eerie connection between Helen Grosvenor (Zita Johann) and Ardath Bey (Boris Karloff) becomes apparent in The Mummy (Universal 1932)
Married three times, Zita Johann died in Nyack, New York on the 24th of September, 1993. Her ashes were scattered in a stream in upstate New York.