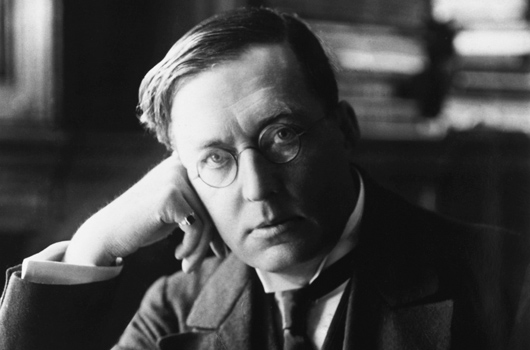 M R James – the masterful English author of antiquarian ghost stories
Montague Rhodes James, the celebrated English author of antiquarian ghost stories, was born on the 1st of August, 1862.
Although an extremely learned and accomplished scholar, having been provost of King's College, Cambridge from 1905 to 1918, and Eton College from 1918 until 1936, James is best remembered for his tales of the supernatural, his ghost stories being regarded by many as among the best in the genre.
Born in Goodnestone Parsonage, near Dover in Kent, James had very close links with the county of Suffolk, and several of its towns are used as settings for his works, including Oh Whistle and I'll Come to You, My Lad (Felixstowe), A Warning to the Curious (Aldeburgh, renamed Seaburgh for the story) and Rats and A Vignette (Great Livermere, which was James's home for almost 45 years).
He managed to take the ghost story out of its traditional gothic mould, giving it contemporary settings and a great sense of the ordinary until the malevolent horror is revealed. This style has become known as Jamesian. Like those of Charles Dickens, many of James's stories were conceived as Christmas Eve yarns, which he would recite to friends, particularly his students. This was capitalised on by the BBC in 2000, when they filmed Christopher Lee reading four of his stories in a candle-lit room at King's College.
Of his macabre technique, James once commented that the story must "put the reader into the position of saying to himself, 'If I'm not very careful, something of this kind may happen to me!'
"Two ingredients most valuable in the concocting of a ghost story are, to me, the atmosphere and the nicely managed crescendo… Let us, then, be introduced to the actors in a placid way; let us see them going about their ordinary business, undisturbed by forebodings, pleased with their surroundings; and into this calm environment let the ominous thing put out its head, unobtrusively at first, and then more insistently, until it holds the stage."
These methods were employed to perfection, and M R James's stories are still able to chill today, but it was maybe his final ingredient that ensures the palpable terror evident in much of his supernatural literature: "In my opinion, the ghost should be malevolent or odious," he said. "Amiable and helpful apparitions are all very well in fairy tales or in local legends, but I have no use for them in a fictitious ghost story."
A great number of his classic ghost stories have been filmed, oftentimes by the BBC. Jonathan Miller directed Michael Hordern in Whistle and I'll Come to You (1968), a superb example of slowly building terror, while Lawrence Gordon Clark took the helm of the magnificent A Warning to the Curious (1972), which featured a fine performance by Peter Vaughan. The Stalls of Barchester (1971), Lost Hearts (1973), The Treasure of Abbot Thomas (1974) and The Ash Tree (1975) have also all been made into feature length television films. Casting the Runes was successfully filmed by Jacques Tourneur in the 1957 British production, Night of the Demon (which crossed the Atlantic as The Curse of the Demon). There has also been a resurgence of interest in his works, with more recent filmings including A View from a Hill (2005) with David Burke, Number 13 (2006) with Tom Burke and a heavily revised version of Whistle and I'll Come to You (2010) with John Hurt.
Quizzed about his own belief in ghosts, James wrote: "I answer that I am prepared to consider evidence and accept it if it satisfies me."
M R James died on the 12th of June, 1936, and was buried in Eton town cemetery.