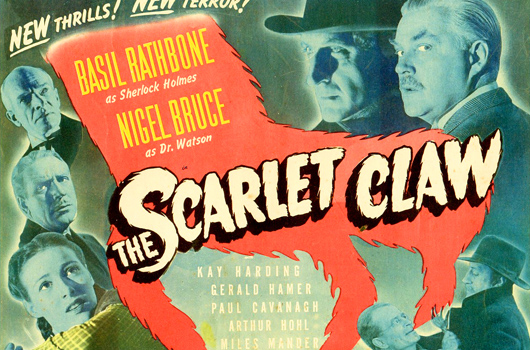 Scarlet Claw, The (Universal 1944)
Sherlock Holmes mystery The Scarlet Claw – the sixth in the series for Universal – was released on the 26th of May, 1944, and took Holmes to Quebec.
The successful pairing of Basil Rathbone as Holmes, and Nigel Bruce as Doctor Watson, gave the film a comforting familiarity to fans despite the incongruous setting. Borrowing elements from The Hound of the Baskervilles, the plot is recognised for its high levels of suspense, while the performances are universally lauded, particularly Rathbone's clinical and unflappable portrayal of Holmes. The film was directed by Roy William Neill, whose work to create a rich and brooding atmosphere makes this a solid addition to the Holmes series.