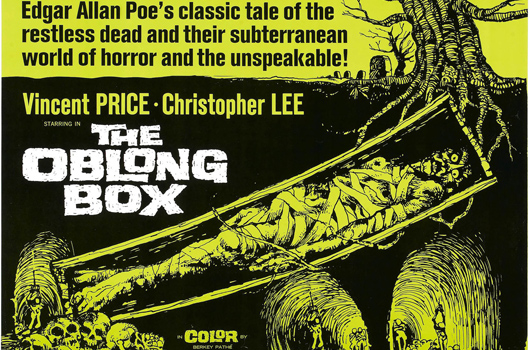 Oblong Box, The (AIP 1969)
The Oblong Box was released by AIP on the 11th of June, 1969, and was Vincent Price's thirteenth Edgar Allan Poe film, as well as his first to co-star with Christopher Lee.
Made in the UK, and directed by Gordon Hessler, The Oblong Box tells of Sir Edward Markham (Alister Williamson) being horribly disfigured by African natives in a vengeful voodoo attack. Embarrassed brother Julian (Price) keeps him locked away, but he effects a rampageous escape and, while running amok, necessitates the engagement of Dr Neuhart (Lee) to come to his aid.
The Oblong Box was reasonably well received, and certainly commercially successful enough for AIP to request more of the same, which came in the guise of Scream and Scream Again (1970) and Cry of the Banshee (1970). Both these films used many of The Oblong Box team, although Lee was absent from the latter.