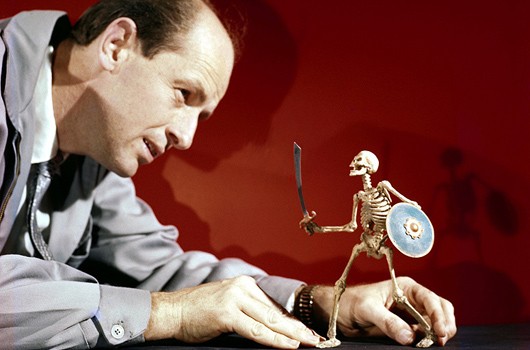 Ray Harryhausen
Special effects wizard Ray Harryhausen was born Raymond Frederick Harryhausen on the 29th of June, 1920 in Los Angeles, California.
With the talents of writing and producing under his belt, Harryhausen went on to become a genius in the field of stop-frame animation, creating stunning visual effects and eventually pioneering his own formula which became known as Dynamation.
Born of German descent under the family name Herrenhausen, the young Ray was captivated by the special effects he witnessed in King Kong (1933) and went on to experiment in producing his own animated shorts. A meeting with his professional idol, King Kong animator Willis O'Brien, enabled Harryhausen to hone his skills, and he became lifelong friends with science fiction writer Ray Bradbury and monster aficionado extraordinaire Forrest J Ackerman, forming a lasting triumvirate of creativity and inspiration to the horror and science fiction communities.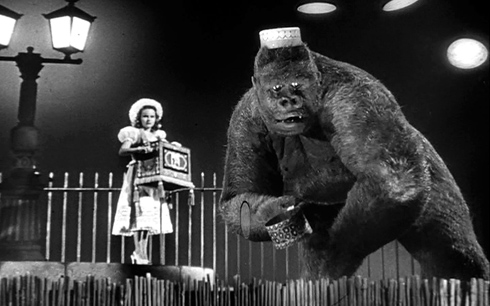 Monkey business: Harryhausen cut his teeth as assistant animator on Mighty Joe Young (RKO 1949)
Harryhausen worked for Special Services Division during World War II, acting as loader, clapper boy, goffer and later camera assistant under Colonel Frank Capra; in his spare time he developed his animation skills further and worked with composer Dimitri Tiomkin and legendary children's writer Ted Geisel (better known as Dr Seuss). Following the war he salvaged several rolls of surplus film which he used to record his own short films.
His big break in the movie world came when he was hired as an assistant animator on Mighty Joe Young (1949) where he again met with Willis O'Brien; technical issues meant that O'Brien's attention was often required elsewhere in the production process, so Harryhausen ended up being responsible for most of the animation. The effects on the film secured O'Brien that year's Academy Award for Best Special Effects.
Harryhausen's first role in charge of special effects was The Beast from 20,000 Fathoms (1953). Bearing strong similarities to a story by Harryhausen's friend Ray Bradbury, the filmmakers bought the rights to Bradbury's work to keep their own investment safe. The film went on to become a major international hit for Warner Brothers, and also saw the introduction of Harryhausen's integration of live action and animated models. His deft merging of the real and the artificial was more effective than anything that had gone before.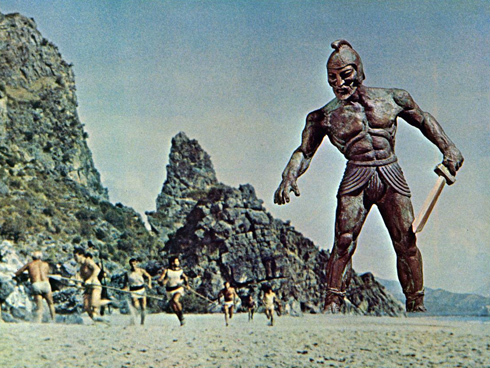 Body bronze: The mighty Talos, one of Harryhausen's greatest achievements, from Jason and the Argonauts (Columbia 1963)
Keen to take a very hands-on role in every project on which he was engaged, Harryhausen worked on each film's story, script development, design and overall tone, making key decisions about how the work as a whole would take shape and effectively playing a directorial role. However, despite the extent of his involvement, Director's Guild rules in Hollywood meant that he could never be credited as the director of his films.
A series of science-fiction box office hits including It Came from Beneath the Sea (1955) and Earth vs the Flying Saucers (1956) further cemented Harryhausen's place in Hollywood. His work on The 7th Voyage of Sinbad (1958) took things to a new level, with the use of colour film stock; around this time his approach was given a series of promotional titles – variously Dynamation, SuperDynaMation, and Dynarama.
It is, however, Jason and the Argonauts (1963) that most movie fans regard as the pinnacle of Harryhausen's work, with his skills bringing such sequences to life as the ponderous motion of bronze giant Talos, Jason's confrontation with the hydra, and the breathtaking swordfight between three warriors and seven animated skeletons. Even in the age of CG, the attention to detail and sheer craftsmanship of these sequences (the skeleton sequence taking over four months to complete) attest to Harryhausen's passion for his work. In a similar vein, MGM's Clash of the Titans (1981) allowed the now-veteran animator to showcase his skills with mythological creations such as Medusa and Pegasus.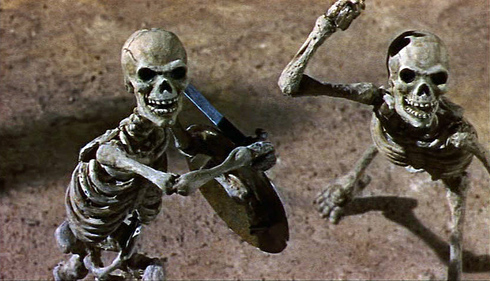 Skeleton staff: The startling skeleton warriors from Jason and the Argonauts (Columbia 1963) are some of Ray Harryhausen's most memorable monsters.
Having moved to London in 1960, Harryhausen was somewhat distanced from – and snubbed by – the Hollywood establishment, meaning that none of his films were ever nominated for an Academy Award for special effects. As more sophisticated production techniques came into common usage, the stop-motion approach fell out of favour, and Harryhausen retired from filmmaking. However, as a mark of respect for his ninetieth birthday, Harryhausen was given a special tribute at the BFI Southbank Theatre. Hosted by director John Landis and attended by the industry's top creators of visual effects, the event culminated in Harryhausen being presented with a special BAFTA award by Peter Jackson.
Ray Harryhausen died on the 7th of May 2013 in London, England, having been married to Diana Livingstone Bruce since 1963, and had one daughter, Vanessa. His legacy to the world of classic monsters is an enormous one, and the star on the Hollywood Walk of Fame is just one of the many accolades attached to his name.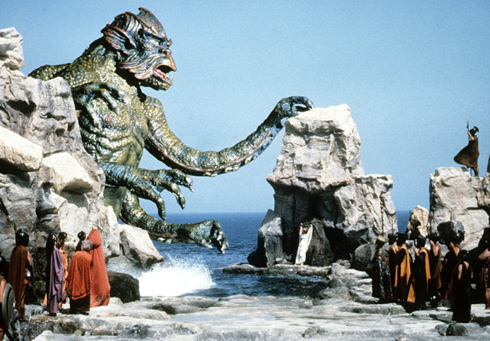 A Kraken time: Another Harryhausen classic monster, this time from Clash of the Titans (MGM 1981)