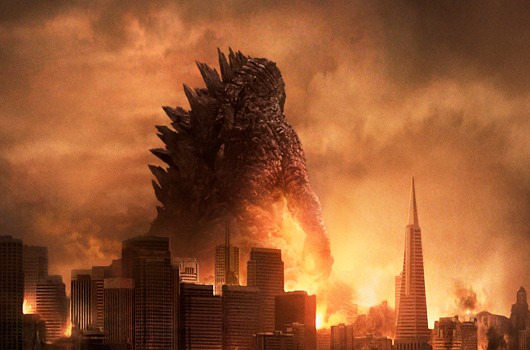 Godzilla (Legendary/Warner 2014)
Godzilla, to me, has always been one of those surprising monsters. Not part of what is considered the original horror classics per se, this reptilian behemoth surfaced from the depths of Japanese Toho studios in 1954 and, even back in the day, was taken seriously enough to add Raymond Burr in an attempt to make an Americanised version of it for the world at large.
The gamble worked, and Godzilla took his place among the all time horror favourites, even making it into the famous Aurora monster model line-up. But there have always been purists who prefer the original, unadulterated Toho production, and it is among these that the latest Legendary/Warner Brothers production, made in 2014, scores particularly well.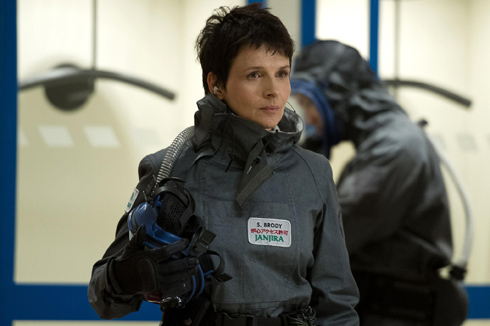 Brief encounter: Sandra Brody (Juliette Binoche) meets a nail-biting early demise in Godzilla (Legendary/Warner 2014)
True to its origins, the new Godzilla makes a healthily respectful bow to its Japanese legacy, even sort of carrying on the story that commenced in the mid fifties.
Beginning its action in 1999 with the awakening of two giant radiation-eating Mutos, Godzilla is swiftly propelled to present day where, in turn, the old Lizard himself is duly woken up too. Among all the hi-jinx and adventure, it turns out our boy is actually on track to save the world from the desperate-to-mate Mutos.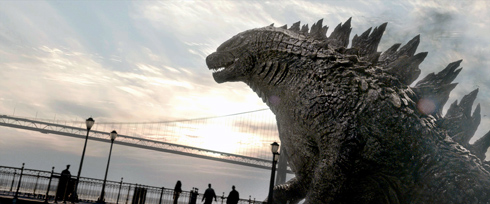 A bridge too far: Our hero won't let a little thing like the Golden Gate Bridge impede his progress in Godzilla (Legendary/Warner 2014)
Directed by Gareth Edwards, Godzilla makes use of its sober cast, being unafraid to lose its stars early for the benefit of moving the action along and avoiding both clichés and dirge. Let's face it, any film which can afford to dispense with an actress of the calibre of Juliette Binoche within the first ten minutes, is confident to say the least.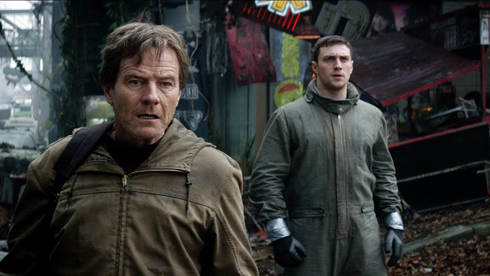 A chip off the old block: Ford Brody (Aaron Taylor-Johnson) begins to believe in father Joe's (Bryan Cranston) wisdom in Godzilla (Legendary/Warner 2014)
With beautifully balanced performances from Bryan Cranston, Ken Watanabe, Elizabeth Olsen and, particularly, Aaron Taylor-Johnson, Godzilla gently smoulders to its action-packed finale, with filming in muted greys and browns which add a palpable edge of uneasiness.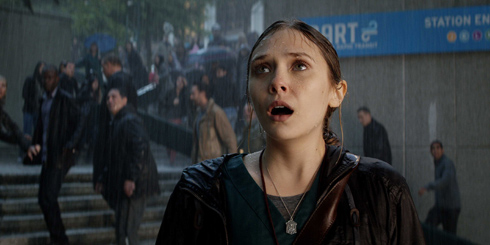 Leaping lizards: Elle Brody (Elizabeth Olsen) can't quite believe her eyes at the sight of Godzilla (Legendary/Warner 2014)
Although the film's reception has been generally positive, there are the detractors who have criticised its slow pacing, and the fact that Godzilla is neither the only, nor main, monster, but it is precisely these elements which have won praise from a wider audience. Sole credit for the screenplay goes to Max Borenstein, but contributions were also made by David Goyer, David Callaham, Drew Pearce and Frank Darabont.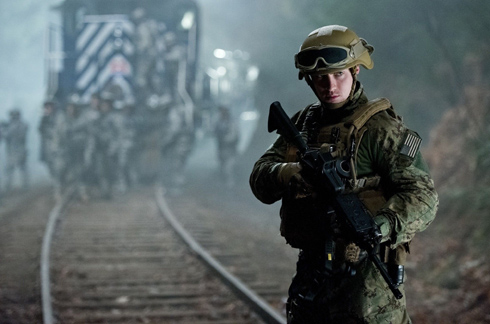 On track: Ford Brody (Aaron Taylor-Johnson) help deliver the nuclear warhead to its destination in Godzilla (Legendary/Warner 2014)
As for the main man himself, well naturally he's pretty much CGI, and again, a pocketful of purists have much derided the film for this. But, you know – fantastic as the talents of Willis O'Brien and Ray Harryhausen were, if computers can generate a visually breathtaking Godzilla such as this, why should we not embrace it and be as stunned and wowed as the producers intended? After all, the stop-frame techniques of those yesteryear geniuses were the equivalent in their day – while we all have strong affection for the creaky, cranky plasticine models of olden times, would we really take anything other than Wallace and Gromit seriously if it were presented to us today in a feature such as this?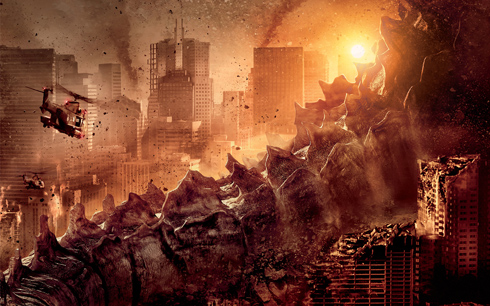 A tail of two cities: Concept art for Godzilla (Legendary/Warner 2014), whose main action is set in both Honolulu and San Francisco.
The 2014 Godzilla is a good-looking fellow, true in character and style to the original. There was huge disappointment in most quarters at the 1998 Centropolis TriStar rendition of a more spindly, T-Rex style Godzilla, and that film is, rather unfairly, totally disregarded, even by its own. But all that is set right here, with a beautiful crafting of an iconic monster regarded so highly that, despite world wide distribution by Warner, circulation of the film throughout Japan was handled by Toho themselves.
And that's a pretty sound seal of approval in anybody's book.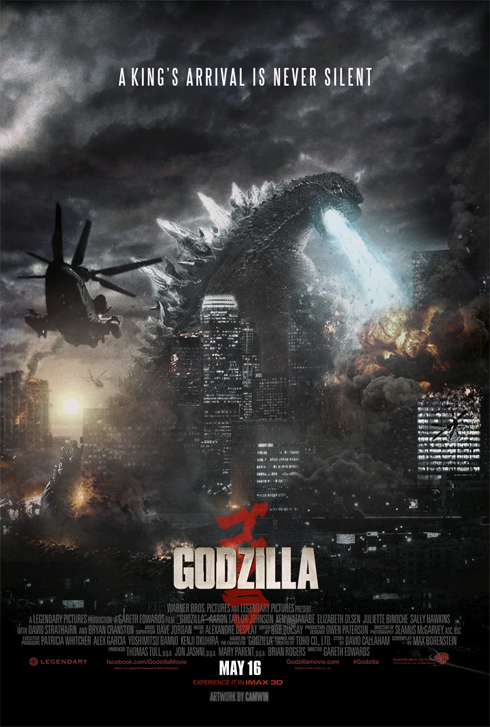 Litho lizard: Theatrical release poster for Godzilla (Legendary/Warner 2014)