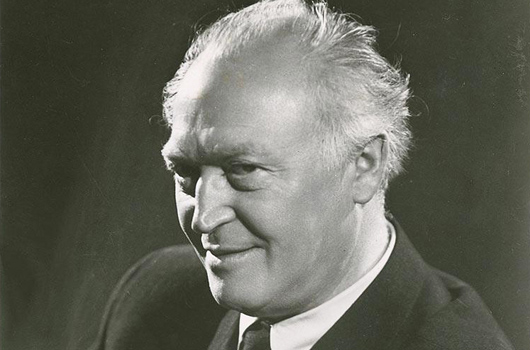 Werner Krauss
The German stage and film actor Werner Johannes Krauss was born at the parsonage of Gestungshausen, in Upper Franconia, on the 23rd of June, 1884.
Suspended from classes as a youth for working as an extra at the Breslau Lobe theatre, the young Krauss joined a touring theatre company, eventually debuting at the Guben municipal theatre in 1903.
A fortuitous meeting with Max Reinhardt took him to the Deutsches Theater in Berlin, but he only attained secondary roles, and it wasn't until after his military discharge from the Imperial German Navy in 1916 that he actively pursued a career in the movies.
With a penchant for playing the sinister, he revelled in his title role in The Cabinet of Dr Caligari (1919), which became a worldwide hit. His other important horror roles were in Paul Leni's Waxworks (1924) and Henrik Galeen's The Student of Prague (1926).
An unsympathetic and unapologetic anti-Semite, Krauss was a keen supporter of the Nazi party and its ideology, becoming a friend of German Propaganda Minister Joseph Goebbels. Goebbels appointed Krauss as vice president of the Reichskulturkammer theatre department, and he served in that capacity from 1933 to 1935. He was officially regarded as a cultural ambassador of Nazi Germany by Adolf Hitler.
As a result, Krauss was later banned from performing theatrically and in films in Germany. His films were denounced, and he was ordered to undergo a de-Nazification program in the late 1940s, ultimately being rehabilitated to the point of being invited to German film festivals, receiving a couple of national awards in the 50s. He published his autobiography, Das Schauspiel meines Lebens (The Play of my Life) in 1958.
Werner Krauss died in relative obscurity in Vienna in 1959, and his remains were cremated.