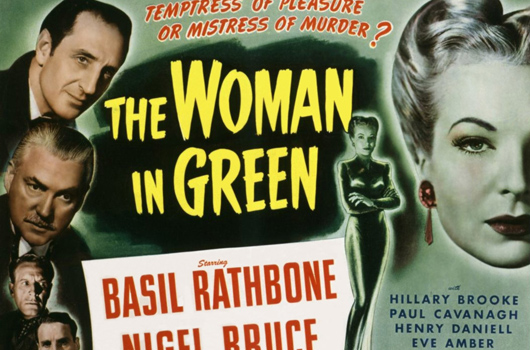 The Woman in Green (Universal 1945)
Sherlock Holmes mystery The Woman in Green was released on the 27th of July, 1945, directed by Roy William Neill and starring Basil Rathbone as the iconic detective.
A series of murders, with each victim's forefinger having been severed, puts Sherlock Holmes and his faithful assistant Doctor Watson (Nigel Bruce) on the trail of his nemesis Moriarty (Henry Daniell), as well as the woman in green of the title. What emerges is a sinister story of blackmail that places Holmes in mortal danger whilst testing his sleuthing powers to their limit as he double-crosses the double-crossers.
Though not a horror movie in the strictest sense, The Woman in Green is rich in tension, mystery and suspense. Themes of extortion and hypnotism add depth to the story, and Rathbone's excellent performance brings Conan Doyle's detective to life with panache.