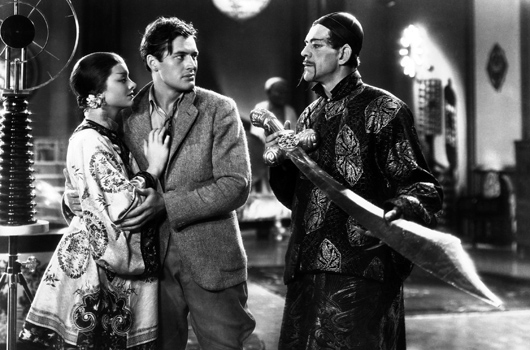 Mask of Fu Manchu, The (MGM 1932)
In the first speaking role of his second career, Boris Karloff hissily lisped his way through the title role of MGM's The Mask of Fu Manchu, based on the novel of the same name by Sax Rohmer. On loan from Universal, the star excelled himself as the snake-like evil genius hell-bent on conquering the world for the yellow races via acquisition of the authentic sword and mask of Genghis Khan.
Ensnaring British expedition leader Sir Lionel Barton (Lawrence Grant) as a sprat to catch mackerels Sir Denis Nayland Smith (Lewis Stone), Von Berg (Jean Hersholt), Terry Granville (Charles Starrett) and Sheila Barton (Karen Morley), the dastardly Dr Fu Manchu intends to use the intrepid explorers to locate and deliver unto him the precious relics he seeks. Murder, mayhem, torture and vengeance soon ensue and continue throughout The Mask of Fu Manchu, before the yellow peril's own death ray machine is turned upon him, his sadistic nymphomaniac daughter Fah Lo See (Myrna Loy) and his fawning subjects by the unlikely heroes.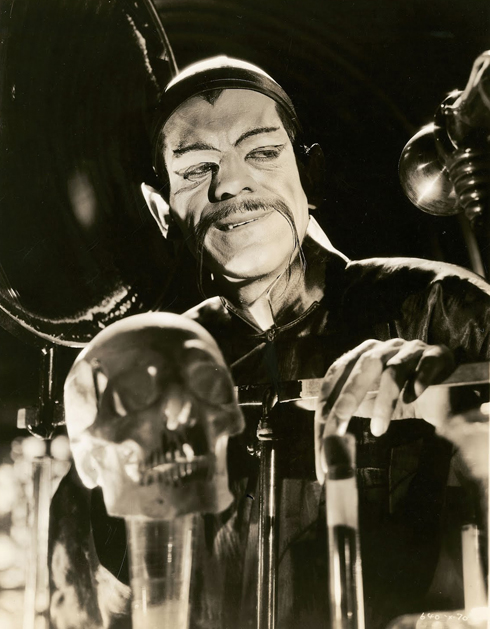 Karloff excels in his role as the evil titular character in The Mask of Fu Manchu (MGM 1932)
All the spit and polish MGM could muster cannot really hold this pre-Code offering up among the greats, although it still makes for enjoyable viewing, first and foremost for Karloff, but also for its camp, rather dated performances and beautifully overwrought scripting by Irene Kuhn, Edgar Allan Woolf and John Willard.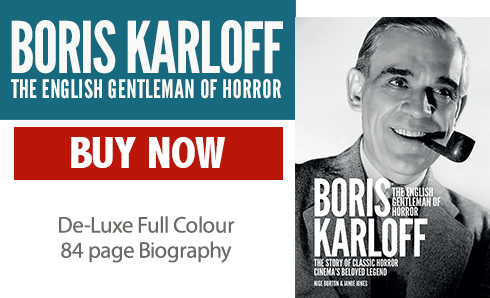 Boldly bordering on the fringes of sexual sadomasochism, The Mask of Fu Manchu also treads uneasily on racial stereotyping and sadistic torture, but carries it all off with such a gung-ho approach one hardly notices. Littered with plot black holes, not least the locking of party member McLeod (David Torrence) in an ultra-secure room while he guards Khan's relics, only to have him murdered by a knife thrown through the enormous open window, the film romps on regardless.
The Mask of Fu Manchu was Karloff's only outing as the depraved doctor, which seems a pity, as it was clearly a role he relished. One can only imagine how the character and performance may have been developed should subsequent instalments have been made. Meanwhile, this one should just be enjoyed without judgement, and appreciated for the unique piece of cinematic history it represents.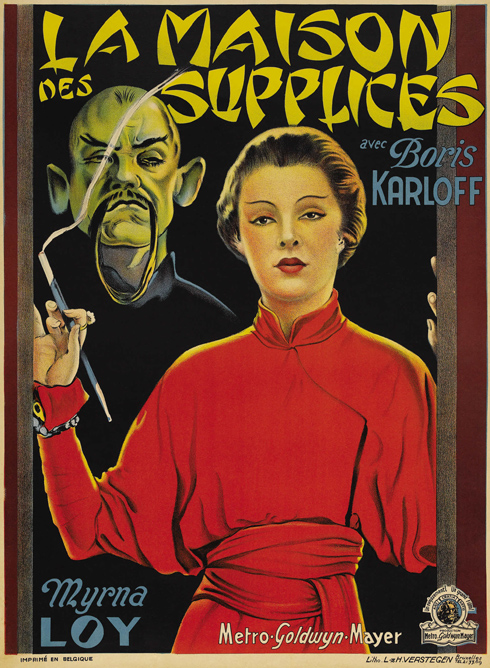 Original theatrical poster for the Belgian release of The Mask of Fu Manchu (MGM 1932)