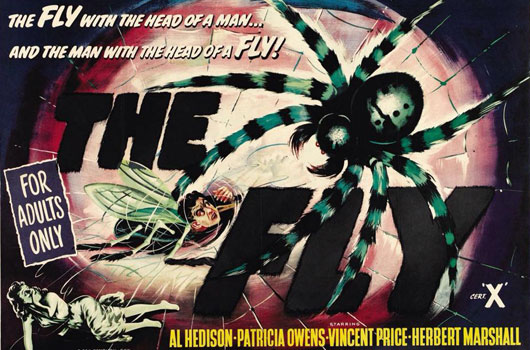 Fly, The (20th Century Fox 1958)
Sci-fi horror movie The Fly was released by 20th Century Fox on the 16th of July 1958.
Starring David Hedison (who would later find further sci-fi fame in the TV series Voyage to the Bottom of the Sea), Patricia Owens and horror icon Vincent Price, the film was both produced and directed by Kurt Neumann, who had been considered for the role of director on Bride of Frankenstein (1935). The plot was based around the short story by George Langelaan, and uses the medium of flashback to tell the tale of doomed scientist Andre Delambre, played by Hedison, whose experiments in matter transportation have unexpected consequences.
As with all scientific breakthroughs, Andre's experiments are fraught with risk, and the presence of a fly in his teleportation chamber brings about a merging of man and insect. With his head and arm gradually metamorphosing into those of the fly, but retaining his powers of thought, Andre sends his terrified wife Helene on a mission to find the offending bug, which now sports a miniature human head and limb, so that the two beings can be restored. Her search proving fruitless, Andre is left with no option but to destroy all evidence of his work, and ask Helene to kill him in a final act of mercy.
In an interesting yet helpful twist from a production point of view, star Patricia Owens' fear of flies was exploited by director Neumann, who hid the gruesome makeup from her until the relevant scene was filmed. The Fly was a critical and commercial success and spawned two sequels, Return of the Fly (1958) and Curse of the Fly (1965), but unlike its successors was filmed in glorious Terror-Color by De Luxe. A new treatment of the movie starring Jeff Goldblum was released in 1986; helmed by David Cronenberg, this new version also spawned a sequel, The Fly II (1989).