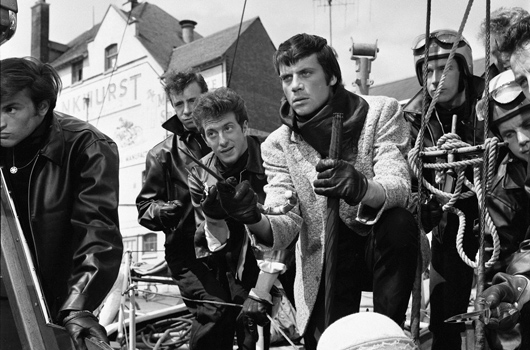 Damned, The (Hammer 1963)
The Damned, a Hammer science fiction thriller based on the H L Lawrence novel The Children of Light, was released on 19th May, 1963 after a troubled production run which began a couple of years earlier.
Joseph Losey had been persuaded to direct, and the original treatment was submitted by Ben Barzman after an intense writing period at his home in southern France, during which process the director was in attendance. However, at the end of the creative isolation, the two fell out, and Losey had the screenplay hastily rewritten by TV script man Evan Jones, a decision Hammer were totally against. The cast includes MacDonald Carey, Shirley Anne Field and Oliver Reed.
Real helicopters, blown budgets and artistic bickering played a backdrop to the rest of the shoot; the film was eventually completed in the summer of 1961, but co-producers Columbia delayed its release for almost two years when it eventually saw the light of day coupled with another Hammer feature, Maniac (they had originally intended to release it as a double bill with William Castle's 1961 production, Mr Sardonicus).
A powerful film, The Damned never quite seems to reach its full potential, although its influence can be seen in Stanley Kubrick's A Clockwork Orange (1971), while other elements are echoed in Apocalypse Now (1979) and Stephen Spielberg's Duel (1971). It was released in America, minus ten controversial minutes, as These Are The Damned.