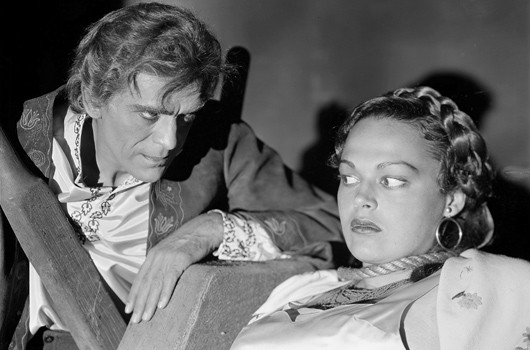 Black Room, The (Columbia 1935)
The Black Room, released by Columbia in 1935, sees Boris Karloff wonderfully cast in a dual role as evil twin Gregor de Berghman, and his saintlier counterpart Anton.
The story centres around the unhappy de Berghman family, living in fear of an ancient omen predicting fratricide in the family castle's mysterious 'black room'. In order to defeat the curse, Baron Frederick de Berghman (Henry Kolker) has the troublesome chamber bricked up, but it little deters the villainous Gregor from identifying a secret entrance to the black room, to ply his nefary some decades hence.

Seconding his sibling back into the fold under false pretences, the dastardly twin soon has that good egg knocked off and thrown into a pit in the infamous titular room, believing he has scuppered the bane once and for all. He then impersonates him to secure his ultimate prize, the hand in marriage of pretty Thea Hassel (Marian Marsh), whom he plucks from the loving arms of her fiancé, Lt Albert Lussan (Robert Allen) before framing him for Anton's murder.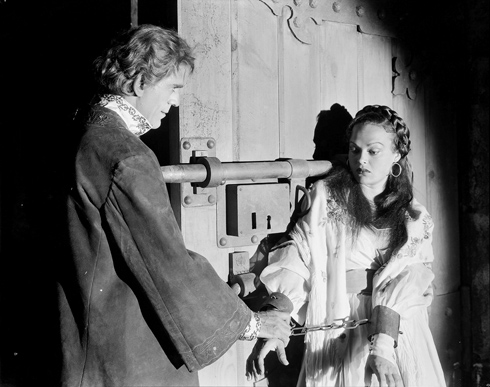 Horrible history: Evil twin Gregor (Boris Karloff) prepares to dispense with his now tiresome companion, Mashka (Katherine de Mille) in The Black Room (Columbia 1935)
Angry villagers, teamed with a faithful hound that knows good from evil, thwart him and the day is saved. Gregor tumbles into his own black room pit, falling onto the knife which Anton's body is still clutching, thus ensuring the prophecy is fulfilled after all.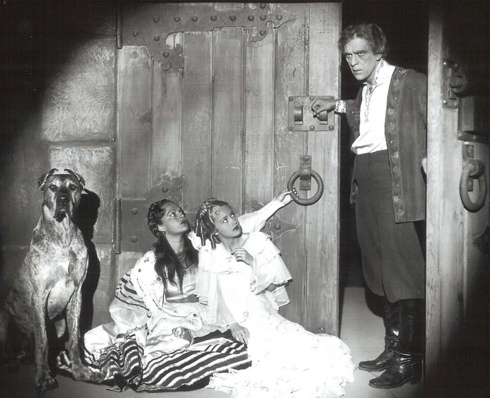 Family album: This carefully posed publicity still, which resembles those of the silent era, actually reflects nothing that goes on in the film. It does, however, bring together Von the Dog, Katherine de Mille, Marian Marsh and Boris Karloff for a pleasant group shot for The Black Room (Columbia 1935)
The Black Room started shooting on its faux Tyrolean medieval town set, on Hollywood's 40 Acres backlot, on the 6th of May, 1935, and wrapped just 32 days later. Karloff's performance of the good and evil twins was voted runner-up to the best performance for the month of August that year by the Screen Actors' Guild. The top slot was a tie between Henry Fonda in The Farmer Takes a Wife and Will Rogers in Steamboat Round the Bend.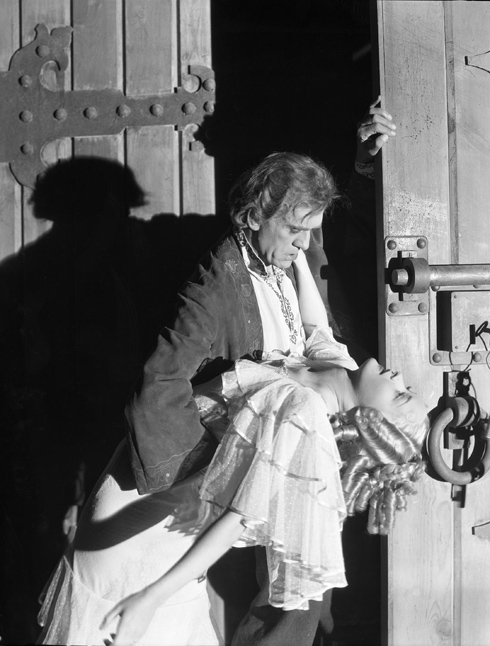 Swept off her feet: Villainous Gregor (Boris Karloff) makes off with prize Thea (Marian Marsh) in The Black Room (Columbia 1935)
There is a great sense of adventure throughout The Black Room, and a glorious feeling that, while Karloff takes things quite seriously, he's also having a great deal of fun. Strong support comes from Thurston Hall as the kindly Colonel Paul Hassel, and Katherine de Mille as Mashka, a totally expendable 'companion' for the wicked Gregor.
More dark adventure than outright supernatural, the ironic twist of fate at the end is both satisfying and well executed. Roy William Neil's pacy direction of Arthur Strawn and Henry Myers' screenplay makes The Black Room appear somehow ageless, and these factors, combined with Robert North's competent production, make it a reliable piece of mid 1930s hi-jinx which remains a joy to watch.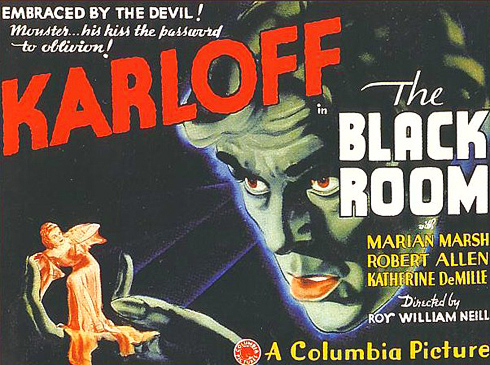 Room for murder: Original theatrical release poster for The Black Room (Columbia 1935)