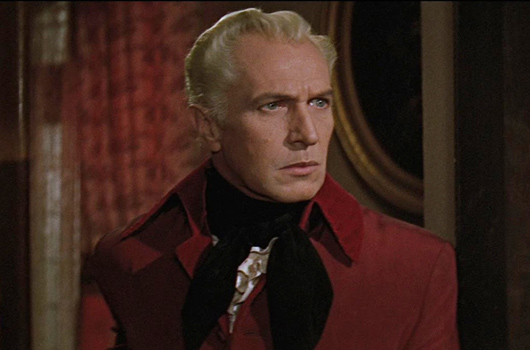 House of Usher (AIP 1960)
Roger Corman's horror movie House of Usher was released on the 22nd of June, 1960.
Based on the Edgar Allan Poe short story The Fall of the House of Usher, and reworked for the screen by Richard Matheson, the movie starred Vincent Price, Mark Damon and Myrna Fahey. Poe's brooding story of family madness was a relative rarity for American International Pictures as it was shot in colour, the studio having previously focused more on black-and-white, B-movie productions.
Although the film was met with a cool reception at the time, House of Usher now enjoys an enviable reputation as much among critics as among fans. Its foreboding atmosphere and Corman's stylish direction come in for particular praise, and the movie is regularly held up as an example of how a work of literature can be successfully adapted for the screen. The film was also released as The Fall of the House of Usher.