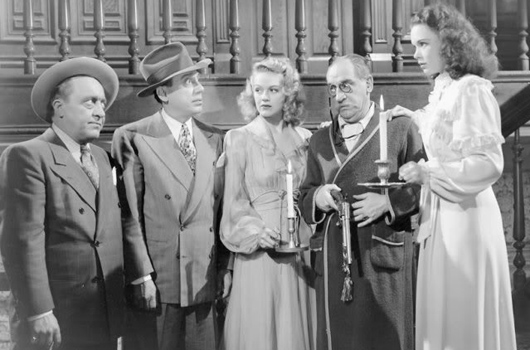 Ghost Catchers (Universal 1944)
The Universal comedy-horror-musical extravaganza Ghost Catchers was released on the 16th of June 1944, providing a vehicle for the vaudeville duo of Ole Olsen and Chic Johnson.
The pair's brand of chaotic stage comedy had been popularised on the screen thanks to the 1941 adaptation of their stage revue Hellzapoppin', and Ghost Catchers capitalised on the formula, with anarchic set-pieces and slapstick gags in a haunted-house setting.
Director Eddie Cline was known for his love of old-school comedy, a fact evident in the free rein afforded the two leads. Opinions of Ghost Catchers remain polarised in the extreme, with fans viewing it as a perfect example of the winning Olsen/Johnson double-act, and naysayers decrying the waste of a supporting cast which included Lon Chaney Jr, Tor Johnson and Mel Torme.