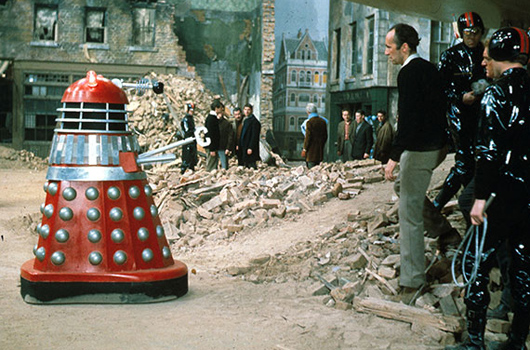 Daleks – Invasion Earth: 2150 AD (Amicus 1966)
Daleks – Invasion Earth: 2150 AD was released on the 5th of August, 1966 by Amicus Productions, and placed Peter Cushing in the role of the iconic time traveller.
Directed by Gordon Flemyng and written by Amicus co-founder Milton Subotsky, the plot of Daleks – Invasion Earth: 2150 AD sees the Doctor battling his old adversaries the Daleks in a post-apocalyptic England of 2150. With humanity on the brink of eradication, the Doctor and his accidental companion Tom (Bernard Cribbins, who would go on to play a key role in the 21st Century reboot alongside the tenth Doctor played by David Tennant) joins resistance fighters Wyler (Andrew Keir), David (Ray Brooks) and Dortmun (Godfrey Quigley), and harnesses the power of magnetism to destroy the nefarious-yet-surprisingly-impractical villains.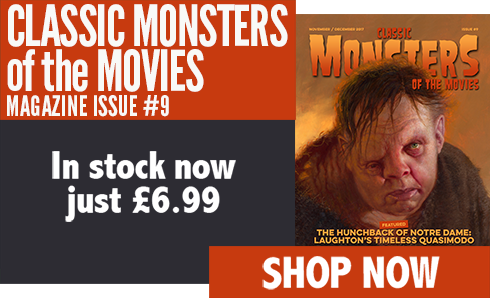 Check out our biography of Peter Cushing in Classic Monsters of the Movies issue #9…
The movie took a similar approach to the character of the Doctor as did its predecessor, Dr Who and the Daleks (1965), in that the Doctor is portrayed as an eccentric human being rather than an alien. However, despite this difference, the movie remains true to the spirit, special effects and adventurous nature of the series, with Subotsky's screenplay allowing for plenty of dramatic set-pieces – not to mention product placement for popular breakfast cereal Sugar Puffs. Daleks – Invasion Earth: 2150 AD was not well received at the time, although the presence of Cushing adds considerable gravitas to an endearing adventure which cannot fail to find a place in the hearts of science-fiction fans.