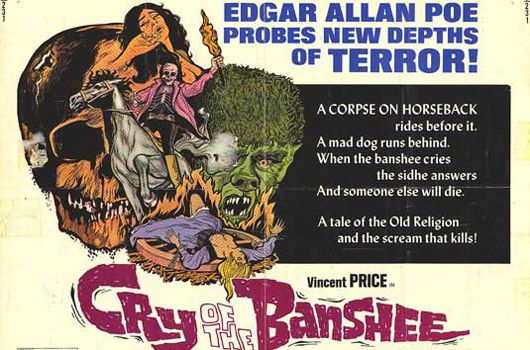 Cry of the Banshee (AIP 1970)
AIP's horror movie Cry of the Banshee was released on the 22nd of July, 1970, loosely based on the Edgar Allan Poe story of the same name but not remaining particularly faithful to the source material.
Directed by Gordon Hessler, Cry of the Banshee follows the fate of Elizabethan witchhunter Lord Edward Whitman, played with suitable malevolence by Vincent Price. Whitman's lust for power and casual willingness to murder local peasants in the name of ostensibly battling the occult backfire massively when he crosses a real witch and slaughters members of her coven. In retaliation, she summons a sidhe – a magical servant – to wreak vengeful havoc on the Whitman family.
The absence of a traditional screaming banshee may disappoint some horror fans, but this foray into Celtic mythology serves as a great vehicle for Price's unique brand of sinister haughtiness, and features genuinely suspenseful sequences, particularly the terrifying coach ride at the story's conclusion. Thanks to its setting, Cry of the Banshee has the unenviable task of being perpetually compared with Witchfinder General (1968), a battle it can never win, but in its portrayal of a layered household hinting at myriad sub-plots, it does merit more than a passing glance.