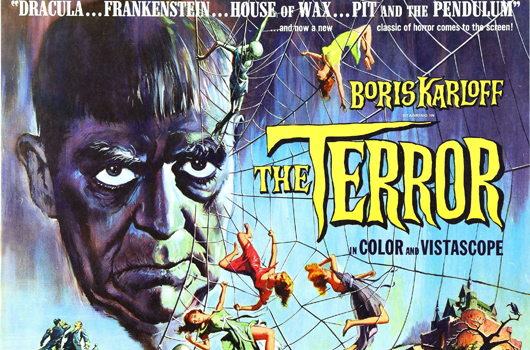 Terror, The (AIP 1963)
Roger Corman's The Terror, starring Boris Karloff and Jack Nicholson, was released on the 17th of June, 1963.
A low budget shocker in more ways than one, the film is famous for being shot on sets left over from other AIP productions, including The Haunted Palace. Sometimes linked to Corman's series of Edgar Allan Poe films of the same era, The Terror is not actually based on any of Poe's works.
Thrifty Corman's decision to make the movie by taking advantage of sets left over from The Raven and other American International productions went down well with studio bosses. Leo Gordon received just $1,600 to write a script, while it was agreed Boris Karloff would be available for just three days' filming for a modest fee, plus a deferred payment of $15,000 should the film earn more than $150,000 at the box office.
It didn't, so Karloff went without. Corman did, however, promise to pay up in full if the star agreed to work on a future, undetermined project. This eventually turned out to be Peter Bogdanovich's Targets (1968), a pioneering film essentially casting Karloff as himself in the guise of Byron Orlock, which also borrowed footage heavily from The Terror, just to keep everything green. Agreement reached, the actor got his dollars.