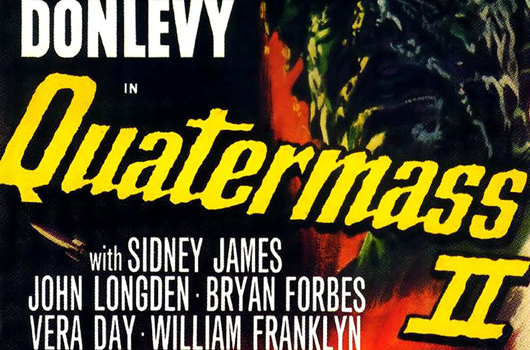 Quatermass 2 (Hammer 1957)
Hammer's success with The Quatermass Experiment in 1955 naturally inspired them to commission a sequel, this being Quatermass 2, which was released on 24th May, 1957.
Based again on Nigel Kneale's TV series, Hammer purchased the film rights to the work before the BBC had had a chance to screen their version. Kneale was asked to write the first draft of the screenplay, although subsequent revisions were made by director Val Guest. John Longden, Sid James, Bryan Forbes, William Franklyn and Vera Day starred in supporting roles. Kneale was critical of the finished film, mainly for the casting of American actor Brian Donlevy in the title role for the second time. The writer believed Donlevy was wrong for the role, and that his performance was affected by his alcoholism.
Nonetheless, Quatermass 2 was a financial success, even though it was eclipsed by The Curse of Frankenstein (1957), the film which started Hammer on the road to horror proper. As a result, it was ten years before the Professor was revived again for Quatermass and the Pit (1967), but notable about this second entry is that it was the first film for which the company pre-sold US distribution rights, a mode of financial husbandry which would become their structure for future productions. The film was released in America as Enemy From Space.