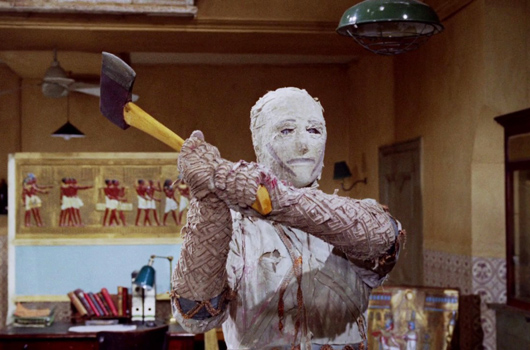 Mummy's Shroud, The (Hammer 1967)
On the 18th of May 1967, The Mummy's Shroud was released as a double-bill with Frankenstein Created Woman.
Written and directed by John Gilling, who had worked on such previous Hammer hits as The Shadow of the Cat (1961) and The Plague of the Zombies (1966), the film starred André Morell, John Phillips and David Buck, with Maggie Kimberley and Elizabeth Sellars as the female leads. The Mummy itself was played by Eddie Powell, Christopher Lee's regular stunt double, and the narrator – usually believed to be Hammer stalwart Peter Cushing – was actually actor Tim Turner. The film was Hammer's final production to be made at Bray Studios; operations later moved primarily to Elstree Studios with occasional diversions to Pinewood. While the film was not received particularly warmly at the time, it is now celebrated by fans as a perfect example of Hammer doing what they did best.