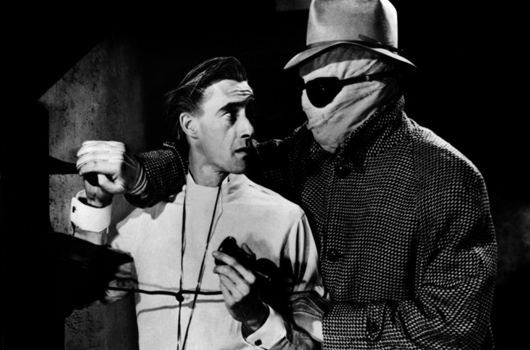 Invisible Man's Revenge, The (Universal 1944)
Universal's fifth and final entry into the Invisible Man saga, The Invisible Man's Revenge, was released on the 9th of June, 1944.
Jon Hall returned in the title role for The Invisible Man's Revenge, this time as Robert Griffin. Deprived of his inheritance by Lester Matthews, he enlists woodland dwelling John Carradine to make him transparent, thus terrorising Matthews and scaring poor Evelyn Ankers half to death in the process. Needing human blood to re-materialise, Griffin dispatches Dr Carradine to obtain it, but is killed by that medical man's Great Dane before he can do the same to Alan Curtis.
The Invisible Man's Revenge was all fairly predictable stuff, albeit directed with some finesse by Ford Beebe. The invisibility tricks, however well executed, were wearing a little thin, and failed to impress a jaded public. Initially, Universal had hoped to tempt Claude Rains back into the Griffin shoes, but that star was well beyond any such fodder, and so Hall was cast again.