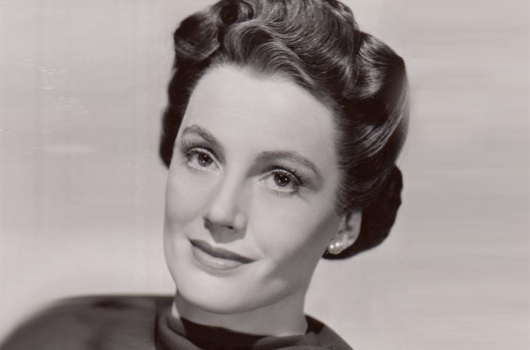 Frieda Inescort
Scottish-born actress Frieda Inescort was born Frieda Wrightman in Edinburgh on the 29th of June, 1901, and from unsettled beginnings, would go on to become a familiar – not to mention striking – face in a variety of stage and screen roles. Her parents, journalist John Wrightman and actress Elaine Inescourt, separated when she was a young child, and although her father divorced her mother under charges of abandonment and adultery, Frieda stayed with Elaine. However, Elaine's drive to achieve success on stage meant that young Frieda was often sent to boarding schools throughout her youth.
Working in secretarial jobs to support herself, Frieda travelled to New York with member of Parliament Waldorf Astor and his wife, the American-born Lady Astor. She decided to remain in the USA and landed a small part in Winthrop Ames' Broadway comedy The Truth About Blayds (1922). The play was a hit, and Frieda's performance led to her being cast in a lead role in the comedy You and I. This, too, was a great success, and a career in performance took Frieda Inescort out of the secretarial world forever.
Her success in the latter half of the 1920s made Frieda Inescort a familiar name on Broadway. Sadly, though, her burgeoning career came at a great personal cost, as her mother (unable to find acting work) became jealous and resentful. Mother and daughter became bitterly estranged and would never reconcile.
When her husband, writer Ben Ray Redman, took a job as literary advisor and author at Universal, Frieda relocated to Hollywood, and made her screen debut supporting Fredric March and Merle Oberon in drama The Dark Angel (1935). A successful movie career followed, and she carved a noted niche for herself playing haughty, sophisticated ladies with an icy detachment that did not reflect her real demeanour.
Stage work gradually played a larger role in her career, but Frieda Inescort did make room in her schedule to star in The Return of the Vampire, Columbia's 1944 pseudo-sequel to Universal's Dracula (1931). Although the movie itself does suffer from a clutch of hammy performances, her dignified presence brings some welcome gravitas to proceedings.
Tragedy struck for Frieda Inescort in the early 1960s, when Redman – her husband of 35 years – committed suicide. The shock of this event seemed to accelerate the progression of the multiple sclerosis with which Frieda had been diagnosed just the previous year. The rapid development of her illness forced her to stop working, and she spent much of the rest of her life working for the local multiple sclerosis association.
Having moved into the Motion Picture Country Home in Woodland Hills in 1973, Frieda Inescort passed away on the 21st of February, 1976 at the age of 74.