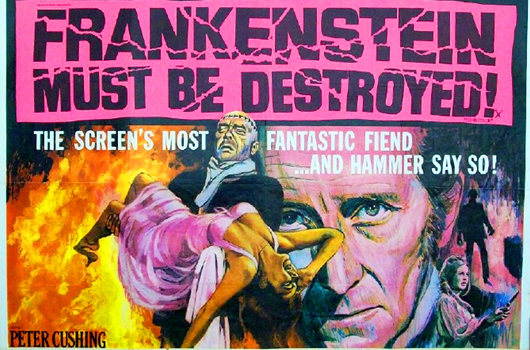 Frankenstein Must Be Destroyed (Hammer 1969)
Hammer's Frankenstein Must Be Destroyed, the fifth entry in their Frankenstein series, was released on the 22nd of May, 1969.
Directed by Terence Fisher and starring Peter Cushing, Freddie Jones, Veronica Carlson and Simon Ward, the plot of Frankenstein Must Be Destroyed centres on Cushing trying his skills at brain surgery, in an effort to save an associate from madness. A controversial scene where Frankenstein rapes Anna was filmed despite strong objections from both Cushing and Carlson, as well as director Terence Fisher, who halted it when he felt it had gone far enough. Not in the original screenplay, the scene was added at the insistence of Hammer executive James Carreras, who was under immense pressure from the company's American distributors to make the film racier. This toning down explains why no mention of the rape is subsequently made by either character.