Product Description
Pre-order for December 2023 publication and shipping.
There's something buried in the ice out there but it's probably not a good idea to warm it up, as the Ultimate Guide to The Thing From Another World explores a turning point in science fiction cinema. This beautiful magazine guide takes you to the sinister corridors of the Arctic outpost as you investigate the origins, development and impact of the slow-burning 1951 classic that gave us some of horror cinema's most iconic images. Packed with information, trivia and – of course – myriad beautifully restored stills, the Ultimate Guide to The Thing From Another World is a must for your collection of horror movie magazines.
Based on John W Campbell Jr's 1938 novella 'Who Goes There?', The Thing From Another World took audiences by surprise when it arrived on cinema screens in 1951 and has remained a favourite among horror fans ever since. The combination of mystery, paranoia and full-blooded terror made for myriad nail-biting moments, with James Arness appearing against type, not to mention under plenty of make-up, as one of the science fiction age's most memorable villains. As you dive deeper into the legacy of The Thing From Another World, this luxurious full colour magazine reveals a huge amount of information about the film's creation.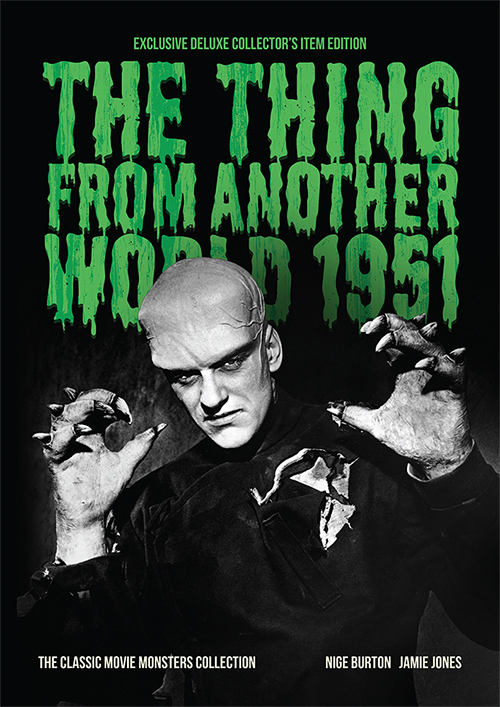 The clean, timeless design of this Thing From Another World magazine guide is subtly inspired by the film itself, with unfussy layouts allowing you to enjoy a range of insightful, engaging articles that illuminate the significance of this tense, nightmarish movie. You'll gain a greater understanding of how screenwriter Charles Lederer adapted Campbell's story, excising some notable elements but retaining the eerie fundamentals of the tale to compelling effect. There's also an exploration of how the film echoed cultural fears about the conflict between scientific idealism and real-life pragmatism.
Classic Monsters publications are renowned for presenting the finest movie stills, and the Thing From Another World Ultimate Guide is a case in point. In addition to a wealth of written information, this breathtaking movie magazine boasts a number of magnificent stills, painstakingly restored to allow every detail to look its best. Our use of full colour print processes means each still retains the depth and detail it was meant to have, in stark contrast to cheaper newspaper-style monochrome printing. The difference is clear – this Thing From Another World 1951 magazine is like no science fiction movie guide you've ever seen, created with a love for its subject that shines through in every still and evokes the claustrophobic terror of the snowbound outpost.
The presentation of this guide to The Thing From Another World is another highlight. Produced to A4 size (210mm x 297mm), it's printed on high quality paper stock with a subtle sheen that's the perfect foundation for a high-end reading experience. The firm glossy cover, meanwhile, marks this out as not just another movie magazine – this is a professionally produced celebration of a beloved movie that's sure to enrich your collection.
Within the pages of this magazine guide to The Thing From Another World, we explore the creative decisions and challenges faced by the team whose work created such a powerful and enduring horror experience. Despite its unfamiliar location and unconventional plant-based monster, this is a movie that taps into a whole lot of shared human experience, with a sense of panic and vulnerability pervading the whole production.
During your journey through the Thing From Another World Ultimate Guide, you'll come to appreciate the work of producer Howard Hawks and director Christian Nyby, as well as the other members of the cast and crew whose collective work resulted in a classic of the horror genre. Here, too, we've got you covered, with informative biographies showcasing the lives and careers of key members of the team. You may be surprised what you learn about stars Arness, Margaret Sheridan and Kenneth Tobey, not to mention director Nyby, producer Hawks, cinematographer Russell Harlan and composer Dimitri Tiomkin. This guide to The Thing From Another World is a rich resource for any fan of fifties sci-fi, classic horror or pop culture.
There's a storm moving in, so we're going to be stuck indoors for a while. That specimen we recovered from the ice has got everyone talking, and Dr Carrington seems a little too excited about it for our liking, so maybe it's best to settle down somewhere warm (has anyone seen the electric blanket?) and enjoy the Ultimate Guide to The Thing From Another World. It's the only thing that'll keep you from watching the skies…
36 pages
A4
Full colour throughout
Luxury gloss laminated cover