Product Description
In stock for immediate shipping.
Take a trip into the squalid world of bad science and talking apes with our Ultimate Guide to Murders in the Rue Morgue – a heady blend of Bela Lugosi, Edgar Allan Poe and medical horror that has a strange power over audiences even today.
Why are there so many dead bodies in the Seine? Who's that strange man at the carnival? And is anyone safe from his sinister trained gorilla? The Ultimate Guide to 1932's Murders in the Rue Morgue takes you to the heart of this curious, stylised motion picture. Bela Lugosi's turn as sideshow exhibitor and mad scientist Dr Mirakle is an unforgettable one: it's just one of the many facets of this frequently derided yet most intriguing production that we celebrate.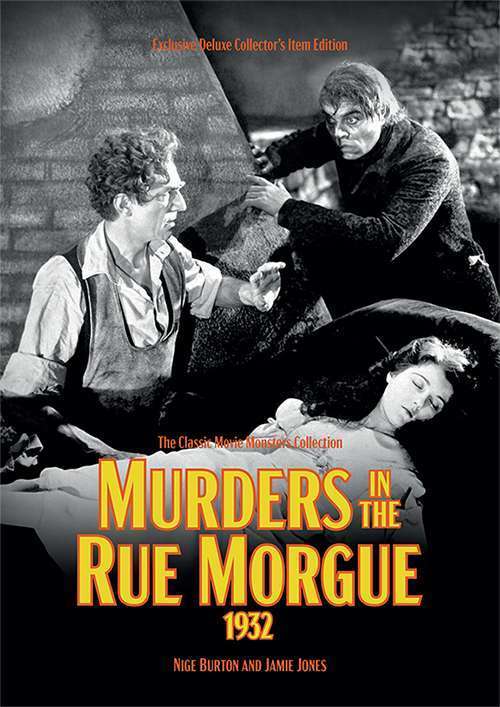 As you explore the eerie streets of 19th century Paris through the pages of this Murders in the Rue Morgue magazine guide, you'll discover the stories behind the movie's production. From its genesis in Edgar Allan Poe's 1841 detective story, through studio disputes and creative differences to the movie we know today, we trace the many factors that shaped its development. A range of engaging articles discuss the movie's development and themes, as well as its place in the first wave of golden age Universal horrors.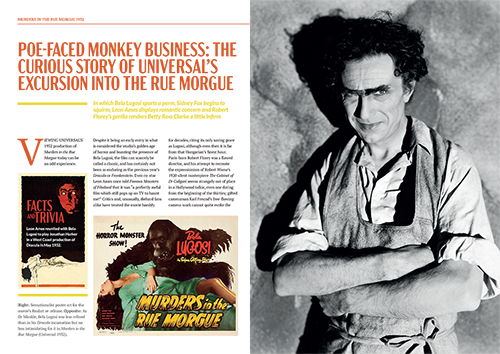 Our commitment to showing only the best imagery means the stills and artwork featured in our Murders in the Rue Morgue 1932 magazine guide are restored and reproduced to the very highest standard, with full colour print processes making even black and white stills look rich and atmospheric alongside their colour counterparts. Our famed crisp design and high production values make this Murders in the Rue Morgue guide a joy to browse and a sure-fire favourite for your horror movie magazine collection.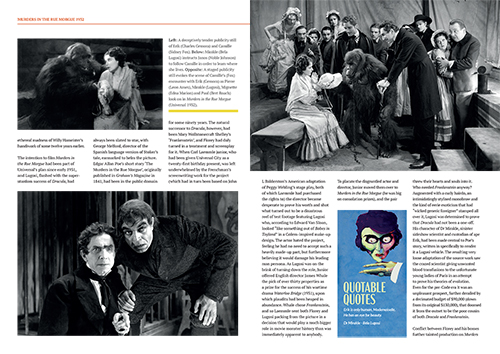 As well as the movie itself, you'll learn about the people who made it happen. Naturally, Bela Lugosi takes centre stage and we pay tribute to his remarkable life and career, but you'll also meet co-stars Sidney Fox, Leon Ames and Noble Johnson alongside many others. Their varied and sometimes tragic stories are captured in fact-packed biographies that show the more human side of horror cinema, and you may well find some unexpected inclusions in their various bodies of work. It's also a chance to discover more about author Edgar Allan Poe along the way. Meanwhile, crew members like director Robert Florey and cinematographer Karl Freund brought many of their own flourishes to proceedings, making the movie a feast for fans of the macabre; our Murders in the Rue Morgue guide features biographies of many major crew members, giving you a deeper appreciation for the artistry that went into the film's creation.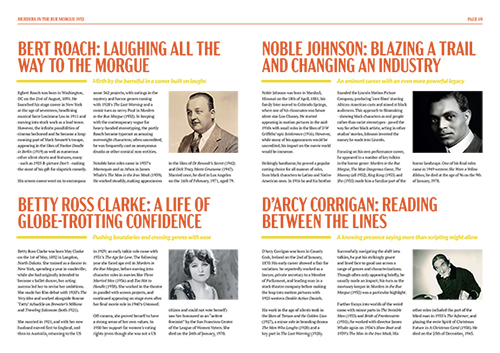 No fan of pre-Code horror should miss this Ultimate Guide to Murders in the Rue Morgue. From start to finish it's an abundant resource for the movie, with a wealth of information on the production and its context. The movie's stylised approach harks back to classics of the silent age, while many aspects of its lurid content fell foul of the censor and resulted in some pretty brutal cuts.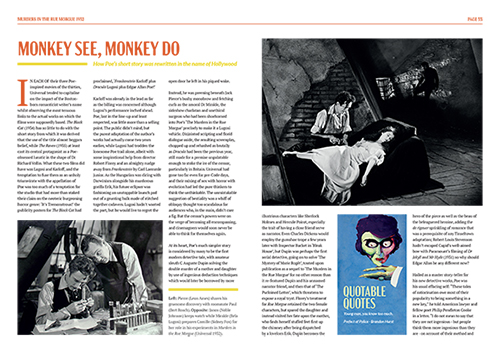 Dr Mirakle's sideshow is about to begin, and you can bet he – not to mention his trained ape Erik – has an eye for a pretty girl. Maybe it's best to take a walk along the river instead, because the rooftops look a little precarious and there's been an awful lot of shouting lately in all sorts of languages. So find a quiet place to sit and enjoy the Murders in the Rue Morgue Ultimate Guide – it'll be sure to warm your blood, whatever else might have been transfused in there…
36 pages
A4
Full colour throughout
Luxury gloss laminated cover