Product Description
In production.
The beaches of Amity Island are beautiful at this time of year, and the water's an inviting shade of… red? Celebrate one of cinema's all-time classics with the Jaws 1975 Ultimate Guide, a beautifully illustrated, high-end tribute to a movie that combined horror, adventure and heroism to unforgettable effect. This Jaws movie guide looks at the movie's difficult journey from page to screen, exploring its development, production and colossal cinematic legacy. This luxurious full colour Jaws 1975 magazine is another essential for your collection, with the commitment to quality that's the hallmark of Classic Monsters Ultimate Guides.
The arrival of Jaws in cinemas in 1975 under the Universal banner did for swimming what Psycho did for showers in 1960, turning something as normal as a summertime trip to the beach into the stuff of nightmares. Under the direction of Steven Spielberg, and with a score by John Williams that boasted far more variety than those all-pervading two notes (you're singing them now, aren't you?), it became a truly iconic motion picture experience, and the Jaws Ultimate Guide magazine is your perfect companion to another jaunt out to the troubled Amity Island community. Printed in rich full colour and packed with stills and information, this glorious Jaws magazine guide tells the story of how director Steve Spielberg brought the very best out of a skilled team, whilst giving you an insight into the rich fruits of their collective efforts.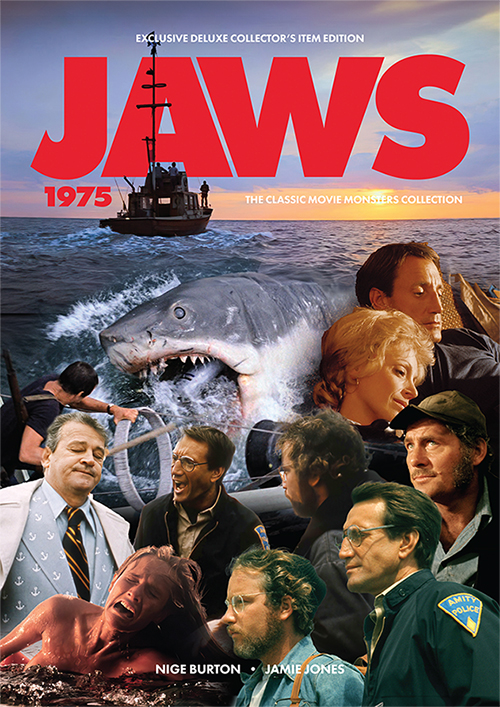 Presented in A4 format (210mm x 297mm), the magazine guide to Jaws pays homage to this remarkable motion picture with the high production values that you expect from Classic Monsters Ultimate Guides and a range of engaging articles to guide you through the movie's production and the challenges faced by cast and crew alike. A wealth of lovingly restored stills immerses you in the movie's captivating world, while a clean yet vibrant design evokes the movie's immortal imagery. Our use of full colour printing, meanwhile, ensures that even black and white stills have a rich vibrance that traditional monochrome printing doesn't offer.
The story of a shark attacking a small New England town shouldn't be this timeless, but there's no denying that Peter Benchley and Carl Gottlieb crafted a movie experience that has lost none of its impact in almost fifty years. The Ultimate Guide to Jaws shows you don't have to be a monster kid to love it – with horror and adventure working in parallel, Jaws is a movie that crossed boundaries. It's a masterclass in making the most of your resources too: with model shark Bruce breaking down repeatedly during production, Spielberg employed a famously sparse approach to showing the killer shark, a tactic that has made the movie all the more horrific.
During your journey through the Jaws 1975 Ultimate Guide, you'll also discover a wealth of biographies that reveal the lives and careers of the many talents whose collaboration created a defining moment in cinema history. From stars Roy Scheider, Robert Shaw, Richard Dreyfuss and Lorraine Gary through to crew members like director Spielberg, writer Benchley, producers David Brown and Richard D Zanuck, and cinematographer Bill Butler, you'll learn about the rich combination of skills that helped to cement Hollywood's love for straightforward stories with blockbuster potential. Each page of this guide to Jaws will enrich your experience of the movie, making it a loving retrospective with up-to-date production values.
The Jaws 1975 Ultimate Guide magazine also looks at the movie's enduring power: from the huge amount of merchandise that capitalised on its universally accessible story, to its subtle exploration of themes like class structure and the role of the shark itself as a symbol for social instability, you'll likely discover a new angle on a beloved film while enjoying warm nostalgia about your own memories of it. There's no Jaws movie guide like it out there.
This beach party's getting a little dull, and Chrissie won't take no for an answer about going swimming. The water's certainly refreshing, but something doesn't feel quite right, and it's not just all the beer. Maybe leave her to it – after all, she can always hang on to that buoy if she needs to – and relax by the fire with the Jaws Ultimate Guide. Tourist season is on the way and, as Mayor Vaughn says, the last thing Amity Island needs right now is a panic from three men in a boat, however big it might be…
36 pages
A4
Full colour throughout
Luxury gloss laminated cover