Product Description
Critically low stock level.
Splash down into an iconic science fiction adventure with the Ultimate Guide to Planet of the Apes. This stunning full colour movie guide magazine explores the groundbreaking 1968 classic, from its literary origins and cinematic impact to its status as an undisputed cultural milestone. Packed with glorious imagery and information, this Planet of the Apes guide magazine evokes the spirit of the brochure you might have bought at the cinema in 1968, but brought up to date with high-end production values.
The 1963 novel 'La Planète des singes' was a stark reflection of author Pierre Boulle's concerns about segregation, racism and social progress. Upending familiar ideas about species dominance, it spoke uncomfortable truths about the state of the world – truths which howled from the movie screen when 20th Century Fox's big-screen adaptation dazzled cinemagoers five years later, with powerhouse performances from Charlton Heston, Kim Hunter, Roddy McDowall and Maurice Evans bringing its story to life. The Ultimate Guide to Planet of the Apes is your perfect companion to a fresh viewing of a motion picture that uses its vivid imagery of a nightmare future to question our present day.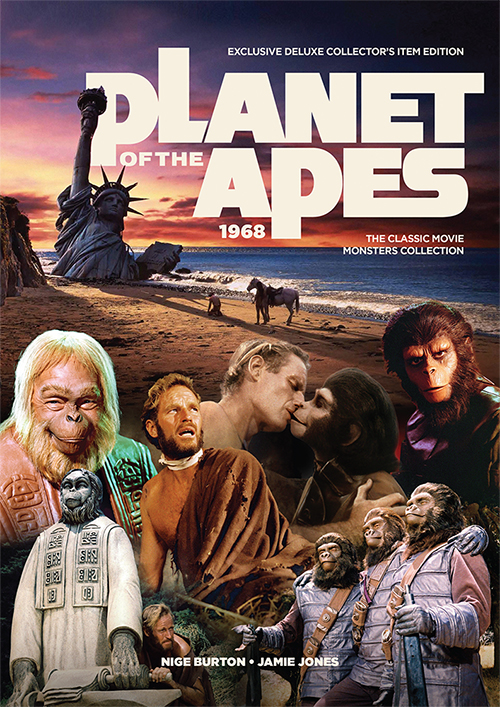 The early involvement of Rod Serling, creator of The Twilight Zone, in the development of the screenplay only added to the unsettling and disorientating atmosphere that makes this movie so important. Within the pages of the Ultimate Guide to Planet of the Apes, a range of informative articles tells the tale of the movie's evolution from the page to the screen. You'll follow the timeline of creative decisions and challenges that shaped the movie we revere today.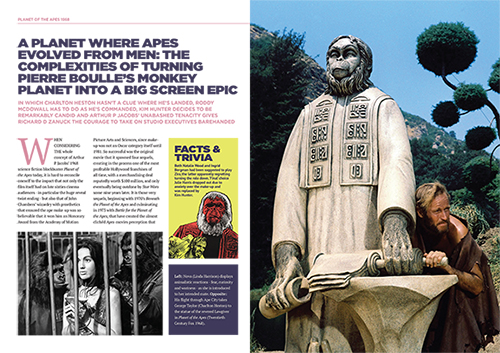 As well as richly informative text, every page features glorious artwork to make this Planet of the Apes magazine guide an absolute essential for any sci-fi or horror fan's collection. Produced in A4 format (210mm x 297mm), it boasts a clean and timeless design that allows the story to speak for itself. Our commitment to meticulous image restoration means every still looks its absolute best, while our use of full-colour printing ensures images burst with vibrance. Even black and white stills have a richness that traditional monochrome printing simply can't provide.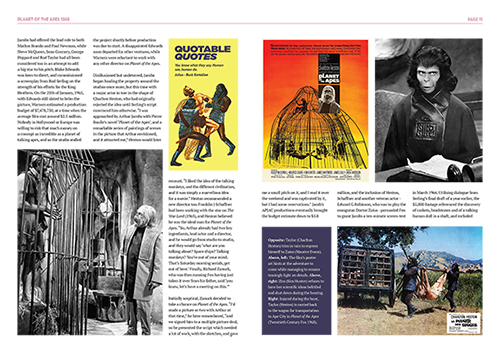 While you immerse yourself in the details of the movie's development, you'll also find this Planet of the Apes magazine guide features a wealth of illuminating biographies to introduce the stars who made an outlandish narrative so relatable. As astronaut George Taylor, Charlton Heston delivered a compelling portrayal of a man thrown into a bewildering new society, but he wasn't alone in shaping our understanding of the mysterious new planet. Kim Hunter and Roddy McDowall brought pathos and familiarity to the parts of chimpanzee scientists Zira and Cornelius, while Maurice Evans' Dr Zaius explored the conflict and hypocrisy at the heart of ape culture. You'll learn about their compelling lives and careers, as well as those of the wider cast, in a range of biographical features that make this Planet of the Apes guide a rich addition to your horror and sci-fi movie memorabilia collection.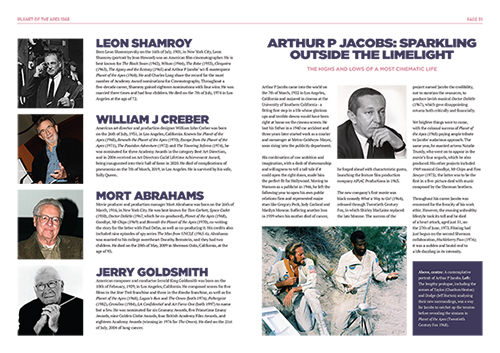 You'll also meet the crew whose work off-camera created a truly defining moment in cinema history. From producer Arthur P Jacobs, who secured the rights to the original novel, to previously blacklisted screenwriter Michael Wilson and director Franklin J Schaffner among many others, you'll gain a deeper understanding of the team dynamic that allowed for the production of movie magic. And that's even before we mention John Chambers' breathtaking mask and make-up work that created the expressive look of the apes themselves. More than a tribute magazine, the Ultimate Guide to Planet of the Apes is a lavish resource for any fan of the movie.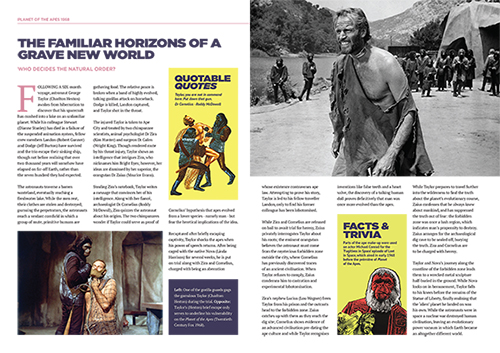 The impact of this film simply cannot be overstated, its combination of striking design, timeless performances and fascinating themes making it an endlessly rewarding movie experience. This Planet of the Apes guide is a sublime celebration of a motion picture whose dramatic plot and shattering conclusion never lose their power.
Judging by the ship's clock we've overslept a little, so it's time to get out and explore this new world we've landed on. Try to ignore those creepy-looking scarecrows and the sound of horses approaching; it doesn't look or sound all that inviting over in the fields. Better to find somewhere quiet and enjoy the guide to Planet of the Apes. Perhaps there's a statue somewhere along the beach that you could find a little shade under…
36 pages
A4
Full colour throughout
Luxury gloss laminated cover