Product Description
In stock for immediate shipping.
Stop off for the night – or maybe longer – at a rather unique motel with our beautiful Ultimate Guide to Psycho, a 1960 journey into the depths of depravity that features some of the horror genre's most unforgettable moments and introduced a fresh type of terror.
When director Alfred Hitchcock brought Psycho to the screen in 1960, his adaptation of Robert Bloch's book of the same name turned a new page in the history of horror cinema. Gone was the glossy noir adventure of the previous year's North By Northwest – in its place was a squalid and shocking tale of murderous madness that, in the minds of many critics, kickstarted the slasher genre as we know it today. Our full-colour Psycho magazine guide takes you through the creation, development and ongoing impact of a movie like nothing else in history.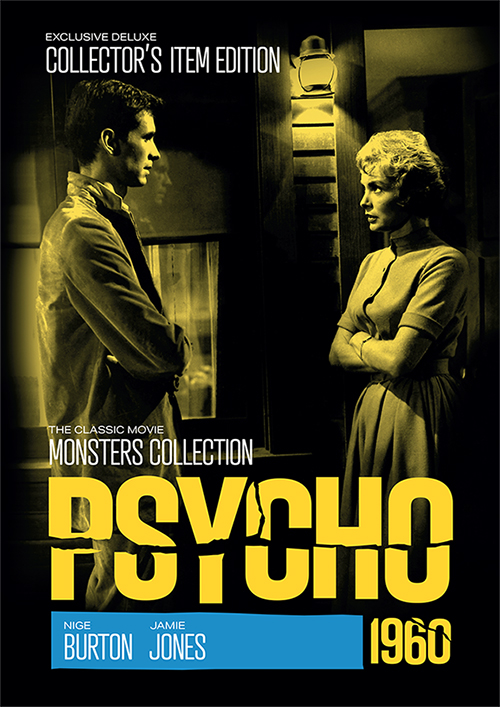 This luxurious full-colour guide to Psycho leads you from the pages of Bloch's harrowing novel, through the winding paths of studio politics and the movie development process, to the chilling end result we all know and fear today. Hitchcock already knew his way around a suspenseful story; together with screenwriter Joseph Stefano and an eminently talented wider team, he crafted the macabre world of Norman Bates and his mysterious mother, a world where normal expectations about life, death and identity are utterly subverted. As you explore the pages of this Psycho magazine guide, a wealth of engaging, professionally-written articles unfold the story of a movie experience whose power has not diminished with the passage of time.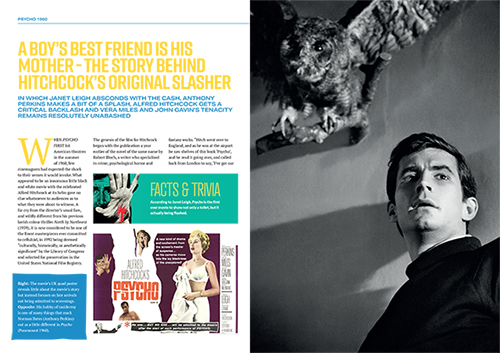 From Hitchcock's taut direction, through Saul Bass's mesmerising opening credits to Bernard Herrmann's nerve-jangling score, Psycho is iconic from every angle, and that's before you even get to the performances themselves. This Psycho 1960 magazine guide features fact-packed biographies of the cast and crew who turned Bloch's novel into a living, breathing cinematic nightmare. You'll learn about the chequered lives and careers of the Hollywood legends who drove the story forward: as doomed Marion Crane, Janet Leigh became a scream queen for the dawning sixties, while Anthony Perkins' portrayal of simmering insanity made Norman Bates a most intriguing movie monster.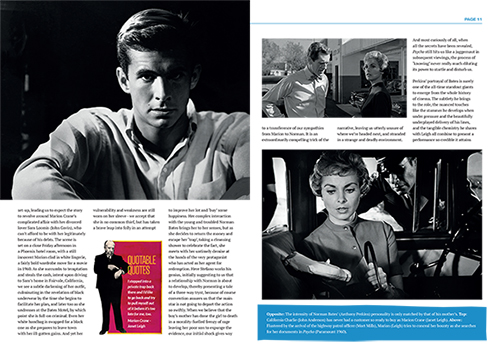 Numerous other cast members, including Vera Miles and John Gavin, also receive their due in our informative biographies, before we head behind the camera to reveal many of the crew who engineered this motion picture classic. As you discover the numerous other works of the movie's illustrious team in this Psycho film guide magazine, you'll gain a new appreciation for the level of expertise that makes the finished work so powerful.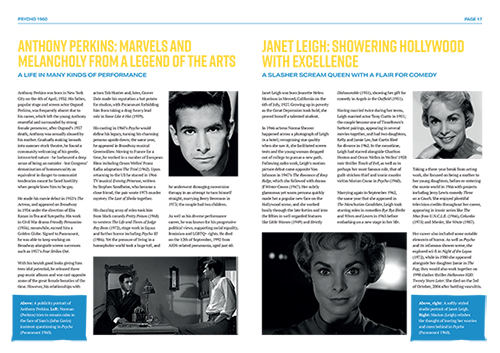 Our commitment to quality means that this guide to Psycho is produced to the highest standard. Stills are meticulously restored and reproduced to look their absolute best, giving you a pin-sharp window on a world where a good night's sleep is hard to come by and polite conversation can become a monstrous experience. A clean and timeless design means every page of this Psycho movie magazine guide is a delight to explore, whether you're immersing yourself in the glorious stills or enjoying the plethora of facts and details about the movie's development.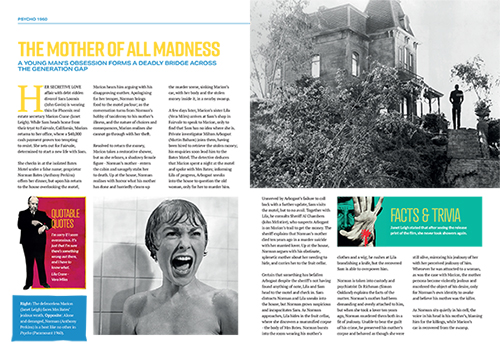 Put down that envelope full of cash – it won't do you any good now – and relax for a while in the Bates Motel. Perhaps you can have a sandwich for dinner with that nice young man from the front desk. He seems a little highly-strung though, and his mother sounds like a right old battle-axe. Best to settle down with our Ultimate Guide to Psycho, and maybe have a shower afterwards. Definitely afterwards…
36 pages
A4
Full colour throughout
Luxury gloss laminated cover