Product Description
In stock for immediate shipping.
Join the battle against unholy evil with our Ultimate Guide to The Exorcist – a beautiful limited edition celebration of a milestone in cinema that draws you into a netherworld of possession, insanity and some difficult casting choices.
William Peter Blatty's novel 'The Exorcist' was already a hit when it arrived in cinemas in 1973, but its journey from page to screen was by no means straightforward. The Ultimate Guide to The Exorcist explores the twisting path taken by the project as Blatty and director William Friedkin sought to bring the tale of Regan MacNeil, Fathers Merrin and Karras, and demonic attacker Pazuzu to the screen.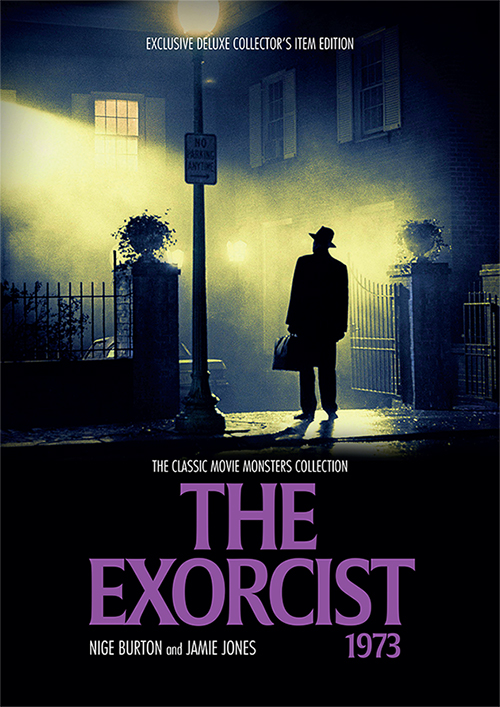 Every page of this Exorcist magazine guide is inspired by the movie's unique atmosphere. An unfussy design reflects the production's no-nonsense attitude to its subject matter, with stills beautifully restored and reproduced so as to capture every detail of Owen Roizman's stunningly inventive cinematography. A range of informative articles explores the movie's production, content and impact: every page reveals something new as you enter an eerie and claustrophobic world.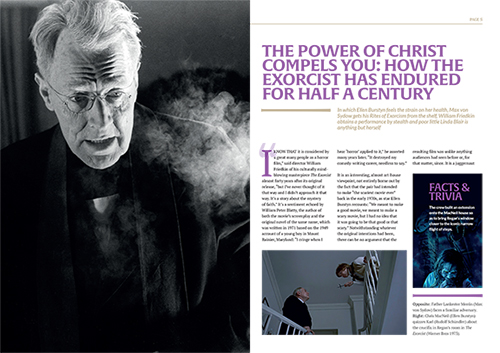 This guide to The Exorcist shows the many reasons why the movie has pride of place among horror fans, and yet many people – including some right at the heart of the production – say it's not a horror film at all. Its layered complexity and ability to make us question ourselves is one of the movie's most powerful characteristics: our Exorcist guide explores the many genres it crosses, from harrowing body horror through to nightmarish religious conflict and a dramatic exploration of mental illness.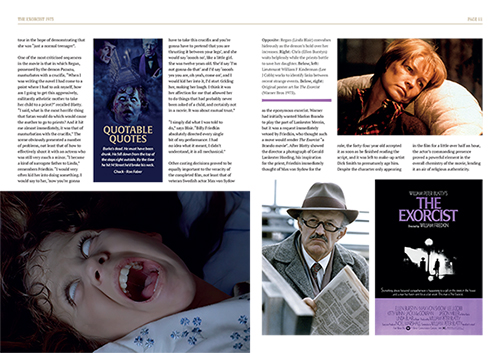 You'll also learn about the movie's complex relationship with the censorship authorities. The question of whether it should have been R or X rated, and what the resulting decision meant, offers a fascinating glimpse into a defining moment in Hollywood history. Our Exorcist Ultimate Guide is filled with detail on the controversies and conversations that follow the movie to this day.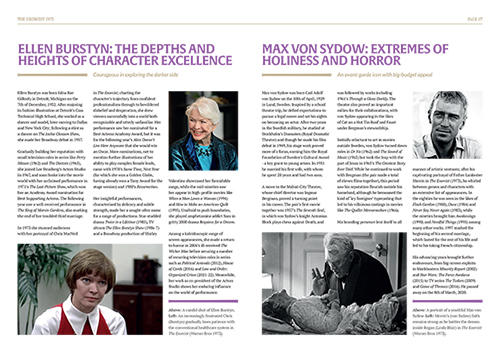 Of course, the story of Regan's possession is more than a tale of one girl and her ghoul: her anguished mother Chris, tormented Father Karras and stoical Father Merrin make for compelling on-screen counterparts. With this in mind the Ultimate Guide to The Exorcist has a host of biographies on the cast and crew who created this monumental motion picture: you'll discover facts about the lives and careers of the likes of stars Ellen Burstyn, Max von Sydow, Linda Blair and Jason Miller, as well as the support cast such as Kitty Winn and Jack MacGowran. We also head behind the scenes, looking at the work of author Blatty and director Friedkin alongside the production staff who all had a hand in a most unique piece of cinematic art.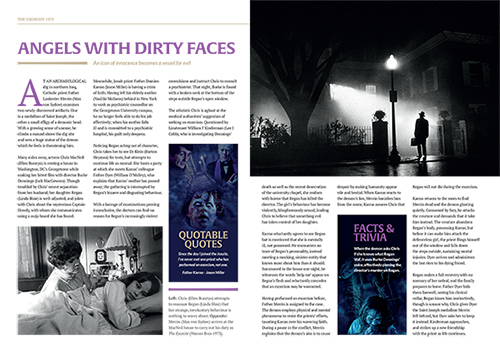 The house is getting colder and there's a strange scratching coming from the attic. Has the apparently friendly Captain Howdy come to pay us a visit, or is it… something else? Probably best not to worry. Just sit down with our magazine guide to The Exorcist and let those two priests get on with whatever they're doing. It's getting a little noisy up there, so you've plenty of time to get stuck into this tribute to one of cinema's all-time greats.
36 pages
A4
Full colour throughout
Luxury gloss laminated cover