Product Description
In stock for immediate shipping.
The Dr Terror's House of Horrors 1965 Ultimate Guide takes you on a journey into the abyss with a fresh look at the star-studded classic from the masters of portmanteau horror.
There's a strange man in the train compartment and he wants to tell your fortune, but the Ultimate Guide to Dr Terror's House of Horrors is all you need to rediscover this much-loved Amicus movie. This vibrant, crisply designed movie magazine guide explores the story behind one of the defining moments in the anthology horror subgenre, making it an essential part of any horror fan's collection.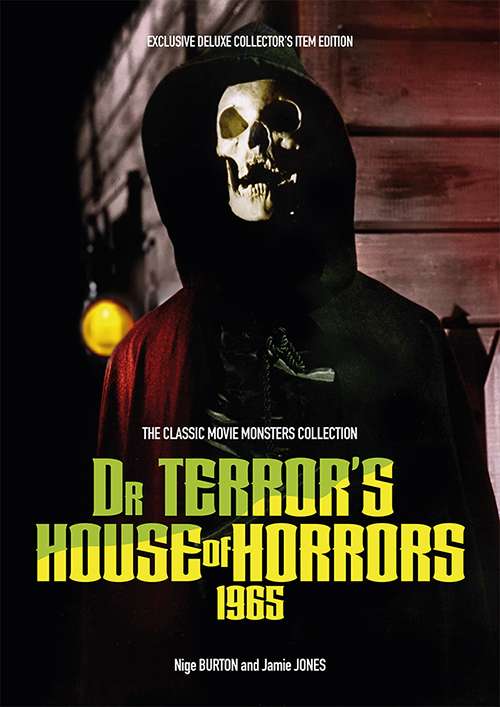 The Amicus name became synonymous with anthology horror movies, and the Dr Terror's House of Horrors Ultimate Guide shows you the many reasons why. Inspired by every shadow, every moment of tension and every scream, this full colour magazine guide is the perfect accompaniment to another viewing of the movie itself. Our famed image reproduction immerses you in the eerie world of Doctor Schreck, from the cramped train carriage to the many stories that those strange tarot cards reveal; every still and piece of artwork is restored to its highest standard, offering a new look at the movie.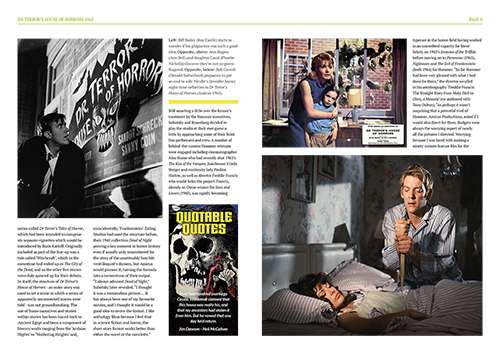 Within the pages of this magazine guide to Dr Terror's House of Horrors you'll find a range of articles, written with the flair and passion you expect from Classic Monsters, and packed with details on how the movie took shape on the cinema screen. Amicus made the portmanteau format look straightforward but there were plenty of pieces to the puzzle: our Ultimate Guide reveals what went on while the cameras weren't rolling.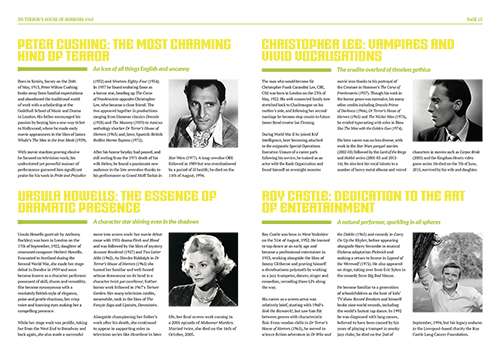 At the heart of the movie is, of course, its wealth of strong performances. From Peter Cushing's delicately sinister portrayal of the mysterious Doctor Schreck, to Christopher Lee as sneering art critic Franklyn Marsh and Donald Sutherland as anxious new husband Bob Carroll, the cast bring the five eerie tales to life. The Ultimate Guide to Dr Terror's House of Horrors features engrossing biographies that will introduce you to the many cast and crew who created this piece of cinema magic. Their names may be familiar but you might well be surprised at their stories.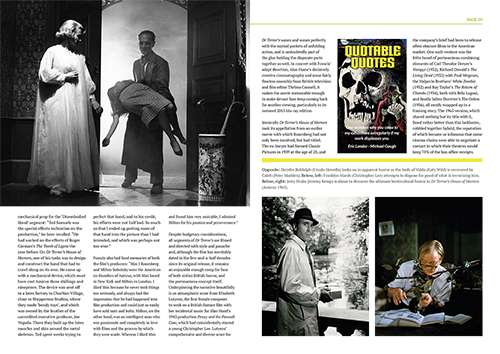 Like all Classic Monsters publications, the Dr Terror's House of Horrors Ultimate Guide is produced to the highest standard. Vivid full colour printing means the beautifully enhanced images burst with depth, while the purity of design gives every page a clarity that you'll love. The sturdy paper stock, meanwhile, has a silken sheen that makes this guide to Dr Terror's House of Horrors an indispensable part of your horror movie memorabilia collection.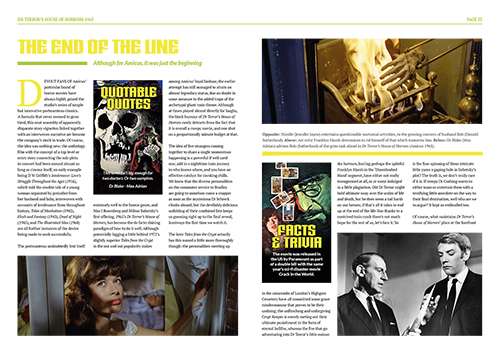 This train journey seems to be taking forever, and Doctor Schreck is shuffling those creepy old cards of his, so there's plenty of time to sit back and enjoy the Ultimate Guide to Dr Terror's House of Horrors. It's a treasure trove of information that no Amicus movie fan should be without.
Or, if you'd prefer something extra special, click here to check out the exclusive limited hardback edition – there are only 30 in the world!
36 pages
A4
Full colour throughout
Luxury gloss laminated cover