Product Description
In stock for immediate shipping.
The second issue of Classic Monsters of the Movies magazine in a luxurious hardcover format – continuing the tradition of the great monster mags of yore!
Your only chance to own a limited hardback edition print of the iconic, sought-after issue #2 of Classic Monsters of the Movies – this luxury hardcover book comes signed by the editor and assistant editor in a luxury tissue lined presentation box, with a certificate of authenticity and a FREE postcard set – LIMITED TO 50 WORLDWIDE!
First editions of this issue of Classic Monsters of the Movies have been sold out for a number of years, but this acclaimed title is now available as a luxury Legacy Edition Hardback. This means you can enjoy the excitement of our second issue, packed with beautifully restored stills and fantastic articles, in a premium hardcover magazine format.
These stunning Legacy Editions come signed by editor Nige Burton and Assistant Editor Jamie Jones, they have a certificate of authenticity, a set of FREE exclusive postcards and are presented in a luxury tissue lined box – all for the price of a regular hardback at just £39.95 plus low worldwide shipping!
REMEMBER – THERE ARE ONLY 50 COPIES OF THIS IN THE WHOLE WORLD!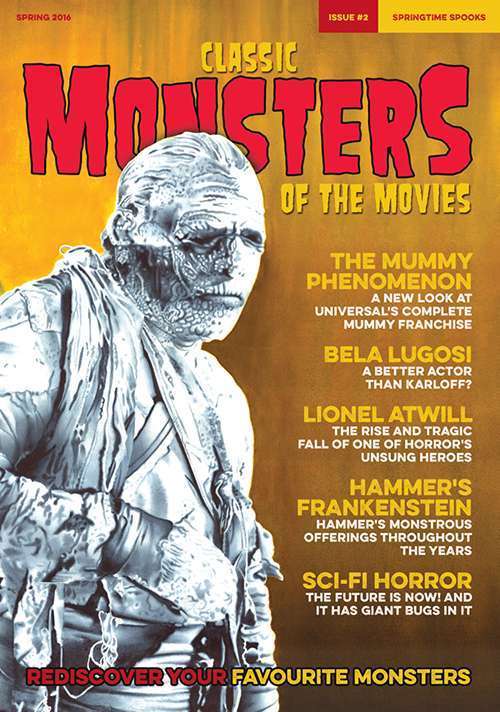 Check out the postcards included with this luxury hardback edition…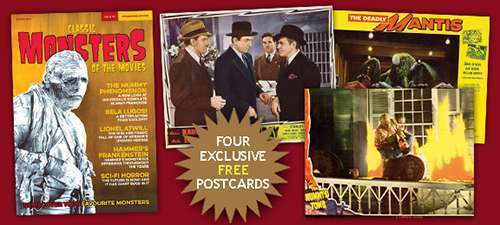 The Issue 2 Legacy Edition Hardback includes:
The Mummy phenomenon – a new look at Universal's complete Mummy franchise.
Hammer's Frankenstein – we trace the story from 1957's The Curse of Frankenstein, right through to Frankenstein and the Monster from Hell in 1974, and Peter Cushing's thread as the Baron.
Detailed biography of Bela Lugosi – Nige Burton suggests that the Hungarian star was actually a greater actor than his counterpart Boris Karloff.
Lionel Atwill – we tell the tragic story of Hollywood's favourite mad scientist, policeman and burgomaster.
The 50s sci-fi horror boom – we take a loving look at all those things that went bump in the sky and zap in your lap.
And much more!
Classic Monsters of the Movies magazine is a fantastic new publication for every horror movie fan in the land. Packed with in-depth features and analyses on classic monster movies, characters and stars, CMotM is brought to you by a team of world-class journalists, and features cover artwork by acclaimed illustrator Ron Whittaker. Lifting the veil on all those monsters we love to fear, Classic Monsters of the Movies is already bringing the world of horror something to talk about.
Among many other compelling articles, the issue 2 Legacy Edition Hardback continues where issue 1 leaves off, with a close look at some memorable horror movie characters as well as the people who brought them to life.
Book specification:
70 pages
Perfect bound (square spine)
A4
Full colour throughout
Image wrap hardback cover
Individually signed and numbered by the authors
Includes FREE postcard set
Includes certificate of authenticity
Packaged in tissue-lined luxury presentation box