Product Description
In stock for immediate shipping.
A stunning publication with all-new articles covering the length and breadth of classic horror cinema – the Classic Monsters Annual 2023 is an absolute essential for your collection, and is only available direct from Classic Monsters!
No fan of vintage horror should miss the Classic Monsters Annual 2023, a rich and rewarding journey into the world of the monsters we've known and feared. With 84 beautifully printed pages of all-new content – no recycled articles from previous issues – it's packed with the information, insight and humour that you expect from our panel of leading writers. Every article is accompanied by a wealth of breathtaking stills, restored and reproduced to exacting standards, making the edition of the Classic Monsters Annual 2023 a feast of nostalgia.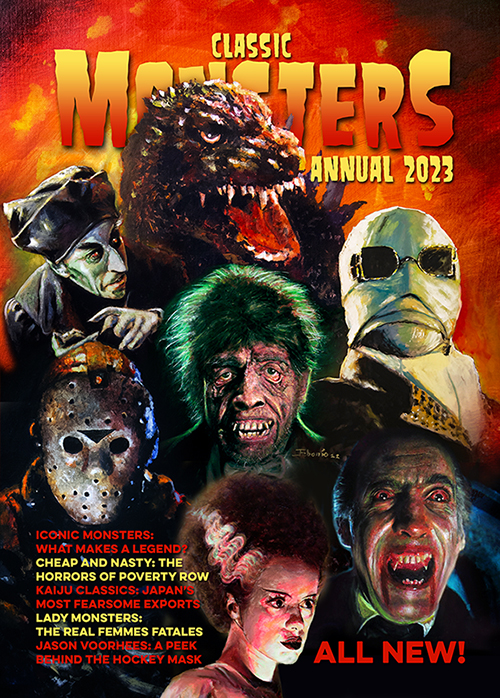 The cover artwork is by renowned horror artist John Febonio, showcasing the themes, characters and iconic moments that await you inside – and on the subject of movie icons, our lead feature explores that very idea. In the lead feature of the Classic Monsters Annual 2023, editor Nige Burton looks in detail at how certain monsters have become figureheads for the genre, capturing the essence of what horror cinema means. From the Frankenstein Monster to the Wolf Man, the Creature from the Black Lagoon and beyond, which characteristics are universal in our most beloved monsters? This fascinating analysis of what makes an icon is packed with some real favourites from throughout horror history but as you'll see, rules are made to be broken, as some of the most memorable monsters have defied all our expectations.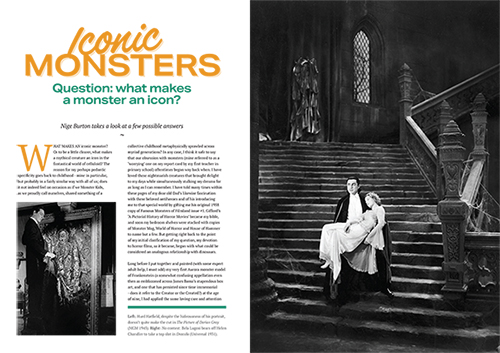 Slightly less iconic, but with a staying power all their own, are the low-budget movies that made their way to the screen and, from there, made a permanent home in our consciousness. Cheap – but rarely cheerful – films like The Corpse Vanishes (1942), The Living Ghost (1942) and Strangler of the Swamp (1946) go under the spotlight in the Classic Monsters Annual 2023, as Jamie Jones delves into the uniquely kitschy atmosphere of Poverty Row horror, as well as the studios and stars who made it such an important part of movie history.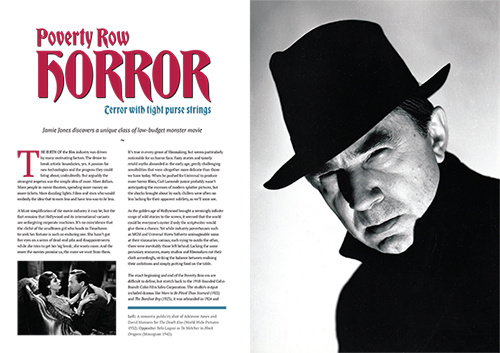 There's a different kind of pioneering spirit in our feature on lady monsters, which shows that the supposedly fairer sex doesn't pull any punches in the horror stakes. Combining traditional beauty with some truly terrifying behaviour, characters like the Monster's Mate in Bride of Frankenstein (1935) made us re-evaluate what it means to be a movie monster. In this absorbing piece, David Huckvale pays tribute to stars like Elsa Lanchester and Martine Beswick, as well as some of the lesser-celebrated females of the species, who subverted our expectations of the horrific.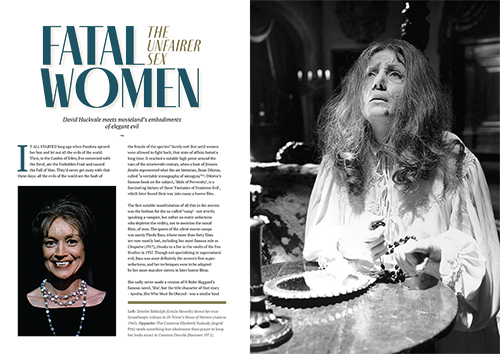 From the evil allure of female monsters, we explore some equally unwholesome family ties with a profile of a certain summer camp-dwelling maniac. Jason Voorhees from the Friday the 13th series is one of the most recognisable modern classic monsters, and his convoluted story has taken him all the way from the depths of Crystal Lake to the streets of Manhattan and into space. He's often dismissed as a one-trick slasher, a judgement which isn't really fair; Nige Burton examines the ways in which the Friday the 13th series has plenty to offer fans of the classics.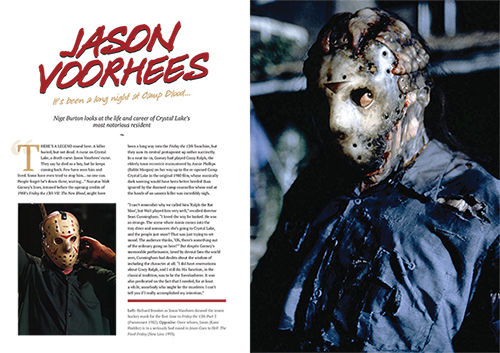 While Jason Voorhees proves that silence can be golden, sometimes it's important to shout your intentions from the rooftops, and nobody does that better than Japan's fearsome kaiju, headed up by Godzilla and including the likes of Mothra, Rodan and King Ghidorah. These giant monsters have captured our imaginations with their super-sized escapades, but they've also served a more reflective purpose, mirroring our cultural fears with their radioactive powers and destructive tendencies. Marcus Turner and Ethan Lee square up to some of the most enduring kaiju creations, as well as examining the impact of this gigantic subgenre on the wider horror world.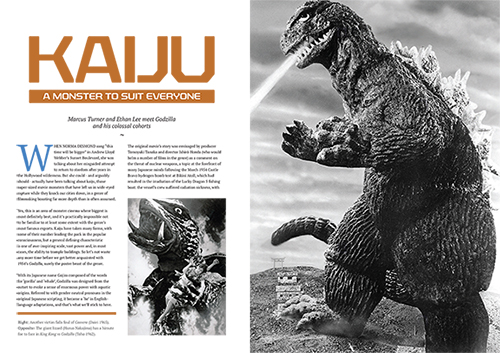 The Classic Monsters Annual 2023 comes full circle as we introduce the work of our cover artist John Febonio. His vibrant paintings have depicted movies from the age of silents right up to the modern day and are distinguished by intense colour palettes that add dynamism to his startling likenesses. In an exclusive interview, Nige Burton discovers the inspiration behind John's work.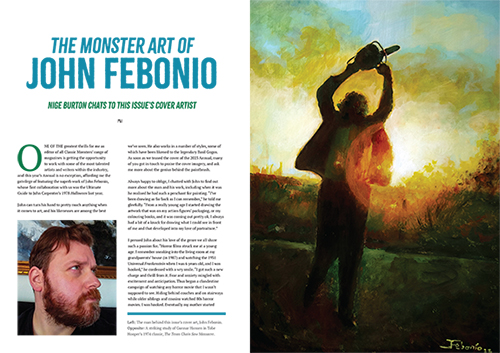 The Classic Monsters Annual 2023 is only available right here on the Classic Monsters shop – you won't find it on newsstands and it's not available from other retailers. Inside you'll find:
Iconic monsters – it takes a certain type of alchemy for a character to become a legend, but what tests does a monster have to pass in order to be unforgettable? Let's take a look at the characteristics, storylines and performances that have given us the icons of horror cinema.
Poverty Row – small budgets and big ideas result in interesting movies, and this niche area of the film industry produced some truly unique, frequently hugely entertaining motion pictures. We look at the shabby shockers that typified the cheaper end of Hollywood's horror output.
Lady monsters – the contrast between beauty and horror is always a compelling one, and the world of female monsters has brought us some of the genre's most intriguing monsters. Whether stitched-up or sorcerous, these sinister sirens will send a chill up the bravest spine.
Jason Voorhees – the story of Crystal Lake's most famous resident is shot through with tragedy and some unpleasant family ties, but the high body count and slasher reputation belies a monster who owes a lot to the classics and certainly merits a closer look.
Kaiju – with their roots in mythology and their laser-firing eyes focused on the issues of the day, Japan's giant monsters have become a beloved group of characters with big personalities and much more to offer than wanton destruction.
The art of John Febonio – the Classic Monsters Annual 2023 cover artist combines accurate likenesses with vivid, searing colour schemes to stunning effect. His powerful use of lighting renders our favourite monsters in exciting new ways; we discuss the story behind his approach.
The Classic Monsters Annual 2023 is an unmissable addition to any classic horror movie magazine collection, and our commitment to the highest standards of production is evident in every aspect of this title. The crisp, high-quality paper stock makes for a luxurious reading experience, with lavish matt lamination adding a note of class to the cover. Our use of full-colour printing means that even black and white stills are reproduced with rich variations in depth and tone, far superior to monochrome printing. Every image is carefully restored to look its best, while the clean and unfussy layout makes every page a joy. The Classic Monsters Annual 2023 is truly a must for your collection.
84 pages
Full colour throughout
Packed with stills, posters, articles and info
Printed and finished to the highest standard
Luxury matt laminated cover
Hand-numbered