Product Description
Stock level critical.
A beautiful new publication with all-new articles exploring the world of classic horror movies, and only available direct from Classic Monsters!
An absolute essential for any classic horror film fan, the Classic Monsters Annual 2021 is a truly stunning 84-page publication packed with new content – no recycled articles – from our acclaimed panel of writers. Inspired by our renowned quarterly magazine Classic Monsters of the Movies, this is our 100th publication to date.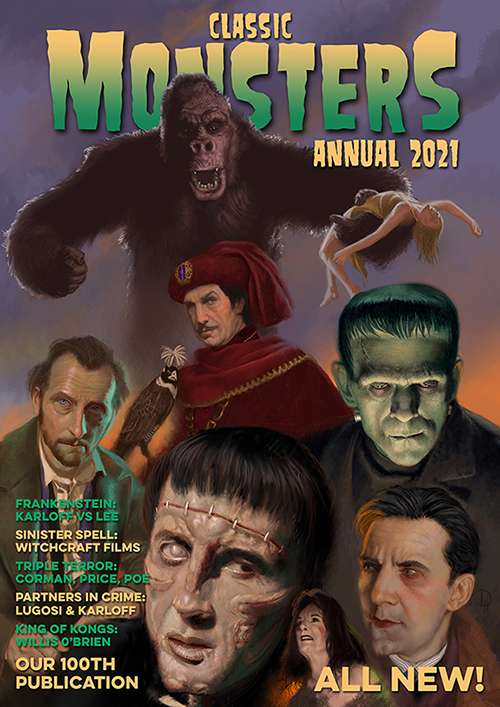 Before you head inside this luxury full colour classic horror movie magazine, take the time to enjoy Daniel Horne's truly sublime cover artwork, which introduces you to the wealth of wonders that await. Our lead feature explores the very different approach to Frankenstein's creation taken by Boris Karloff and Christopher Lee in their two iconic turns as the character. Whether you prefer Karloff's confused, well-meaning Monster from 1931 or Lee's twitchy, murderous Creature from 1957, you'll gain a fresh appreciation for these two unforgettable renditions of Mary Shelley's tragic artificial entity.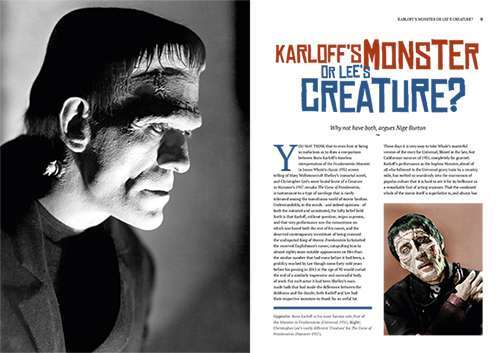 Speaking of monstrous rivalry, we also examine the movies which were lucky enough to feature both of Universal's horror figureheads, Bela Lugosi and Boris Karloff. The movies they appeared in were certainly diverse but the interplay between them was always compelling. This fascinating article takes a fresh look at the ways in which they shaped the horror landscape, and how the many stories about their working relationship weren't always accurate.
If you like your monsters a little more fantastical, there's no better place to start than with Willis O'Brien, the stop-motion artist whose work shaped movies such as The Lost World (1925), King Kong (1933) and Mighty Joe Young (1949). Our biography explores his life, his works and his enormous legacy. A wealth of images takes you right to the heart of O'Brien's work as you uncover this huge treasure trove of facts about his contribution to monster movie culture.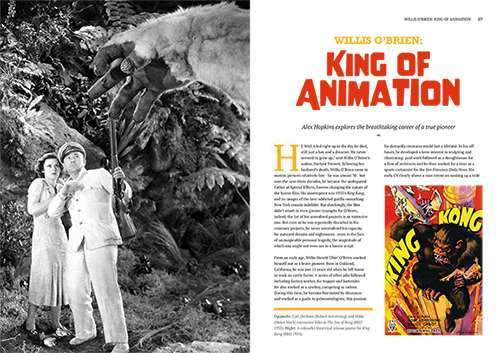 There's also an opportunity to discover a different kind of magic, as David Huckvale delves into the sinister history of witchcraft movies. This particular genre has a power all its own, crossing into psychological horror, vampirism and demon horror in any number of unforgettable films. From cult documentary-horror classic Häxan (1922) to the likes of Black Sunday (1960), Witchcraft (1964) and The House that Dripped Blood (1971), you'll find there's a spell-weaving crone around many a corner, and not always in the guise you might expect.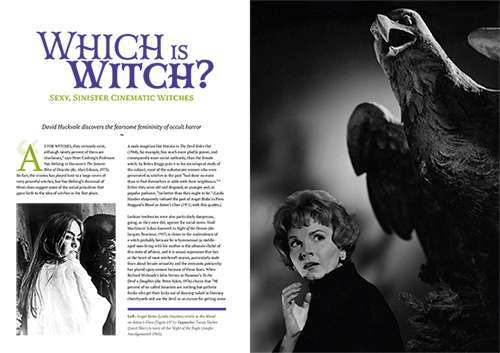 Further chills await as regular Classic Monsters contributor Bruce G Hallenbeck recounts Vincent Price's many appearances in Roger Corman's Poe cycle in the sixties. This motley collection of thrillers has almost become a genre in itself thanks to Price's utterly unique presence and Corman's iconic direction – our richly illustrated article includes a wealth of information on the making of these beloved motion pictures and their place in the wider horror canon.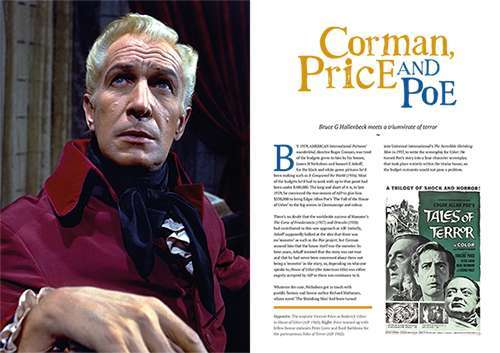 Returning to the Annual 2021's beautiful cover, we introduce you to the man behind the artwork. Daniel Horne's sensational paintings are renowned across the industry for their beautifully atmospheric realisations of horror characters; in our exclusive feature we explore the origins of his work and the artists who have inspired him, as well as showcasing some of his finest paintings.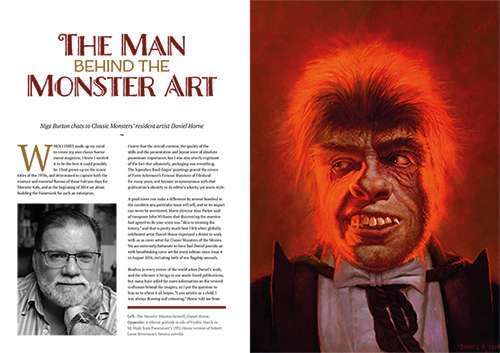 The Classic Monsters Annual 2021 is only available right here on the Classic Monsters shop – you won't find it on newsstands or with any other retailer. Inside you'll find:
Frankenstein: Karloff vs Lee – these powerhouse actors gave us very different versions of the legendary created being. We examine the differences, and similarities, in their portrayals, as well as their fidelity to Mary Shelley's original vision.
Lugosi and Karloff – there's never been any need to pick a favourite, but the once-in-eternity combination of these two horror greats gave us onscreen thrills that translated into some of the best-loved moments in the genre.
Willis O'Brien – this stop-motion pioneer opened up new creative horizons for a legion of artists who would follow. His vision and technical expertise transformed what cinema was capable of, introducing us to a certain giant ape…
Witchcraft – there's plenty of toiling and troubling as we journey through the history of witches in cinema. They're not all wizened crones, but as this informative article reveals, they've been bad news right from cinema's earliest days.
Price, Poe and Corman – a heady blend of shocks, lurid thrills and gothic excess – not to mention the presence of Vincent Price at his most arch and evil – has given this collection of brooding movies a sparkling reputation. In this absorbing piece, you'll learn the many reasons why.
The art of Daniel Horne – our resident cover artist has become a leading name in the horror art world. His arresting likenesses and breathtaking rendering of light give his creations an unmatched vibrancy – this exclusive feature uncovers the secrets behind his stunning work.
The Classic Monsters Annual 2021 is a must-have for any fan of classic horror movies. Printed and finished to the absolute highest standard, it boasts full colour printing throughout, so even black and white stills burst with a depth and richness that standard monochrome print can't provide. A clean and timelessly elegant design, meanwhile, immerses you in each unfolding article, allowing each image to shine on the page without the layout ever becoming cluttered. And of course, every image is meticulously restored to make the Classic Monsters Annual 2021 a horror magazine experience like nothing else.
84 pages
Full colour throughout
Packed with stills, posters, articles and info
Printed and finished to the highest standard
Luxury matt laminated cover