Product Description
In stock for immediate shipping.
A breathtaking new publication packed with all-new articles covering the classic horror movie genre in our unique style – the Classic Monsters Annual 2022 is only available direct from Classic Monsters!
The Classic Monsters Annual 2022 is a true must-have for any fan of classic horror cinema. This stunning 84-page publication features all-new content – no recycled articles – bringing you nostalgia, information and insight from our renowned panel of writers. The combination of engaging content, beautifully restored imagery and high-end production values makes the Classic Monsters Annual 2022 another essential for your classic horror movie magazine collection.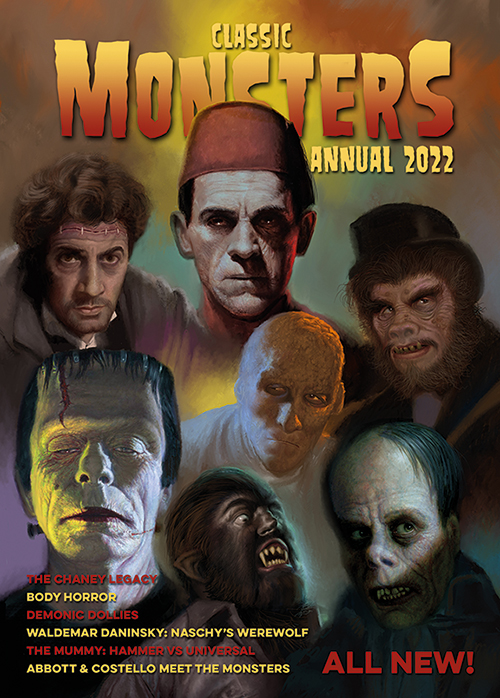 Your first stop on this all-new journey into the world of classic horror cinema is Daniel Horne's beautiful cover artwork. This gloriously vibrant piece showcases some of the movie marvels that lie ahead and leads you neatly into our lead feature, an exploration of the various mummies brought to us by Universal and Hammer. The character's tangled mythology and emotional wrangles – not to mention the trail of destruction its various incarnations have left behind – have been responsible for many a movie nightmare, but which bandaged brute is the most effective? We have our own thoughts, so dive in and get those tana leaves on the boil.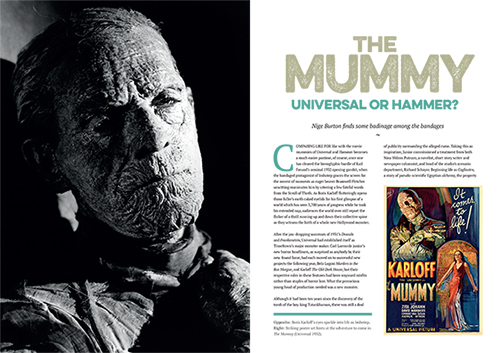 But isn't that all a bit heavy? Some laughs wouldn't go amiss, and that's why the Classic Monsters Annual 2022 takes a look at the ever-wondrous horror comedies starring Bud Abbott and Lou Costello. Their tussles with movie monsters never get old, but what's the secret of their magic? This fresh new article examines the evergreen impact of these classic creepy comedies whilst looking at what was going on behind the scenes. Bud and Lou were masters of their craft – let's re-examine the reasons why.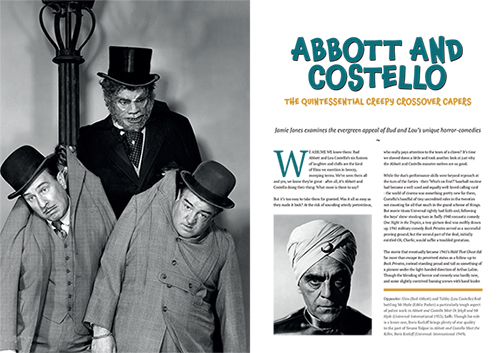 Speaking of mastery, there's no question as to the skill of the Lon Chaneys, both senior and junior. The Classic Monsters Annual 2022 features an engaging dual biography recounting the troubled paths walked by father and son, from their personal struggles to their career challenges. From The Phantom of the Opera and London After Midnight through to The Wolf Man and The Black Sleep, their shared legacy is a vast one that played a vital role in the growth of the horror genre. Get that make-up case ready and grab the yak hair for a journey into the lives of two icons.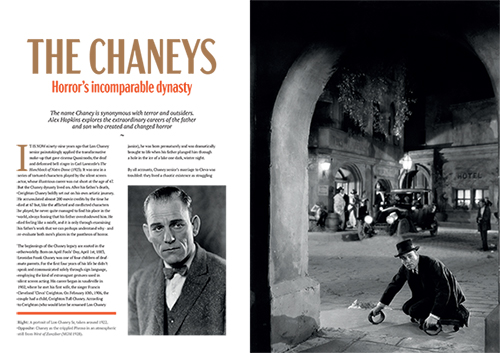 Of course, the Chaneys were by no means the only horror stars out there – within the pages of the Classic Monsters Annual 2022 we reverently tip our hats to Paul Naschy and his huge contribution to werewolf horror, in an exclusive feature by Bruce G Hallenbeck on the Waldemar Daninsky series of lycanthrope thrillers. There's no denying the effect Naschy had on the European arm of horror cinema, and our retrospective on his enduring work makes for fascinating reading.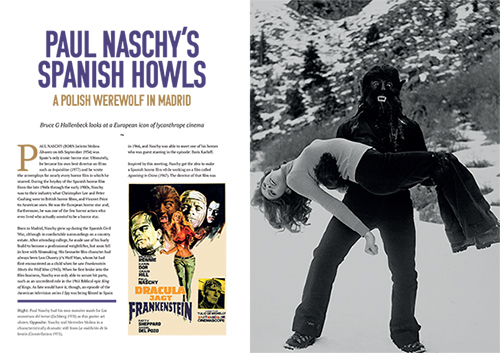 Transformations, experimentations, mutations – you don't have to look far in the horror world to find something that makes you cringe. David Huckvale celebrates the uniquely unpleasant subgenre of body horror and probes its various nuances, from the skin-graft horror of Eyes Without a Face to the religiously-inspired biological warfare of The Satanic Rites of Dracula and David Cronenberg's invasive angles on decay and death. Body horror is about our identities, our mortality, and our vulnerability as living things – themes that monster movies just can't stay away from.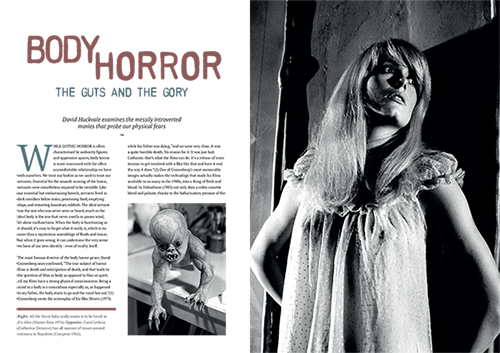 With all this grim discussion, it's good to remind yourself of more innocent things, like… dolls? Think again – painted porcelain faces and cloth limbs are the stuff of nightmares, as countless motion pictures have shown us. Sinister ventriloquists' puppets and voodoo effigies are just the start, as the Classic Monsters Annual 2022 introduces some of the handmade horrors that have left us distinctly uncomfortable about one of childhood's supposedly most innocuous toys. That old clown doll under the bed suddenly doesn't look so friendly.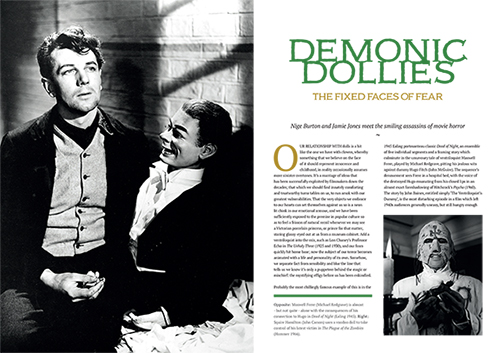 The Classic Monsters Annual 2022 is only available here on the Classic Monsters shop – you can't buy it on newsstands or from any other retailer. Inside you'll find…
Mummies – how well do we know this legendary character? We delve through the monstrous myths and perilous plotlines that have motivated this ancient creature, to see whether Universal or Hammer crafted the most compelling bandaged bad boy.
Abbott and Costello horror-comedies – striking the balance between laughs and scares isn't as easy as it seems, but Bud and Lou made it look effortless. From creepy castles to the rooftops of period London, the two iconic funnymen took their irresistible magic everywhere.
The Chaneys – whether it's groundbreaking make-up artistry or some of the most angst-ridden performances in the genre, horror fans owe this father and son duo so much. Take a tour of their greatest hits and revel in their combination of personal humility and professional glory.
Paul Naschy – the king of European horror brought us a plethora of memorable characters and dramatic set-pieces, chief among them his enduring Waldemar Daninsky werewolf pictures. We check out the story of his work and the impact he had on the continental horror movie scene.
Body horror – keep your skin unbroken and your senses intact as we discuss the many ways in which horror movies have made us grimace. Some themes and images are just perfect as ways for filmmakers to leave us questioning what we feel, who we are, and much more.
Demonic dollies – put all thoughts of cuteness and comfort right out of your head. In the world of horror movies, a miniature representation of a person means something nasty is afoot – we step warily into the toy cupboard to see what kinds of smiling-faced monsters await.
The Classic Monsters Annual 2022 is an absolute essential for every classic horror fan. Our commitment to quality means the finest image reproduction, with stills and artwork painstakingly restored to look their best, while our use of full colour printing means even black and white stills have a depth and vibrance that standard monochrome print simply can't produce. Every page is designed with clarity and cleanness in mind, making for an absorbing yet unfussy reading experience. Printed on high quality paper and finished to the highest standard, the Classic Monsters Annual 2022 is the kind of horror movie magazine you've been searching for.
84 pages
Full colour throughout
Packed with stills, posters, articles and info
Printed and finished to the highest standard
Luxury matt laminated cover
Hand-numbered