Product Description
In stock for immediate shipping.
Take your seats for the deadliest show on Earth as the Ultimate Guide to Vampire Circus explores the morbid village of Schtettel and its terrifying new entertainment. This beautiful full colour luxury guide magazine captures the spirit of one of Hammer's most extreme and enduring horror movies, a spectacle of the macabre that pushed boundaries and helped shape the studio's legacy.
Vampire Circus was Hammer's attempt to pull up from the doldrums of their lacklustre early seventies output, and represented quite a risk on the part of Michael Carreras, who had recently taken the company over from his father, Sir James Carreras, who was now its chairman. Upon seeing the treatment for the movie, Sir James had expressed serious concerns over the bloodletting and gore, whereas his son believed it was a necessary development of Hammer's product, while still retaining a Gothic heritage. The Vampire Circus Ultimate Guide tells the story behind the difficult production cycle and the many wrangles that went on behind the scenes, as a bold new chapter in the Hammer Horror world took shape.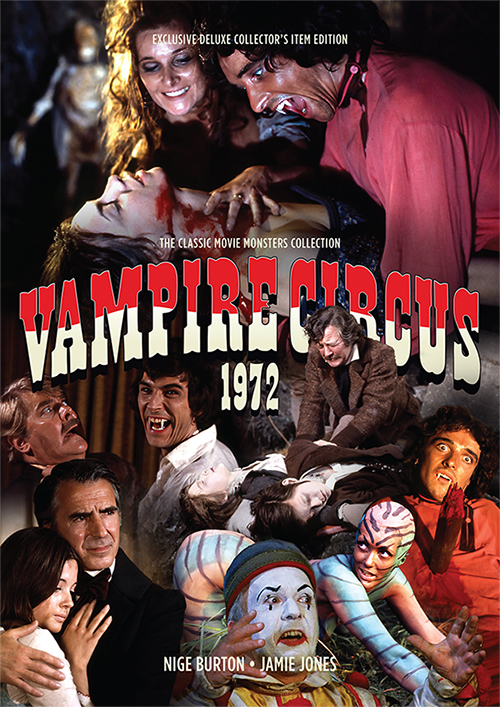 This lavish guide to Vampire Circus is an essential journey through the creation of a 1972 cinema classic, offering you a fresh look at a movie by turns enchanting and harrowing. It's presented in the inimitable Classic Monsters style, with high-end production values making it a must for your collection. It's packed with stunning stills, restored to exacting standards and reproduced with a clarity and richness that breathes new life into the movie's decadent, nightmarish imagery.
Our use of full colour print processes means that even black and white images boast a depth that traditional monochrome printing can't match. You've never seen a Vampire Circus guide like this: presented in A4 format (210mm x 297mm), it's designed with a clean, timeless layout that allows you enjoy every glorious image whilst at same time evoking the movie's eerie atmosphere.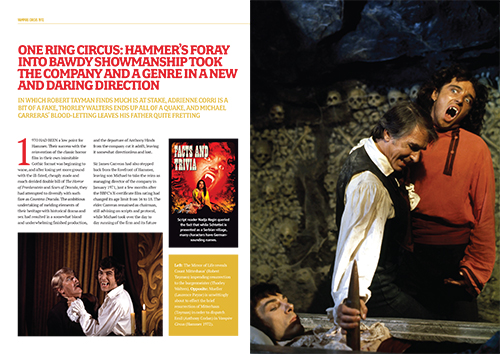 As you'll learn from this Vampire Circus movie guide magazine, this new and uncompromising angle on the familiar concept of the Hammer vampire was brought together by the new personalities of Wilbur Stark as producer and Robert Young as director, interpreting Judson Kinberg's script based on a hybrid treatment by Stark and George Baxt. It was a daring exploration of exploitation, and although it was bound to run into problems with both the UK and US censors, Michael Carreras pushed ahead despite warnings from those around him that boundaries were being pushed too far.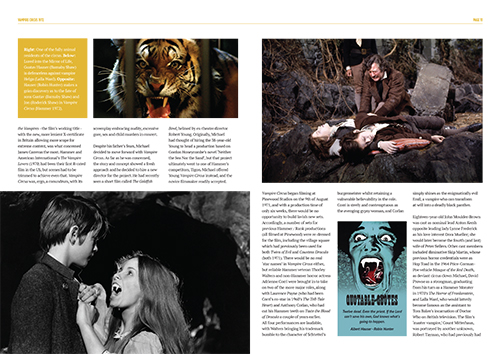 The insightful and fact-packed articles in this Vampire Circus magazine guide take you to the heart of the story, illuminating the tough choices and creative complications that eventually brought about the finished motion picture. Its challenging theme of child murder occasionally put it on thin ice, but Vampire Circus nevertheless managed to navigate its difficult waters without too much controversy, surviving to become an important part of seventies cinema history.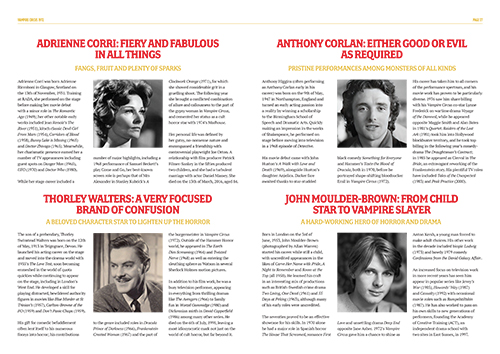 With a cast headed up by veteran Hammer star Thorley Walters and feisty Scottish actress Adrienne Corri, Vampire Circus ended up being one of the most respected horror films of the decade, with memorable performances from an ensemble cast including Anthony Corlan, Laurence Payne, John Moulder-Brown and Lynne Frederick. This Vampire Circus magazine guide features a host of informative biographies to tell the surprising and often tragic stories of the performers who brought the story of Stetl's strange curse to life: you may well discover some surprises along the way.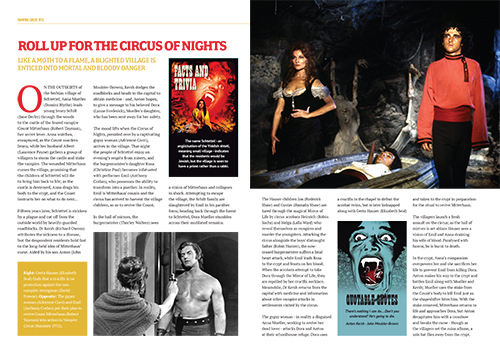 Of course, no guide to Vampire Circus would be complete without paying tribute to the crew who worked off-screen to craft this dark slice of cinema magic. That's why the Vampire Circus Ultimate Guide includes a wealth of biographies introducing the likes of director Young, screenwriter Kinberg and many more of the skilled artists whose collective work took us into a deeply unsettling world of vengeance and cruelty. You'll find that this guide to Vampire Circus is an invaluable resource for any fan.
That strange melody is echoing through the streets of Schtettel once again, so the Circus of Nights will be here soon. Those wild animals look a little fierce though, and there seem to be some bats in the air, so maybe it's better to stay at home and enjoy the Vampire Circus Ultimate Guide instead. There are certainly more than a hundred delights in here…
36 pages
A4
Full colour throughout
Luxury gloss laminated cover