Product Description
In stock for immediate shipping.
There's something in the desert and it's got one heck of a sweet tooth… rediscover an icon of horror cinema with the Ultimate Guide to Them! 1954 – a true classic of science fiction cinema and a movie that shaped the giant bug genre for all time. This luxury magazine is an ideal counterpart to a new viewing of a movie whose scale, ambition and thrill-packed story never fail to spark the imagination.
The growth of science fiction in the early fifties brought us some unforgettable monsters. Creatures from black lagoons and messengers from space all had their own power, but there's something unique about the giant ants the Warner Bros unleashed when Them! hit the screens in 1954. Our beautiful Ultimate Guide to Them! 1954 celebrates this milestone of monster cinema in a fittingly bombastic style, with every page inspired by the movie. This is a science fiction monster movie magazine guide the likes of which you've never seen, packed with stills to recall every second of city-shaking drama as the insects invade.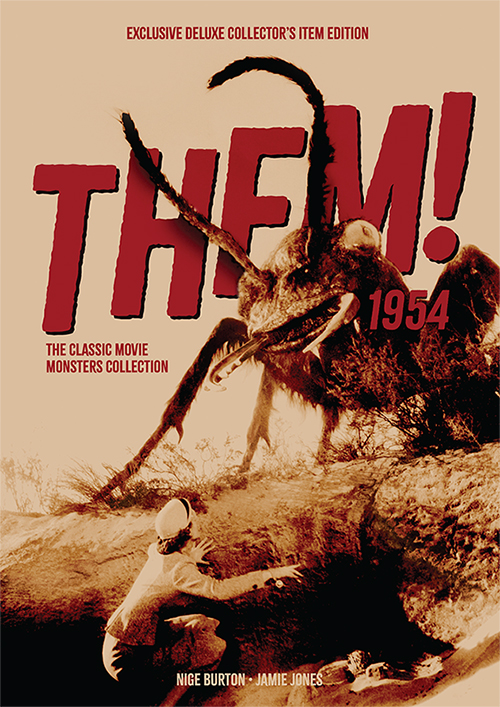 Within this must-have film guide to Them! 1954, authors Nige Burton and Jamie Jones tell the story of how this epic battle came to the screen. A range of informative articles take you through the context in which the film came about, its journey from concept to execution, and what happened on set. You'll learn about the original plan for the movie to be shot in colour and 3-D, and the practical realities of creating an army of marauding insects for the big screen. Each article is filled with information and presented in an accessible, engaging style to ensure this Them! 1954 movie guide is one you'll love.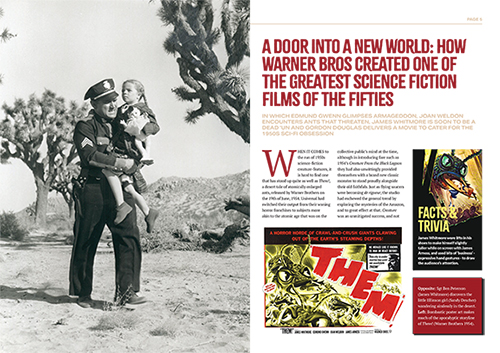 Presented in the unparalleled Classic Monsters style, this Them! 1954 magazine guide is presented in A4 format (210mm x 297mm) and all but overflowing with glorious stills and artwork from the film, immersing you in the world of man-versus-insect warfare with a subtle style. The crisp, timeless layouts allow every image to breathe, giving you the opportunity to savour every moment that's captured on the high-quality paper stock. And while we discuss the images, remember that this Them! 1954 movie guide boasts only the very best in stills from the movie. Each one is restored to the highest standard, with our painstaking attention to detail ensuring that every detail looks its best and you relish the turn of each page.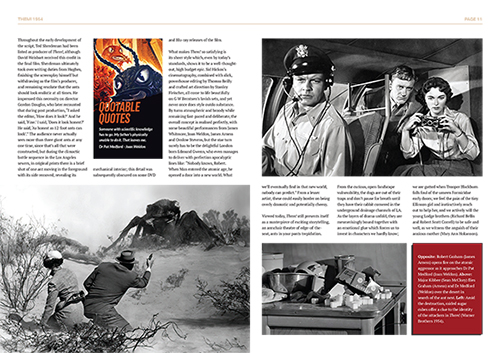 In addition to a huge amount of information on the move itself, the Them! 1954 movie magazine also includes biographies of the cast and crew, introducing key members of the team who brought this immortal tale to life. You'll learn about the lives and careers of stars like James Whitmore, Edmund Gwenn, Joan Weldon and Onslow Stevens – their performances here bring a convincing depth and credibility to the outlandish story, but chances are you've seen these bug-battling heroes in all manner of other settings too. There are also a number of profiles of crew members, including director Gordon Douglas, and with each one you'll discover more about the skills that turned the unlikely story of giant ants into a powerhouse of cinematic thrills.
Within the pages of the Ultimate Guide to Them! 1954, you'll also discover a rich bounty of trivia, offering fresh glimpses into the movie's creation and the on-set environment. You might be surprised at some of the supporting cast members who helped out against the insect invasion, and some of what went on behind the scenes throws new light on the movie's creation. This magazine guide to Them! 1954 is an absolute essential for any science fiction or horror fan searching for a rich resource on this movie.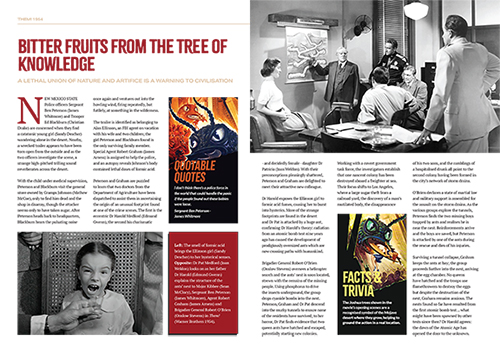 Considering the desert is meant to be, well, deserted, there seem to be some strange noises coming from out there in the wastelands. The Ellinson girl isn't giving much away about what she's seen (actually, she looks a little upset), so try to ignore those whistling calls – not to mention the hole that something has torn in the side of the building – and dive into the Them! 1954 Ultimate Guide. It's the best way to stay calm when civilisation is under threat…
36 pages
A4
Full colour throughout
Luxury gloss laminated cover