Product Description
In production.
The Satanic Rites of Dracula 1973 Ultimate Guide Hardback is the collector's edition of this guide, in a strictly limited edition hardcover format – only 30 in the world – and signed and numbered by the authors with a FREE exclusive Satanic Rites of Dracula art print
!
The Satanic Rites of Dracula 1973 Ultimate Guide Signed Hardback takes you back into the shady world of conspiracy, vampirism and bio-warfare in Hammer's occult espionage thriller.
LOW SHIPPING RATES WORLDWIDE!
That big house in the country is more than just a symbol of wealth – our Ultimate Guide to The Satanic Rites of Dracula heads into D D Denham's unholy inner sanctum to reveal the story behind this most unconventional entry into Hammer's Dracula series. In the hands of Alan Gibson, who had directed Dracula AD 1972, the worlds of modern corruption and ancient evil collided in an action-packed feast for fans; this lavish hardcover guide celebrates both the artistry that went on behind the scenes, and the excitement unfolding on the screen.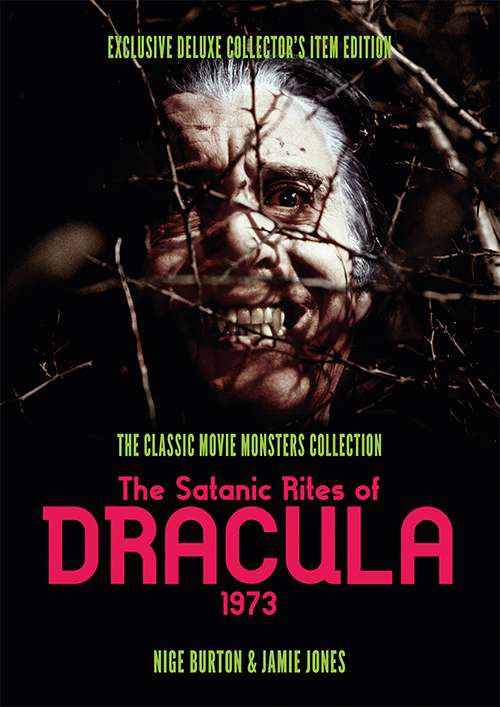 REMEMBER – THERE ARE ONLY 30 COPIES OF THIS TITLE IN THE WHOLE WORLD!
Our full colour luxury hardback guide to The Satanic Rites of Dracula celebrates the making of this much-loved Hammer movie, the studio's second to be set in the modern age and once again scripted with flair by Don Houghton. Packed with a wealth of beautifully restored stills and artwork, this stunning movie guide hardback captures the atmosphere of Dracula's second modern-day outing. A clean, unfussy design means every image looks its absolute best as a range of insightful, informative articles explore how The Satanic Rites of Dracula was shaped by Hammer's changing fortunes to become a memorable motion picture experience in its own right.
Key to the movie's enduring power is its sterling cast. Franchise stalwarts Peter Cushing and Christopher Lee headed up a solid group of characters, from relative newcomer Joanna Lumley to returning colleague Michael Coles and support stars William Franklyn and Valerie Van Ost. A range of biographies throughout this hardcover guide to The Satanic Rites of Dracula tell the diverse stories of the cast and crew who made the movie such a success; you may know some of their work, but there are always plenty of surprises along the way.
The combination of traditional vampire lore and apocalyptic modern science marks this movie out as a fascinating anomaly in Hammer's Dracula franchise, tapping into contemporary fears of experimentation and global warfare. As you trace the course of events that led to its creation through the pages of our hardback guide to The Satanic Rites of Dracula, you'll gain a greater appreciation for a truly offbeat type of vampire chiller. Printed, designed and finished to the high standard you expect, this beautiful hardcover Ultimate Guide is a perfect addition to your collection of Hammer Horror movie memorabilia.
It's quiet in the basement – too quiet – but don't let the unearthly hush distract you from rediscovering a Hammer classic with this opulent movie guide hardback. Even if there are some strange things going on in the lab, our hardcover Ultimate Guide to The Satanic Rites of Dracula is just what you need to keep Mr Denham at bay. Just remember to keep your camera handy…
Collectors please note: the art print included with this product is different from the one accompanying the signed softback.
Prefer the softback version? Check it out here.
40 pages
A4 portrait format
Full colour throughout
Image wrap hardback cover
Individually signed and numbered by the authors
Includes FREE Satanic Rites of Dracula 1973 art print