Product Description
This item is now sold out.
The Mummy's Tomb 1942 Ultimate Guide Signed Hardback is the collector's edition of this guide, in a strictly limited edition hardcover format – only 30 in the world – and signed and numbered by the authors with a FREE exclusive Mummy's Tomb art print.
It's time for a revenge mission with a difference as Kharis wreaks havoc on the people of Mapleton – The Mummy's Tomb 1942 Ultimate Guide Signed Hardback is packed with the thrills and chills of the Mummy's third – but Lon Chaney's first – Universal outing.
Having woven tales of ancient lovers in The Mummy (1932) and treasure hunters in The Mummy's Hand (1940), Universal brought their mouldering monster back for The Mummy's Tomb in 1942. The Ultimate Guide Signed Hardback from Classic Monsters is your action-packed guide to a new chapter in the Mummy's saga, albeit one with some very familiar characteristics. While critics may sneer at the recycled footage from The Mummy's Hand, this hardback guide to The Mummy's Tomb shows that there's more to Kharis' trip stateside than meets the eye.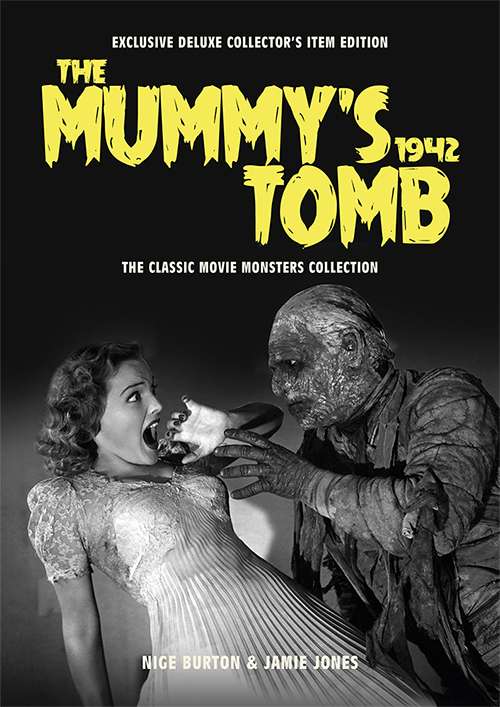 REMEMBER – THERE ARE ONLY 30 COPIES OF THIS TITLE IN THE WHOLE WORLD!
Each page of this luxury hardcover movie guide is packed with information on the production of The Mummy's Tomb. It's a veritable guide book to Kharis' trail of vengeance-driven destruction, with each page boasting beautifully restored stills that burst off the page thanks to high quality print processes that use full colour techniques to make black and white stills look their absolute best. From rare stills to promotional artwork, The Mummy's Tomb Ultimate Guide Signed Hardback is a feast for the eyes as you rediscover the film's memorable moments.
A range of articles covers the movie's development and production, from the liberal re-use of plot devices to its place in the ongoing saga of Universal's bandaged bad boy. This sumptuous hardback guide to The Mummy's Tomb guides you through the twists and turns of a movie whose diverse ancestry made for a combination of classic horror and modern slasher aimed squarely at the matinee audiences, right down to its spectacular flaming climax. With this intriguing mix of traits, it's no wonder The Mummy's Tomb has its fair share of fans, and this hardback guide shows you why you should be among them.
The Mummy's Tomb Ultimate Guide Signed Hardback is also a rich treasure trove of information about the cast and crew. Star Lon Chaney is a vitally important figure in Universal horror history; you'll discover the highlights of his career here, while also learning about co-stars such as Turhan Bey, Elyse Knox, John Hubbard and Mummy's Hand alumni Dick Foran and Wallace Ford. Crew members such as director Harold Young, producer Ben Pivar and cinematographer George Robinson come under the spotlight too, giving you an insight into the creative talents who whipped up this very special cinematic storm.
Each page of this hardback guide to The Mummy's Tomb is inspired by the movie that gave audiences a new angle on a much-loved monster. There's so much to discover within the pages of this lavish guide – this is an absolute essential for any fan of Universal horror, Lon Chaney or mummy movies. With top-end production values and our famed commitment to beautiful restoration, it's simply not to be missed.
The tana leaf tea is on the boil and the Banning family are in danger. As Kharis sets out on another terrifying mission after nightfall, shelter within the pages of The Mummy's Tomb Ultimate Guide Signed Hardback, where you'll find plenty to lighten the mood and take your mind off the Mapleton killings. Just be careful with that torch – you'll set fire to something if you're not careful…
Collectors please note: the art print included with this product is different from the one accompanying the signed softback.
Prefer an unsigned copy without the art print? Click here for the regular version of this title.
40 pages
A4 portrait format
Full colour throughout
Image wrap hardback cover
Individually signed and numbered by the authors
Includes FREE Mummy's Tomb 1942 art print