Product Description
In stock for immediate shipping.
Critically low stock level!
PLEASE NOTE:
We have a handful of warehouse / print slightly damaged copies of this title available. These are perfect inside but may have glue marks, scratches or machine marks to the front cover. In most cases damage is slight, hence the price reduction here from £19.99 to £15.
The Son of Dracula 1943 Ultimate Guide is a lavish celebration of Universal's vampire sequel, capturing the air of mystery and danger that defines the movie.
Despite the success of 1931's Dracula, it would take Universal some twelve years to return in earnest to the monster who had kick-started the horror genre and when it arrived, Son of Dracula confounded expectations. By transplanting the story of the undead bloodsucker to the sultry swamps of Louisiana, screenwriter Curt Siodmak crafted a story that, directed by his brother Robert, was by no means a retread of the original.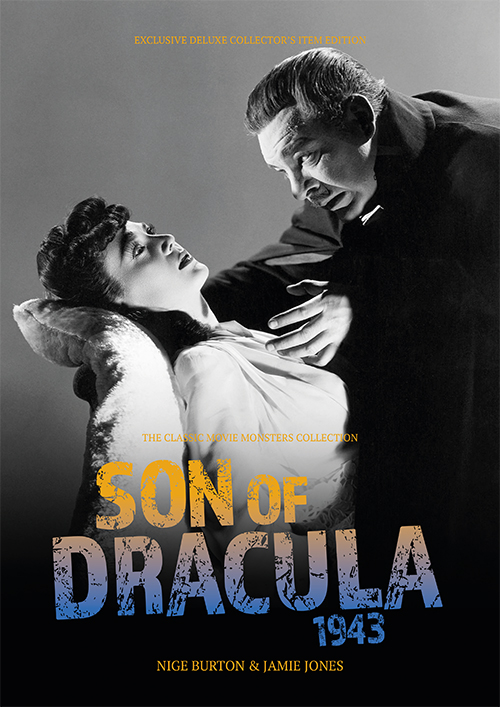 Packed with themes of jealousy and betrayal, and underpinned by a feeling of supernatural dread, Son of Dracula boasts a powerful performance from Lon Chaney as the Hungarian Count Alucard, casting an eerie spell over a new cast of co-stars that includes Louise Allbritton, Robert Paige and Evelyn Ankers. Why has Katherine suddenly betrayed her beau Frank? Who will be the first to unravel Alucard's true identity? What price can you put on immortality? Our Son of Dracula Ultimate Guide magazine explores the ideas this fascinating and oft-overlooked movie raises.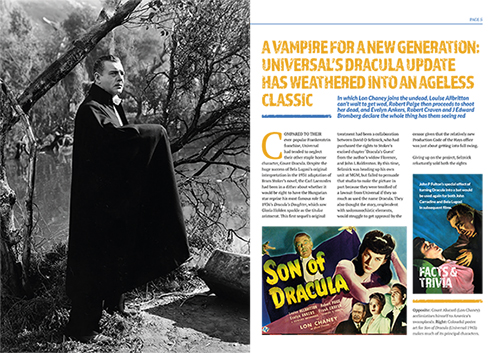 This sumptuous magazine guide to Son of Dracula leads you through the mystery surrounding the Dark Oaks plantation in style. Full colour printing gives every meticulously restored still a richness you won't find elsewhere, while compelling articles bring each twist and turn of the movie's story – behind the scenes as well as on camera – to life. You'll gain a fresh appreciation of this jaunt into a very different kind of southern gothic cinema, with every step accompanied by stunning imagery, posters and lobby cards to awaken nostalgia and chills alike.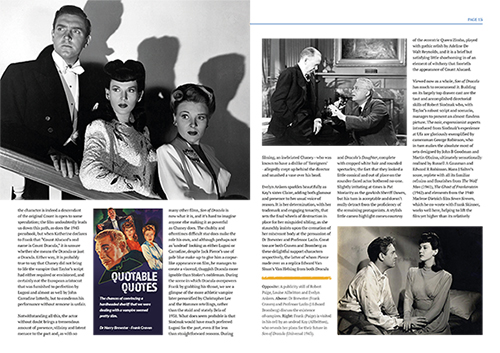 Elsewhere in our Son of Dracula movie guide magazine, biographies offer a deeper understanding of the people who brought this moody masterpiece to life, from Lon Chaney's portrayal of Alucard – a performance that cemented his place as Universal's second-generation monster idol – to the rest of the cast as well as the crew who worked behind the scenes. Each page is packed with information, presented in the accessible and engaging style that's the hallmark of Classic Monsters. No fan of Son of Dracula, or of Universal horror movies as a genre, should miss the myriad facts packed into this luxurious movie guide.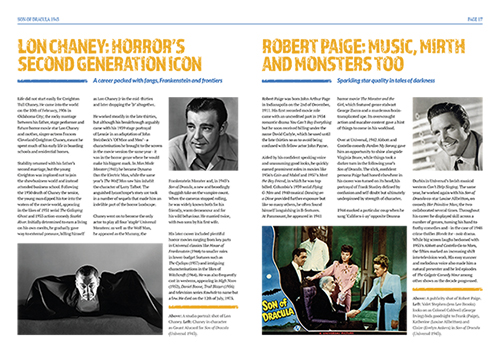 Though often sidelined in favour of the mittelEuropean instalments in Universal's monster cycle, Son of Dracula is in fact a haunting and memorable piece of motion picture history. Combining romantic drama with mysticism and a very real sense of danger thanks to Lon Chaney's intimidating presence, it's a unique movie experience that warrants greater recognition. Within our magazine guide, Son of Dracula receives the attention its sinister tale deserves, and every page offers further insight into a movie no fan should miss.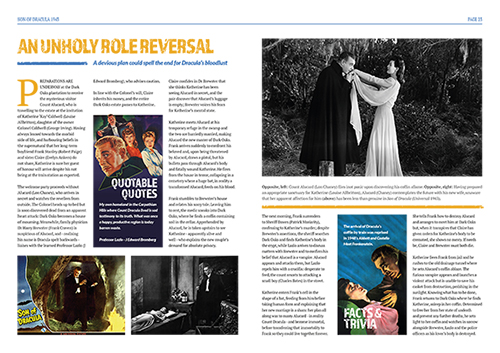 There's something emerging from the swamp, and a strange shadow has fallen over Dark Oaks, so don't worry about going to the station just yet – there's a murder to solve, and our full colour Ultimate Guide magazine to Son of Dracula is the perfect place to start.
Or, if you'd prefer something extra special, click here to check out the exclusive limited hardback edition – there are only 30 in the world!
36 pages
A4
Full colour throughout
Luxury gloss laminated cover