Product Description
In stock for immediate shipping.
Our luxury Halloween movie guide explores the history of one of horror cinema's modern classics.
There's no time for trick or treating – our beautiful guide to the Halloween series is the perfect reason to stay at home with one of slasher cinema's true icons. This is the ideal way to look back at Michael Myers' trail of destruction, with a focus on each movie in turn.
It's hard to believe that Halloween was first unleashed all the way back in 1978, making it a horror classic in anyone's book. Within the pages of the Michael guide we reintroduce you to the many ways in which Haddonfield's favourite son laid waste to the local teens, and to the people who brought his story to life.
Just like our hugely successful Jason guide, Michael covers not just the full original Halloween franchise, but also the series' trip into the 21st Century with its terrifying reboots. Biographies, trivia and production facts bring all the horror back, giving you a chance to immerse yourself once again in the horror, fear and sheer inventiveness of Michael Myers' many outings. Whichever Halloween movie is your favourite, you'll find plenty to enjoy here.
36 pages
A4
Full colour throughout
Luxury matt laminated cover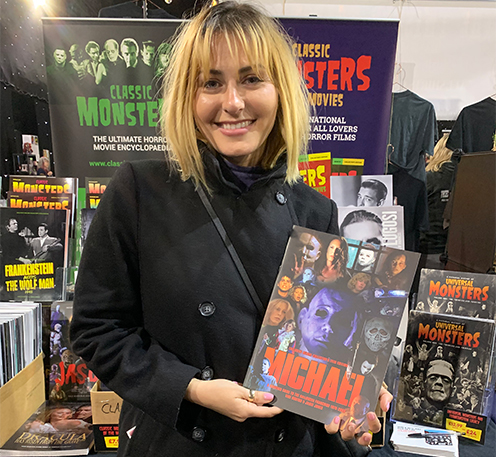 Scout Taylor-Compton, star of the 2007 and 2009 Rob Zombie Halloween movies, gives a thumbs-up to our Michael guide…