Product Description
Scheduled for October 2023 publication and shipping.
Being young is tough for all sorts of reasons – rediscover some of cinema's most terrifying teen troubles with the Ultimate Guide to I Was a Teenage Werewolf from 1957. This luxury movie guide magazine explores the significance of a drive-in werewolf movie that might not be widely available, but retains its impact to this day despite its elusiveness. The movie guide to I Was a Teenage Werewolf is a celebration of a milestone in the development of the werewolf movie genre, and a must for your collection.
The development of teen culture in the fifties allowed storytellers and filmmakers to target a whole new audience – what better pairing could there be than disaffected youth and monsters? The Ultimate Guide to 1957's I Was a Teenage Werewolf shows the power of this exploitative combination, and how it marked a key moment in the evolution of horror movies. With fresh-faced up-and-coming star Michael Landon as hero and monster alike, it was a perfect way to attract youngsters to the cinema without breaking the bank. Under Gene Fowler's savvy direction, I Was a Teenage Werewolf was a triumph of youth culture and hard-nosed business decision-making.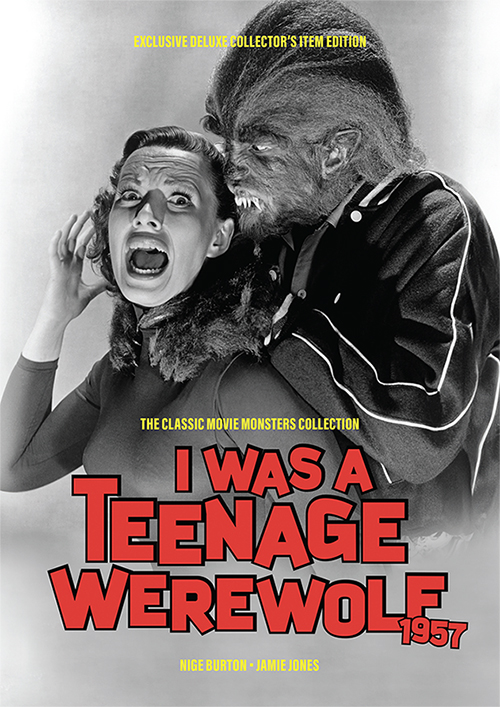 Even though the movie itself hasn't received an official release in years due to ownership issues, it's still packed with memories for many monster kids. This I Was a Teenage Werewolf magazine guide will spark nostalgia with a captivating mix of high quality stills – all carefully restored and printed to the highest standard to look their absolute best – and informative articles that give you the inside story on a defining moment in werewolf movies. Like the other movie guides in the Classic Monsters range, it's presented in A4 format (210mm x 297mm) with a clean, sophisticated design that subtly captures the unique mood of fifties teen culture.
Our commitment to the highest standards of production makes this I Was a Teenage Werewolf guide more than a movie magazine. Inspired by the kind of brochure you might have bought at the cinema in 1957, it's a uniquely collectible film guide that no fan of horror movies should miss. The use of full colour print processes means that even black and white images boast depth and vibrance, far more so than with traditional black and white newspaper-style printing.
The detailed, insightful articles in this I Was a Teenage Werewolf 1957 guide reveal the commercial and creative decisions that saw werewolf cinema undergo some dramatic – not to mention lucrative – growing pains. You'll find out about the interplay between writers Herman Cohen and Aben Kandel, the challenges faced during the production process, and the controversy that ensued.
As well as thought-provoking articles covering the movie's development, this I Was a Teenage Werewolf magazine guide includes a range of biographies to illuminate the lives and careers of the many talented individuals whose collective endeavours gave us an unforgettable entry into the werewolf canon. From stars Michael Landon, Yvonne Lime and Whit Bissell, through to support actors like Vladimir Sokoloff, every performer has a story to tell. You'll also learn about key members of the crew who toiled behind the cameras, such as director Gene Fowler, cinematographer Joseph LaShelle and music maestro Paul Dunlap; there are plenty of surprises along the way to add to your appreciation of this drive-in classic.
Combining science fiction and full-blooded horror, I Was a Teenage Werewolf broke new ground for the time with its depiction of not a grown-up, but a vulnerable angsty teenager transforming into a werewolf. Challenging stereotypes, it subverted the long-held idea that adults were responsible and trustworthy, casting doubt on the social fabric of the time. And that's to say nothing of its now iconic name, which spawned a thousand imitators and has become an indelible part of pop culture. These themes are explored within the I Was a Teenage Werewolf 1957 Ultimate Guide, giving you a deeper sense of the movie's significance.
Those youngsters are fighting again – that Rivers boy seems to have quite the anger management problem. Honestly, when he gets angry, he's like a wild animal, and nobody seems able to calm him down. That friendly Dr Brandon says he has a solution, but he seems to have an agenda of his own. Things are getting a little weird all round, and there's some screaming coming from the woods, so it's probably best to find a comfortable seat on the bleachers and spend a little time with the I Was a Teenage Werewolf Ultimate Guide while those crazy kids settle down…
36 pages
A4
Full colour throughout
Luxury gloss laminated cover