Product Description
This item is now sold out – pre-ordered copies are now shipping.
Hammer Horror: An Illustrated Chronicle Volume One 1934-1965
Signed Hardback is the collector's edition of this title, in a strictly limited edition hardcover format – only 50 in the world – and signed and numbered by the authors, packed in a black foil presentation pouch with a FREE exclusive postcard set and certificate of authenticity.
Explore the founding, history and output of an iconic name in cinema with the Hammer Horror: An Illustrated Chronicle Volume One 1934-1965 Signed Hardback. This prestigious hardback celebration of the origins of Hammer Horror immerses you in the ambition, creativity and unforgettable imagery that ushered in a new age of horror filmmaking.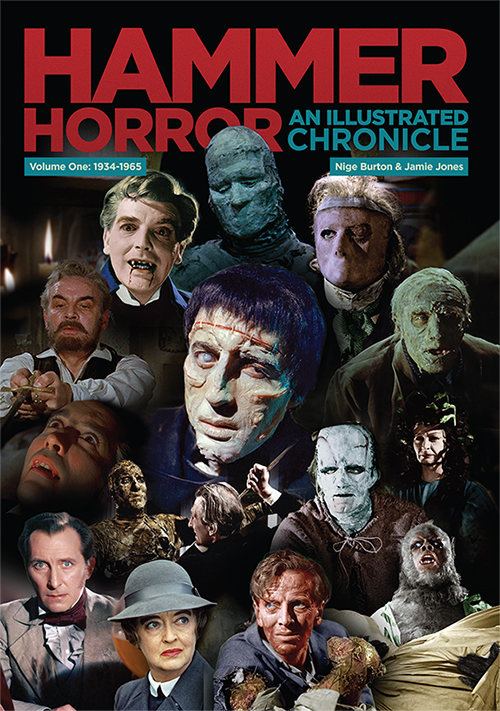 REMEMBER – THERE ARE ONLY 50 COPIES OF THIS EDITION IN THE WHOLE WORLD!
The Hammer name means so much to many. Its early days as a subsidiary of Exclusive brought audiences the likes of 1935 Bela Lugosi thriller The Mystery of the Mary Celeste, but the age of Hammer Horror can truly be said to have started with 1955's The Quatermass Xperiment. Bold, daring, graphic and steeped in cultural relevance, this was a movie that set the tone for the lurid adventures that were to follow, as Hammer tore apart the vintage blueprint for horror movies. From this early foray into worlds of the uncanny, the signed hardback edition of Hammer Horror: An Illustrated Chronicle Volume One 1934-1965 leads you through the many movies that saw Hammer ascend to reign supreme over the horror genre.
This sumptuous illustrated hardcover Hammer Horror movie history guide is printed in opulent full colour and presented in a sturdy square bound format. It's packed with beautifully restored stills, reproduced to the absolute highest standard with the care and attention to detail you've come to expect from Classic Monsters. Each image draws you further into the action, immersing you in the story of Hammer Horror as you learn about each movie in turn and its place in the studio's changing fortunes. You'll enjoy a fresh appraisal of the likes of 1957's The Curse of Frankenstein – the movie that shattered preconceptions about how Mary Shelley's artificial creation could look and behave – and 1958's Dracula, which cemented the idea of Bram Stoker's vampire count as a sex symbol, among many more of the studio's now iconic creations.
As you explore the Hammer Horror: An Illustrated Chronicle Volume One 1934-1965 Signed Hardback, you'll not only enjoy a wealth of richly detailed stills, but also discover the unique melting pot of ideas and skills that earned Hammer its reputation as a mostly happy, eminently productive but occasionally dysfunctional family, thanks to our engaging and professional writing. From actors like Christopher Lee, Peter Cushing and Oliver Reed to stalwart directors like Terence Fisher and Seth Holt, and studio heads James and Michael Carreras, you'll meet the intriguing cast of characters who crafted a unique brand of movie magic and in many cases owed their subsequent success to a world of garish gore and screaming victims.
The production challenges faced by the likes of 1961's The Curse of the Werewolf, and the Hammer team's innovative solutions, illustrate a most British approach to making do and mending; this high-end Hammer Horror hardcover movie history guide takes you on the studio's journey through changing audience tastes and legal entanglements, offering a very human angle on tales of monsters and madness. We also introduce you to the marketing gold that was Hammer Glamour, and the many alluring ladies who set audiences' pulses racing both on and off screen. Stars like Barbara Shelley and Hazel Court brought grit and beauty to Hammer's worlds of bloody terror – within the pages of this lavish hardback Hammer movie history guide, we celebrate the leading ladies who helped shape the genre.
No fan of Hammer Horror should be without this glorious hardcover celebration of the studio's horror heyday. In exploring and challenging the mores of the time, Hammer became a cultural milestone in itself; with the Hammer Horror: An Illustrated Chronicle Volume One 1934-1965 Signed Hardback, you can revisit the studio that forged a generation's nightmares and became all the more beloved for it. This limited edition hardcover title is an absolute must for any fan of classic horror cinema, and is sure to take pride of place among your Classic Monsters Hammer movie books.
Prefer an unsigned softback copy of this title without the postcards? Click here for the regular version.
88 pages
Full colour throughout
Packed with stills, posters, articles and info
Printed and finished to the highest standard
Luxury matt laminated cover
Image wrap hardback cover
Signed by authors and individually numbered
Includes FREE exclusive postcard set
Includes certificate of authenticity
Packaged in black foil presentation pouch