Product Description
In stock for immediate shipping.
Explore the shadowy world of Hammer's nightmarish fifth Frankenstein chapter with the Ultimate Guide to Frankenstein Must Be Destroyed, and discover the making of a quintessential Hammer Horror classic.
Hammer's lengthy Frankenstein franchise is filled with moments that shock, images that frighten, and tragedies that tug at the heart – 1969's return to the story of the wicked baron arguably has more than its fair share of such moments. The Ultimate Guide to Frankenstein Must Be Destroyed is a must-have full colour guide to this brooding motion picture whose harrowing scenes of physical violence are often overshadowed by the emotional trauma inflicted on its characters.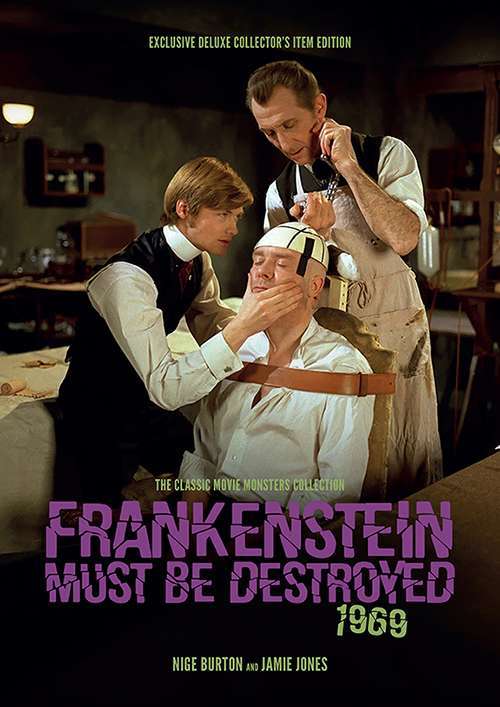 As you lose yourself in the pages of this magazine guide to Frankenstein Must Be Destroyed you'll be transported back to a time of great upheaval at Hammer. Changing audience attitudes and internal studio politics helped shape a movie whose story seethed with cruelty and sadness, but whose cast and crew shone with professionalism and skill. This Frankenstein Must Be Destroyed movie guide demonstrates how scriptwriters Anthony Nelson Keys and Bert Batt avoided the dangers of formulaic storytelling and crafted a compelling, distressing tale packed with twists.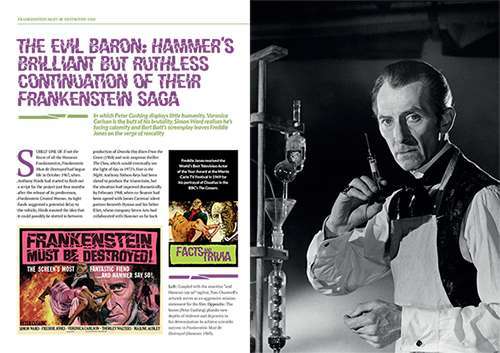 As well as exploring the making of the film itself, the Ultimate Guide to Frankenstein Must Be Destroyed introduces the people who took Mary Shelley's immortal creation in a new and disturbing direction. Peter Cushing's precise command of the character of the baron shines through in a performance both icy and engaging, and he's in good company. As the monster – in scientific if not ethical – terms, character star Freddie Jones turns the unfortunate combination of Professor Richter and Dr Brandt into an unforgettably tragic figure. Meanwhile, romantic leads Veronica Carlson and Simon Ward as Anna and Karl provide a heartbreaking insight into the ruined lives left in the wake of Baron Frankenstein's ruthless ambition. Fact-packed biographies take you yet further into the movie's unique world.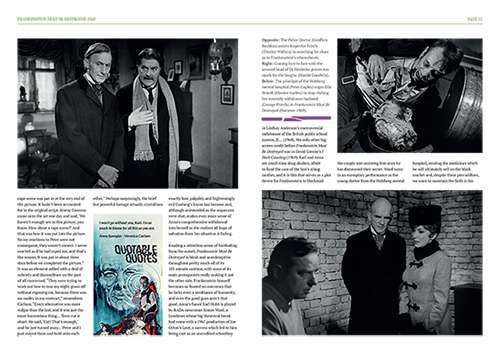 We also head behind the camera to show the creativity, passion and ingenuity that characterised the Hammer crew. Director Terence Fisher was renowned for getting the best out of his team; his gift for infusing a horror narrative with poignant emotional elements came to the fore here, and he was ably assisted by his colleagues, from composer James Bernard to art director Bernard Robinson. Biographies of key crew members make this magazine guide to Frankenstein Must Be Destroyed an absolute essential for fans.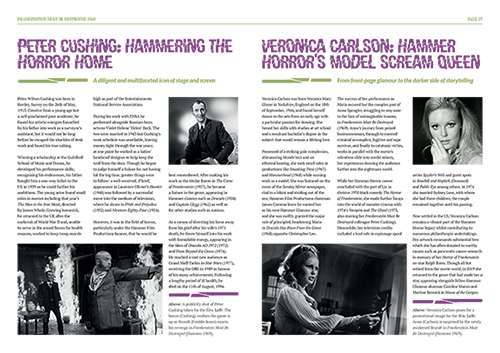 Printed in full colour, this Frankenstein Must Be Destroyed film guide is bursting with pin-sharp stills and imagery that capture the movie's exceptional design and atmosphere. A timeless and unfussy design allows the imagery to speak for itself, offering a visual feast as you immerse yourself in the compelling journalism of a range of articles covering the movie's development and significance. Meanwhile, our use of full colour print processes means that even black and white stills have a richness and depth of tone that outclasses traditional monochrome printing.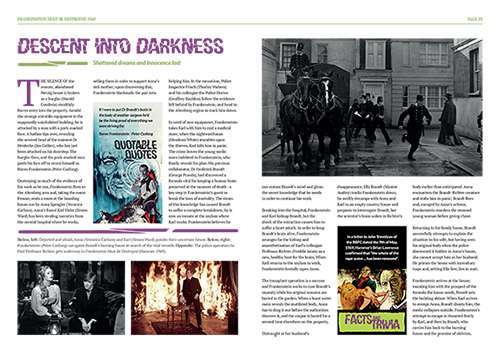 The evening is certainly a cold one, and it's a safe bet the baron and his unwilling assistant Karl are up to something untoward at the mental asylum. It sounds like there's something wrong with that water main in the garden too – let's hope it doesn't burst anytime soon. With so much to think about, it's best to ignore those other guests at the boarding-house – they're not scientists, after all – and dive into our Ultimate Guide to Frankenstein Must Be Destroyed. As Doctor Brandt knows, it's a no-brainer…
36 pages
A4
Full colour throughout
Luxury gloss laminated cover