Product Description
Ships November 2023.
Ultra-limited edition – there are only 15 copies of this title worldwide. This luxury hardback is signed by both editors and hand-numbered, and ships in a black foil presentation pouch with a FREE art print of the cover and certificate of authenticity.
The Classic Monsters of the Movies Issue #30 Legacy Edition Hardback puts classic horror cinema front and centre, exploring the world of vintage monster movies in a unique and unforgettable way. With compelling articles, gorgeous stills, glorious presentation and a professional yet light-hearted approach, there's no classic horror movie hardback like it anywhere. Classic Monsters of the Movies has something for every kind of Monster Kid, and it's all crafted with production values that have seen it called the Smithsonian Magazine version of Famous Monsters of Filmland – high praise indeed but, as you'll see, not for nothing. We work hard to treat vintage monster movies with respect: this is a classic horror film magazine defined by passion, care and a dedication to celebrate these enduring pieces of art.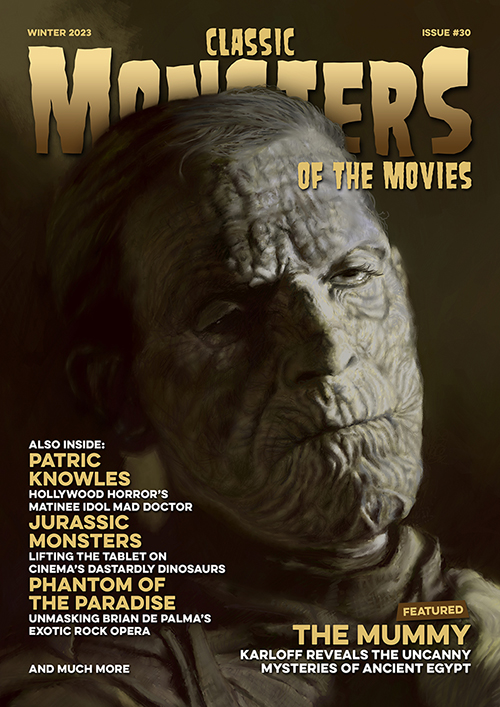 REMEMBER – THERE ARE ONLY 15 COPIES OF THIS TITLE IN THE WHOLE WORLD!
On the subject of art, the hardback edition of Classic Monsters of the Movies issue #30 has some truly arresting cover art to reveal some of what awaits. Daniel Horne's hauntingly atmospheric image of Boris Karloff as Imhotep leads into our opening feature, a new exploration of 1932's The Mummy – a stately, almost dreamlike piece of cinema that's always worthy of a fresh viewing. With characteristic wit and insight, we look at the movie's less-than-straightforward evolution into a majestic juggernaut that gave audiences a new monster to adore and fear, while cementing Boris Karloff's reputation as a horror icon. Naturally, the sumptuous feature on The Mummy in Classic Monsters of the Movies issue #30 also includes a wealth of beautifully restored stills to take you back into the strange tale of love beyond death.
On the subject of ageless beauty and drama, why not head back a little further, perhaps to the time of the dinosaurs? In the world of classic horror cinema, there are plenty of times with dinosaurs in them, and our rundown of prehistoric monsters features some of the most sinister saurians to grace the big screen. Whether they're stop-motion wonders in the likes of The Lost World (1925) and King Kong (1933), or the augmented live-action animals in 1940's One Million BC, there's no end to the wonders that these ferocious creatures have brought us in their various cinematic incarnations. Our dinosaur horror cinema article looks at the different ways, and degrees of accuracy, in which dinosaurs and their ilk have been portrayed in monster movies.
Rather more recent, but sometimes just as dangerous as his prehistoric colleagues in the Classic Monsters of the Movies Issue #30 Legacy Edition Hardback, was actor Patric Knowles, the subject of our in-depth biography feature. You might know him best from his turn as Frank Andrews in 1941's The Wolf Man, but he made several other notable contributions to the horror cinema. After all, who wouldn't become a mad scientist when they had the Monster on a lab table like he did in Frankenstein Meets the Wolf Man (1943)? As we recount the life of this talented performer, you'll discover his many other works, from collaborations with Bette Davis and Maureen O'Hara to wartime service as a flight instructor and a huge number of TV appearances. It's another absorbing feature that makes this hardcover edition of Classic Monsters of the Movies issue #30 a must for your collection.
All those cinematic adventures might make you want to let your hair down a little, so why not get your glad rags on as we hit the stage with Brian De Palma's Phantom of the Paradise – a hypnotic, brash and utterly unique movie that enjoys richly-deserved cult status. Singer-songwriter Paul Williams is on fine form as manipulative record company producer Swan, with William Finley as his bird-masked nemesis Winslow Leach, the Phantom himself, in a film which might be a horror movie, or a comedy, or a satire, or a musical, or all four at once. This feature is as vibrant as the film itself, with a wealth of glorious stills showcasing a true one-off motion picture.
There's mystery and drama of a rather different kind elsewhere in Classic Monsters of the Movies issue #30, as we head back to the pre-Code era for a Night of Terror. When there's a killer on the loose you can't trust anybody, especially not Bela Lugosi as creepy butler Degar. Sally Blane and Wallace Ford also star in this 1933 slice of chilling mystery, which we bring to life in an engaging feature packed with wonderful stills. The Manic might be closing in and the bodies are piling up, so get comfortable and make the most of this glimpse at one of Columbia's lesser-celebrated entries into the horror genre.
This, and much more, awaits in the hardback edition of Classic Monsters of the Movies issue #30 – this really is a classic horror movie magazine for monster movie fans of all tastes. The luxurious matt cover, which allows Daniel Horne's magnificent cover painting to look so good, is just the start. Printed to A4 size (210mm x 297mm) on high quality paper stock, the Classic Monsters of the Movies Issue #30 Legacy Edition Hardback is the perfect addition to your horror movie book collection, with a clean and timeless design allowing every meticulously restored still to look its absolute best. Our use of full colour printing means that even black and white stills have a depth and richness you don't find in traditional newspaper-style printing – this issue will surely take pride of place in your collection.
Inside the Classic Monsters of the Movies Issue #30 Legacy Edition Hardback you'll find:
The Mummy – Karloff lived up to his publicity name 'the Uncanny' in Karl Freund's elegantly sinister romance. It's time to rediscover one of horror's all-time greats.
Jurassic Monsters – or they might be Palaeolithic, or any other era you'd care to mention. It doesn't matter – these giant menaces are always welcome on our screens.
Patric Knowles – this gifted British actor is known in the horror community from appearances in a handful of classics but had plenty more to offer the entertainment world.
Phantom of the Paradise – be careful what you sign as we head backstage to explore one of the wildest musical horror movies you'll ever encounter.
Night of Terror – this pre-Code delight features Bela Lugosi, Sally Blane, Wallace Ford and atmosphere aplenty in a fun, frightening murder mystery.
And more besides!
From the early terrors of the silent era and the golden age, right through to those modern entries which evoke the spirit of the classics, we share your passion for vintage chills. With a combination of entertaining journalism and stunning presentation, every issue of Classic Monsters of the Movies is designed to spark welcome nostalgia as well as offering some fresh inspiration along the way.
Book specification:
70 pages
Full colour throughout
Packed with stills, posters, articles and info
Printed and finished to the highest standard
Luxury matt laminated cover
Image wrap hardback cover
Signed by editors and individually numbered
Includes FREE exclusive art print based on the cover design
Includes certificate of authenticity
Packaged in black foil presentation pouch