Product Description
Ships June 2023.
Classic Monsters of the Movies issue #29 brings you more of your favourite vintage horror icons with an absorbing range of articles and a wealth of stunning imagery. Our acclaimed combination of engaging journalism, beautiful presentation and carefully restored stills and posters makes this another must-have for your horror movie magazine collection. There's no horror film publication like this – running the gamut from the golden age to more modern creations, we offer something for monster movie fans of every tribe, with top-end production values giving our beloved genre the treatment it deserves. Classic Monsters of the Movies issue #29 has plenty more thrills from the annals of classic horror cinema, presented as only we know how.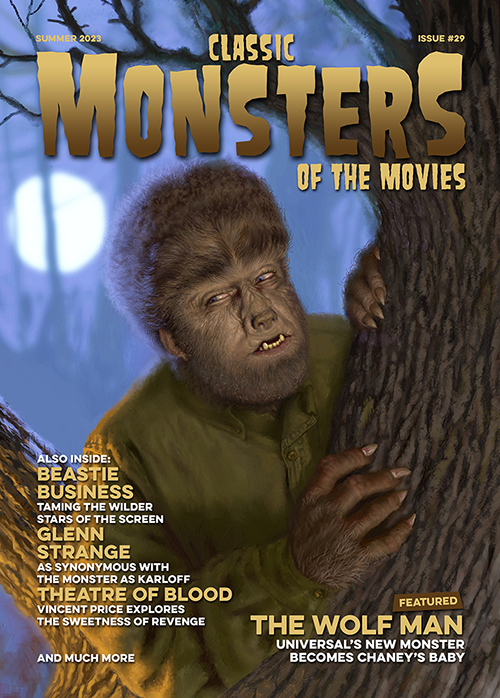 Now, there aren't many monsters more iconic than Larry Talbot in his werewolf form, and this issue's glorious cover art from Daniel Horne shows you what to expect from our main story, an exploration of the 1941 classic The Wolf Man. It's a truly beloved movie and we pay it ample tribute in a lavishly illustrated, rewarding feature. From the film's development as an all-new monster for Universal, through Curt Siodmak's manufactured mythology, to the evergreen performance that turned Lon Chaney into a bona fide horror star, this captivating article will take you right back to the mist-shrouded Welsh forests in style. Packed with information and beautifully reproduced stills, it's the perfect way to get stuck into Classic Monsters of the Movies issue #29.
Following this lycanthropic liaison we keep walking on the wild side, with a rundown of some of the many animal monsters who have stalked, hunted, devoured and generally menaced us throughout horror movie history. As well as straight-up wild animals like those seen in King Kong (1933) and The Birds (1963), we'll look at the ambiguity seen in the likes of The Leopard Man (1943). The animal kingdom has much to teach the denizens of horror movies, and not just that they need to run faster to get away. This thought-provoking article examines the roles animals play in our favourite horror films, whether it's as antagonists, companions, heroes, or even in terms of the imagery they evoke. As you'll see, the most unassuming animal can become a terrifying threat if the scriptwriter has the right idea.
Elsewhere in Classic Monsters of the Movies #29 you'll find a decidedly more human presence, with our rich biography of actor Glenn Strange. His hugely prolific career was defined for many by his long-running role in TV series Gunsmoke, and he was a fixture of the western genre with countless appearances as assorted horsemen, but as horror fans we know and love him for his three big-screen portrayals of the Frankenstein Monster. Of course, that's by no means the only monster character he's played – films like The Mad Monster (1942) helped make him part of the fabric of the genre – and this beautifully illustrated feature shows that there was far more to the man than his on-screen work.
If toiling under the hot sun in all those westerns is a little dusty, why not cool down with a trip to the Theatre of Blood? The worlds of horror and comedy have seldom been combined to such fabulous effect as in this 1973 Vincent Price classic and our article is both illuminating and entertaining, lifting the curtain on the many themes and ideas that make this drama of excess such a treat. A star-studded extravaganza like this deserves its time in the spotlight, and Classic Monsters of the Movies issue #29 is only too happy to oblige. You'll love this vibrant study of an offbeat favourite… just don't have the pie.
There's plenty more to discover in Classic Monsters of the Movies issue #29, with something for horror fans of every stripe. Our commitment to the highest standards of presentation means every article is enhanced with sumptuous stills and world-class artwork, while a clean and ageless design ensures a luxurious reading experience. The magazine is printed on highest-quality paper stock in A4 format (210mm x 297mm), with a sumptuous gloss laminated cover allowing Daniel Horne's breathtaking cover artwork to look its absolute best.
Inside Classic Monsters of the Movies #29 you'll find:
The Wolf Man – the wolfbane is in full bloom, so grab that silver-headed cane and return to Llanwelly as we revisit one of classic horror's most enduring tales.
Beastie Business – horror filmmakers have become adept at tapping into our fear of wild animals. If something can't be tamed, how can you ever stay safe from it..?
Glenn Strange – from real-life cowboy beginnings, this towering actor became a cornerstone of the horror genre thanks to his performances in several genre-defining movies.
Theatre of Blood – vengeance is rarely as erudite as in this elegantly extreme piece of cinema. Vincent Price and Diana Rigg are on top form in a story you'll want front row seats for.
And more besides!
Classic Monsters of the Movies issue #29 is another unmissable edition of the magazine that shares your passion for classic horror films. Our combination of luxurious production values, entertaining journalism and magnificent presentation means that whether you're discovering classic horror for the first time, or already know your way around the genre, there's plenty to enjoy. It's an essential for any fan.
Magazine specification:
68 pages
Full colour throughout
A4 square bound format
Luxury gloss laminated cover
Packed with stills, posters, articles and info
Printed and finished to the highest standard
* Postcards available with this order for this weekend only while stocks last