Product Description
Limited edition reprint.
Classic Monsters of the Movies issue #28 is another essential for your horror movie collection, bringing you the very best in classic horror nostalgia, discussion and critique. Our trademark high production values and commitment to exemplary image reproduction, coupled with our acclaimed approach to classic horror cinema, make this a journey into vintage terror like nothing else out there. Whether you prefer the stylised chills of the silent age or vintage-inspired modern fare, we share your passion for monster movies. Classic Monsters of the Movies issue #28 is a beautiful addition to your catalogue and one that's sure to capture your imagination.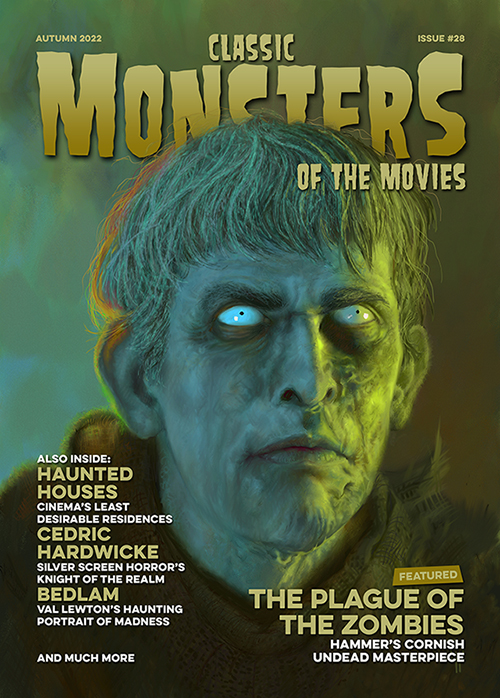 This issue's striking, haunting cover image leads you straight into our lead feature, a fresh exploration of Hammer's The Plague of the Zombies from 1966. As the only zombie film produced by the masters of English gothic, it's a unique entry into the genre and is packed with iconic imagery whose power hasn't faded at all.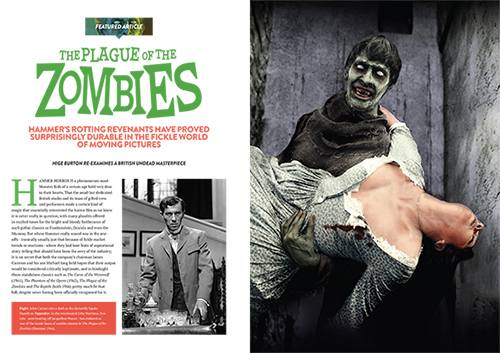 We look at the movie's origins, its direction under skilled helmsman John Gilling, and its many arresting performances from the likes of André Morell, Jacqueline Pearce, Diane Clare and John Carson, not to mention Ben Aris' terrifying appearance as John Martinus. The Cornish landscape has never been more frightening – this gloriously illustrated discussion of The Plague of the Zombies is an essential for any Hammer fan, but it's only the start of what awaits you in Classic Monsters of the Movies issue #28.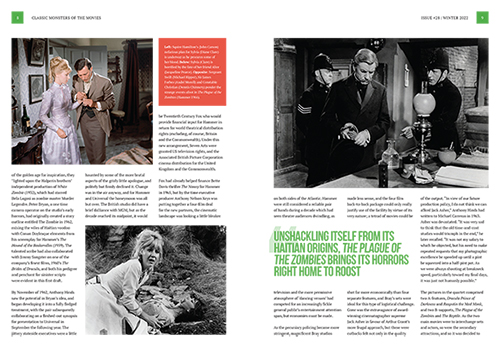 It's a bit bleak out on the moors, so why not take shelter in one of horror cinema's myriad haunted houses? The idea of the spooky old house feels like an instinctive fear, part of us from birth, so we explore the many ways in which horror movies have made the most of creaking doors, shadowy staircases and strange noises in the dead of night.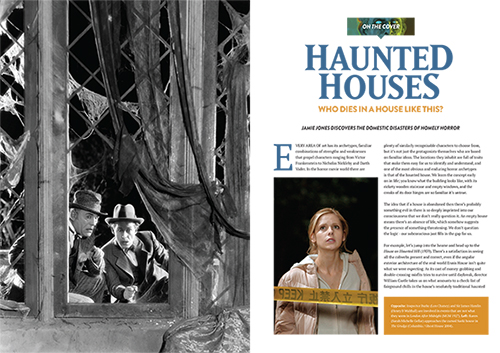 As you tiptoe through this feature, which is packed with beautifully restored stills and a wealth of information, you'll find that while the idea might sound simple, haunted houses have been portrayed in any number of different ways. Don't be fooled – a house doesn't have to be crumbling around you for it to be playing host to someone, or something, very nasty indeed.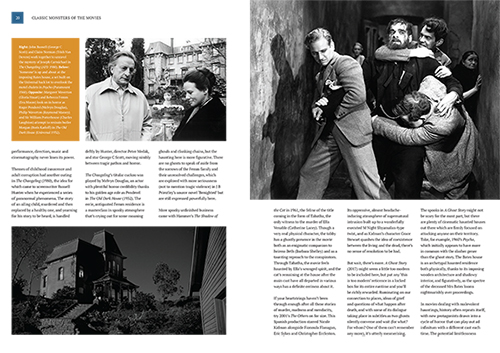 If those spooky houses have left you feeling a little shaken, the biography feature in Classic Monsters of the Movies #28 is just what the doctor ordered, recounting the life of horror polymath Sir Cedric Hardwicke. This classically-trained actor played major roles in the story of many a classic monster; you'll know him from his central parts in The Invisible Man Returns (1940) and The Ghost of Frankenstein (1942) but his screen work took him through many other eerie adventures along the way. In this informative, absorbing biography, you'll learn about the extensive career that took him from the silents, through horror and into thrillers like Suspicion (1941) and sci-fi classic The War of the Worlds (1953).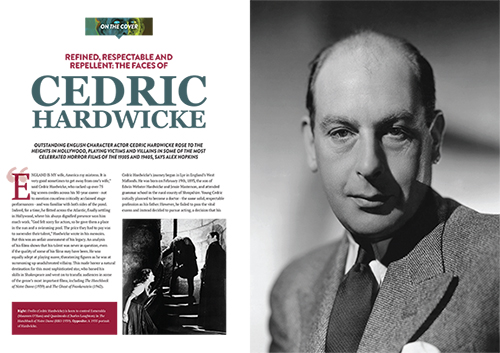 There are also some real psychological chills in Classic Monsters of the Movies #28, thanks to Val Lewton's 1946 historical thriller Bedlam. It's a tale of madness and manipulation that has the power to get under your skin, with mesmerising performances from Boris Karloff and Anna Lee. Can the notorious asylum be reformed, and who will fall victim to its brutal regime along the way? As you immerse yourself in the richly restored stills, this enlightening feature leads you through the shadowy, squalid corridors of a movie that's unflinching in its depiction of moral cruelty.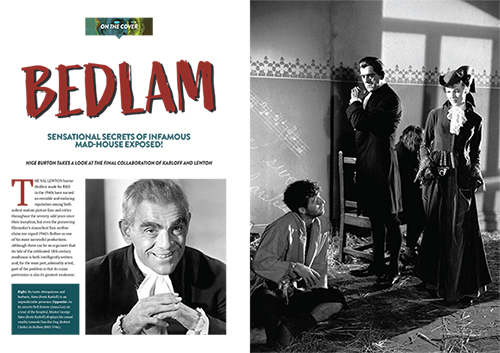 We also have some ghosts in store – or is it all in your head? Our analysis of 1961's The Innocents is full of detail on this disturbing tale of corrupted childhood. From its origins in the work of Henry James, to the harrowing portrayal of possession (or is it?) starring Deborah Kerr, Pamela Franklin and Martin Stephens, we explore the elegant ambiguities that make it so memorable. Meanwhile, a host of crisp stills highlight the movie's striking lighting and art design – this feature is one you won't want to miss.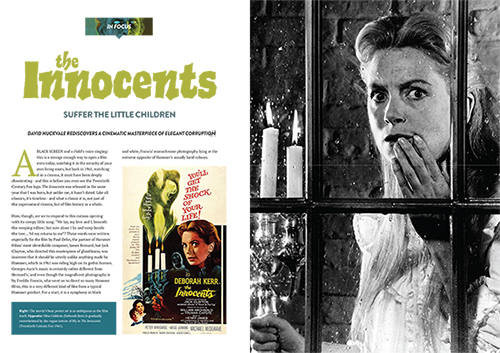 Classic Monsters of the Movies issue #28 has all this, and so much more. The whole package is wrapped up in a beautiful gloss cover that makes Daniel Horne's magnificent artwork shine, while the high quality paper and use of full-colour printing throughout means that every image looks its best – even black and white stills have a richness that standard monochrome printing can't provide. The clean design makes for a timeless reading experience, so it's no surprise readers around the world call Classic Monsters of the Movies their favourite horror movie magazine.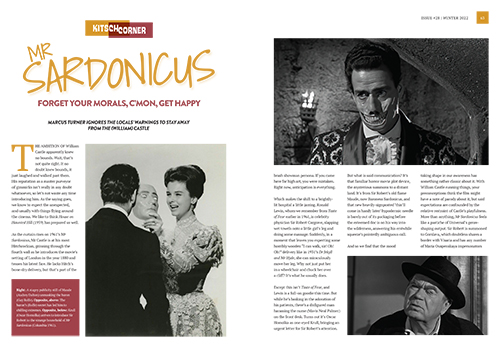 In issue #28 of Classic Monsters of the Movies you'll find:
The Plague of the Zombies – the new workforce is keeping the tin mine running as editor Nige Burton explores this nightmarish story of greed, control and life beyond death.
Haunted Houses – there could be ghosts, or the danger might be more mortal in origin, but there's no getting away from the power of a creepy old house. Join Jamie Jones on his hair-raising journey through cinema's cream of the crop.
Heather Angel – this issue's Star Spotlight illuminates the fascinating story of a quintessentially English performer who, despite clocking up over 60 film and television credits, never hit the big time.
Cedric Hardwicke – this celebrated thespian brought an air of refinement to everything he did, from sci-fi horror to biblical drama. Alex Hopkins takes a closer look at his life, times and film career.
The Innocents – its bold cinematography, enigmatic storytelling and claustrophobic atmosphere turn this movie into so much more than a traditional ghost story. David Huckvale reveals its many nuances.
Bedlam – Nige Burton delves into the historical and artistic heritage of this RKO classic as Master Sims opens his grim asylum to an unwilling new patient.
Mr Sardonicus – Marcus Turner revels in the delights of this William Castle classic – what's really going on with Baron Sardonicus, and what on earth is behind that mask?
Classic Monsters of the Movies issue #28 is packed with information, stills and a unique approach to the classic horror movie genre. Whether you're rediscovering an old favourite or experiencing a movie for the first time, this is the perfect place to start, and our exquisite presentation makes this the vintage monster cinema magazine you've been looking for.
Magazine specification:
68 pages
Full colour throughout
A4 square bound format
Luxury gloss laminated cover
Packed with stills, posters, articles and info
Printed and finished to the highest standard